Carl Jamieson
Standardbred Trainer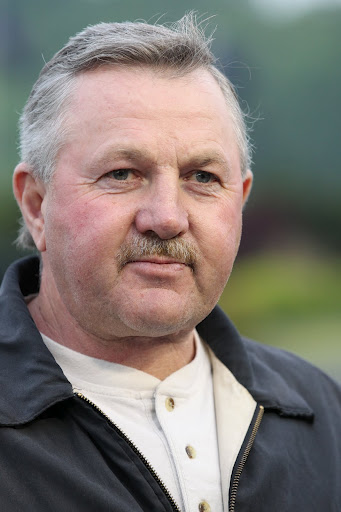 Born: 12/17/1950 in Pugwash, Nova Scotia
Resides: Princeton, Ontario
Colors: Green-Brown-Gold
Career
In 2014, Jamieson's rookie trotting filly Danielle Hall won several Ontario Sires Stakes Gold events, including the $250,000 Super Final at Mohawk.

Jamieson was inducted into the Canadian Horse Racing Hall of Fame in 2013.

In 2013, Jamieson's Warrawee Needy equaled the fastest race-mile in harness racing history of 1:46.4 in a Haughton Memorial elimination at The Meadowlands.

The year 2011 was a memorable year for Carl Jamieson as he sent out winners of $2,306,116 from just 155 starters. A total of 34 victories were credited to Jamieson in 2011 with a pair of stable stars in Up The Credit ($1,161,643) and Warrawee Needy ($535,000).

On June 18, 2011, Jamieson captured his first $1.5 million Pepsi North America Cup with Up The Credit in 1:49.3. Carl's son, Jody, drove the sophomore. Up The Credit also found the winner's circle for The Diplomat final, a Somebeachsomewhere division as a 10-1 longshot in a career best clocking of 1:49, shocking 1-9 favourite Big Jim and his Cup elim as the 3-5 choice by one-half lengths. Up The Credit earned himself an O'Brien Award as Canada's top three-year-old colt pacer. Up The Credit will return to the track as a four-year-old, but he also currently stands stud at Seelster Farms in Lucan, Ontario for a fee of $5,000.

Warrawee Needy, a rookie son of E Dees Cam, conquered his division in the Ontario Sires Stakes program. The colt fashioned a record of 9-1-1 from 12 starts, with $535,000 in the bank. He won multiple OSS Gold Finals and capped off his freshman campaign with a 12-length victory in the $300,000 OSS Super Final. With his 1:49.4 lifetime-best, Warrawee Needy set an OSS record with that triumph. He also earned himself an O'Brien Award as Canada's top two-year-old colt pacer.

With a limited number of starters in 2010, Carl Jamieson still provided solid numbers. Overall, he found the winner's circle 22 times from 104 starts, good for $675,878 in seasonal earnings.

Noted for developing young horses, Jamieson's Cross Of Lorraine proved her dominance in the Ontario Sires Stakes program for three-year-old trotting fillies, this past season. She scored victories in 8 of 14 starts and earned $289,236. She captured two $130,000 OSS Gold finals, as well as the $158,673 Canadian Breeders Championship. Her 1:52.4 lifetime best also equaled the Mohawk track record for three-year-old trotting fillies.

Other top performers from the Jamieson barn in '10 included a strong band of freshman pacers such as: Kyron ($99,750), Mach It Big ($72,460), Mach Lady ($71,230) and Up The Credit ($42,690), who captured a division of the Dream Maker Stakes in 1:51.4.

Jamieson's training operation had another solid year in 2009, as his pupils notched 21 wins and just over $700,000 in purses. His numbers were down slightly from previous seasons as he cut down on the size of his operation.

Santanna Blue Chip, the son of Art Major, was the richest rookie pacer on the continent in 2007 with more than $900,000 earned and scored major victories in the Governors Cup and Breeders Crown. He also did the early work with O'Brien Award winner Federal Flex who went on to earn more than $500,000 with a major win in the Valley Victory Final at Woodbine. Other top performers from the Jamieson Stable in 2008 included Break The News, Shes A Fan, Windsong Filou, Artists Rally and Captain Sir.

The veteran horseman collected his first O'Brien Award in '06, taking home the hardware in the Horsemanship division. One of his biggest career wins as a driver came in 2006 when he won the Gold Cup and Saucer in Charlottetown with Banner Yankee. This past season, he campaigned another powerful group of stakes competitors led by the standout sophomore pacing colt Santanna Blue Chip who banked more than $700,000 while taking on one of the strongest crops in history.

Along with training, Jamieson did a lot of driving from the '80s into the late '90s, and had notched over 1,300 driving victories heading into the 2007 season.

Elegant Killean was a top horse for Jamieson in the '90s, and the daughter of Run The Table won O'Brien Awards for her two‑ and three‑year‑old seasons in '94 and '95.  

Jamieson raced horses at Sackville Downs, Truro Raceway and Tartan Downs before moving to Ontario in the mid 1980s.

Jamieson's father raced horses, and was the one who got him into the game.

First raced primarily at Flamboro Downs when he came to Ontario.

Has perennially been a top trainer in the O.S.S. program since his arrival in the province.

The main focus of the Jamieson stable is to develop and race young horses.

Carl's son, Jody, has been a top driver on the WEG circuit for the past decade. He was recognized as Canada's top driver with an O'Brien Award in 2007, 2009 and 2011. He has also been runner-up three times (to Luc Ouellette in 2004, Mark MacDonald in 2006, and Paul MacDonell in 2008).