Jeff Gillis
Standardbred Trainer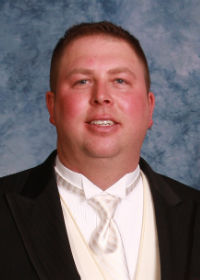 Born: 10/1/1977 in Cape Breton, Nova Scotia
Resides: Guelph, Ontario
Colors: Maroon-White
Career
Gillis finished off the 2014 Mohawk meet by winning three-races on the final card of the season.
2013 marked the fifth consecutive season Gillis' stable earned over $1 million.
On July 21, 2012, Gillis' trainee Mister Herbie and Jody Jamieson pulled an 8-1 upset in the 61st edition of $750,000 Maple Leaf Trot.
In 2011, Gillis took home his first O'Brien Award as Canada's Trainer of the Year. Breeders Crown champion Frenchfrysnvinegar also won an O'Brien trophy in the Older Trotting Mare category.
Gillis once again made his presence felt again on the WEG circuit in 2011. Gillis was the leading trainer on the WEG circuit. His stable produced 99 wins in 608 starts with $3,248,083 in purse earnings between the Rexdale and Campbellville ovals. He also earned himself a career best season with $3,875,942 in purse earnings.
Frenchfrysnvinegar ($616,575) captured the $301,170 Breeders Crown for Gillis, while Mystician ($1,528,942) captured the $500,000 Upper Canada Cup and finished second in the $532,500 Confederation Cup.
November 12, 2011, was a terrific night for Gillis as he celebrated two $300,000 OSS Super final wins. Apogee Hanover and Scott Zeron scored in the freshman filly pace while Mister Herbie and Jody Jamieson captured the sophomore trotting colt division.Sim Brown also earned a successful season after finishing second in the $347,000 Goodtimes while earning $206,190 in 2011.
Speed Again, a freshman son of Dragon Again, was the top rookie pacer for Gillis in 2011. He earned $497,421 with a victory in the $113,892 Nassagaweya Stakes, second place in the $510,000 Governors Cup and a third place in the $1 million Metro Pace.
2010 was a career year for Gillis with $2,910,315 in purse earnings. He's biggest payday came when Mystician captured the $1 million Metro Pace over a sloppy track in 1:53.4 at odds of 29-1. The son of Camluck returned 61.10 for the victory. Mystician would also capture a pair of OSS Gold finals that year along with a second place finish in the $300,000 Battle of Waterloo.
One of Gillis' top pupil was Twin B Warrior ($629,961) who captured one OSS Gold final and finished second in the $300,000 OSS Super Final and $500,000 Upper Canada Cup. Gillis' other top students that year included.
In 2009, Gillis and driver Jody Jamieson captured the $333,200 Goodtimes final with Federal Flex and a division of the Stanley Dancer Memorial. Gillis and Jamieson co-owned the winner of $840,643 with Federal Flex Stable, Ken Henwood, Marvin Katz and Al Libfeld. Federal Flex was also voted the 2008 O'Brien Award winner as the two-year-old trotting colt of the year in Canada.
In the late months of 2008, Gillis took over the training of Federal Flex and captured the $718,000 Valley Victory with the son of Muscles Yankee, before finishing third in the $700,000 Breeders Crown.
In 2007 and 2008, Gillis co-owned Santanna Bluechip who earned $1,633,643 in his career. The son of Art Major captured the $600,000 Breeders Crown and $731,700 Governors Cup after finishing third in the $1 million Metro as a two-year-old. As a three-year-old he finished second in the $538,270 Art Rooney and $493,000 Confederation Cup after finishing third in the $1.5 million North America Cup.
Gillis complied another solid campaign on the WEG circuit in 2006 (his fifth full year on the local scene), as his pupils tallied 37 wins and a total of 112 on-the-board finishes from 250 starts. With his students earning over $764,000, the Guelph resident produced a U.T.R. of .283 on the local scene and put up even better numbers on the national scale.
Gillis had luck early in 2006 with horses the likes of Phone Tag, Sand Link, Kickin Up Dirt and Blue Clear Sky. Later in 2006, Gillis found success with horses like Koles Return, Alpha Entura, Little DJ and Alikazam
In 2005, Gillis once again ranked among the leaders in both important categories on the WEG circuit: wins and purse earnings.
In 2005, Jojo In A Jiffy, Almost Gunned Down, You're Going Down, Makeba and Genes Chip were all multiple winners on the W/M circuit for Gillis
In 2003, Gillis was one of only three local trainers to win 100 or more races, finishing with 103, and he also finished fifth in purses with just over $2-million.
Before moving to the local circuit, Gillis raced horses on a part-time basis around the Ontario B-circuit in addition to holding down a full-time job on an assembly line at the Chrysler plant in Bramalea.
After a few years racing at the smaller tracks, Gillis got his break to move to Woodbine and Mohawk when Fred Brayford wanted to try a couple of horses on the country's top circuit.
Born in Cape Breton, but raised in Ontario, Gillis has always been around horses. His dad always had one or two he raced and the young man obviously caught the bug.