John Kopas
Standardbred Trainer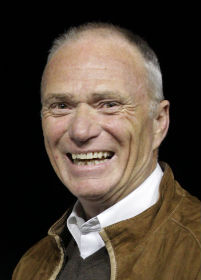 Born: 2/23/1954 in
Resides: Milton, Ontario
Colors: Green-White
Career
In 2012, Kopas' stable banked over $380,000 from just 69 starts.

Kopas had a very successful season in 2011 as his stable earned 

$862,216 from 141 starters. The Game Plan, who won the William Wellwood Memorial Trot at Mohawk, lead the charge for Kopas as the rookie son of Kadabra earned $490,300 in 2011, with a record of 8-2-1 from 13 starts. A $20,000 yearling purchase, The Game Plan was also crowned the Two-Year-Old Trotting Colt of the Year at the O'Brien Awards.

Other top performers in the Kopas barn in 2011 include Grin For Money ($139,540) and Cooking The Books ($96,411).

In the 2010 season, Kopas sent out 18 winners from 180 starters on the WEG circuit. Overall, his stable earned $779,795 with 19 winners. His stable star last season was Keystone Raptor ($128,925), who scored a 1:50.3 victory in his $100,000 division of the Burlington Stakes.

The longtime WEG regular had another successful season in 2009 in which his stable sent out 35 winners overall, the second highest total of his career. He did achieve a career best in purse winnings with $1,767,221 in earnings to his credit.

On The WEG circuit alone in '09, Kopas had 31 wins and more than $1.3 million earned, also a career high. The stable star once again in 2009 was Keystone Horatio, a five-year-old son of Rustler Hanover who won seven times against Canada's best older pacers while banking more than $211,000 in earnings. A solid supporting cast, which included Shipps Xpectancy, Grin For Money, Reach Higher and Raising Rachel, helped keep Kopas in the limelight all season long.

Other top stakes performers developed by Kopas in recent years include The Patriot, Style, Go Alberta Go and Keystone Dawn. Kopas also trained a filly named Rich N Elegant back in 1992.

She would go on to become the most prolific broodmare of this generation, producing world champions such as Rocknroll Hanover, Red River Hanover, Rustler Hanover, Royalflush Hanover and Richess Hanover.

The Kopas name has been synonymous with success in harness racing for the last half century. John's father Jack is a Canadian racing legend and member of both the Canadian and U.S.  Halls Of Fame.

He campaigned many world champions during his career including Super Wave, Jade Prince, Super Clint, Roses Are Red, Areba Areba, Nat Lobell, Springfield and Armbro Feather. Learning the ropes from his father gave John the foundation to carry on the family tradition and it is something he has done well.