Kevin McMaster
Standardbred Trainer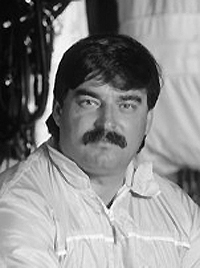 Born: 11/15/1958 in New Waterford, Nova Scotia
Resides: Guelph, Ontario
Colors: Yellow-White
Career
McMaster finished 2014 with 31 wins and earnings exceeding $160,000.
A regular face on the WEG circuit for more than a decade, Kevin McMaster sent out 49 winners in 2011 from 262 starters and $402,846 in purse earnings.
Fitzs Z Tam was the stable star for McMaster in 2011 as the son of Cole Muffler earned $134,860 with 8 victories from 39 starts.
In 2010, McMaster notched 27 wins on the WEG circuit from 257 starters. Overall, he earned $438,927 with 37 victories.
In '09, McMaster sent out 406 starters on the WEG circuit, notched 48 victories and over $786,000 in purses. McMaster was able to put up these solid numbers with another strong contingent of claiming and conditioned performers including Yankee Luke, Allamerican Swift and Nifty Fellow.
McMaster trained and co‑owned Smithsonian in 2005, and the pacer put together a solid campaign which saw him win eight races, bank over $141,000 and tie Mohawk's then Pacing Horse track record (1:49).
Other top horses for McMaster in 2005 were Kentucky Briar and Pacific Mariner 1/4 in 2004, the first two starters of his career in the Pepsi North America Cup – The Preacher Pan and Panspacificflight – finished second and third, respective.
Leading up to the 'Cup' in 2004, Panspacificflight won a division of the Burlington Stakes before winning his Cup elimination.
Also in '04, another headline grabber was pacer The One Night Pan, who reeled off a stunning 10‑race unbeaten string and scored in 11 of 14 tries overall.
In 2000, McMaster earned an O'Brien Award as Canada's Trainer of The Year.
Also in 2000, McMaster campaigned the previously unheralded Harry Sherwood to eight consecutive wins as he climbed the ladder from modest claimers to the Junior Free For All.
His stable posted an incredible six‑win night on January 8, 2001 at Woodbine. A WEG record that he shares with trainer Casie Coleman.
Kevin learned the business from his father, John, before starting his own stable.
He moved to Ontario 10 years ago and served as an assistant in the Kevin Davidson and Pat Crowe stables before acquiring his own operation…in 2000, he became the first trainer in OJC history to post more than $4‑million in purse earnings.
In 1999, he smashed Bill Robinson's win record of 182, by sending 212 horses to the winner's circle, nearly triple that of his nearest rival.
His first claim on the former OJC was Bradash Tower and his first circuit win came with Calistoga Bay
First career win was with Darn Good Haven at Tartan Downs in Nova Scotia in 1981.
McMaster is a career winner of 571 races as a driver.