Per Henriksen
Standardbred Trainer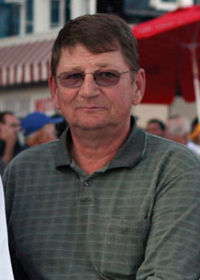 Born: 5/4/1946 in Oslo, Norway
Resides: Norwood, Ontario
Colors: Blue-White
Career
Henriksen sent out 75 winners in 2013 and his starters earned over $750,000 for the seventh consecutive season.

In 2012, Henriksen's three-year-old trotting filly Smarty Pants captured the $300,000 Ontario Sires Stakes Super Final.

In 2011, Henriksen sent out 81 winners from 333 starters, earning $751,394. His stable star was Lakefield who earned $126,578.

Charlie Is A Joker had a record of 11-1-1 in 13 outings in 2011, ending his sophomore campaign with an eight-race win streak. The gelding extending it to nine in 2012 before being defeated.

In July 2011, Henriksen notched his 1,000th career training win at Rideau Carleton Raceway with Impish Playmate.

In 2010, Henriksen's stable earned $909,720 in earnings with 83 victories from 378 starters.

Henriksen won the 2009 O'Brien Award of Horsemanship.

Henriksen's top pupils of 2009 include three-year-old trotting colt, I Wont Dance who banked $393,442 in earnings and won the $300,000 O.S.S. Super Final,  Magic Fruit ($241,267), Magic Carpet Ride ($113,819) and Littlemscantbwrong ($120,440).

Overall in 2009, Henriksen's stable earned $1,631,314 – the highest total of his career. On the WEG circuit, he finished 14th in the standings from just 156 starters sent postward.

As a driver, he visited the winner's circle 52 times in 2009 and drove horses to over $681,000 in earnings.

His top performers in recent years include Please Poppy, Noifsaboutit, I Wont Dance, Southwind Serena and Clerk Magistrate.

Oolong, Tabor Lobell, Lodestar Lobell and Nuclear Kosmos were other standouts for Henriksen during his time in America. The veteran relocated to Ontario in 2003 and has been a local force ever since.

Henriksen eventually made the move to the United States himself in 1980. He enjoyed immense success south of the border and one of his best horses during that time was trotting filly Expressway Hanover, who enjoyed a banner campaign as a three-year-old in 1993. The Prakas filly was in the money in 17 of her 21 starts that season while earning just over $332,000. Her biggest victory came in the $300,000 Breeders Crown at Pompano

Henriksen then moved on to Sweden where he would apprentice under famed horseman Hakan Wallner who would lead the first migration of European horseman to North America

Henriksen, a native of Oslo, Norway, grew up right next to the Bjerke Raceway, and began his career as a groom for Karsten Buer, one of the leading horseman in that country for years.