Richard Moreau
Standardbred Trainer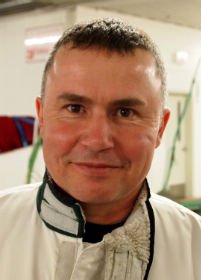 Born: 10/29/1964 in Montreal, Quebec
Resides: Puslinch, Ontario
Colors: Green-White
Career
Moreau was named Trainer of the Year for the second consecutive year at the 2014 O'Brien Awards.
In 2014, Moreau's starters banked over $2 million for the fifth consecutive season.
Moreau won his first O'Brien Award for Trainer of the Year in 2013 after his stable won 280 races and earned over $3.6 million.
​Moreau captured his first major stakes event in 2013 when his rookie pacer Boomboom Ballykeel pulled off an upset victory in the Metro Pace.
In 2012, Moreau surpassed $3 million in earnings for the first time.
In 2011, Moreau enjoyed his 12th consecutive year where his stable has earned over $1 million. Moreau's team earned $2,286,416 in 2011 with 189 winners from 989 starters.
On the WEG circuit in 2011, Moreau finished third among the trainer standings. He sent out 88 winners from 559 starters with $1,498,225 in purse earnings.
The year 2010 was a special year for Moreau as he was crowned WEG's leading trainer for the first time. Moreau sent out 102 winners from 539 starters, good for earnings over $1.3 million. His top performers in 2010 included: Logans Hero, Veal Marsala and Slightly Tipsy.
On the WEG scene in 2009, Moreau's stable sent out 375 starters, tallied 64 wins and earned $1,010,229 (placing him in fourth in the local standings), his best finish ever at WEG prior to 2010.
On September 4, 2008, 

the resident of Lachenaie, Quebec posted his 3,000th lifetime win as a trainer when Lonely Winner paced to a 1:55 victory at Rideau Carleton.

In 2005, his pacing trainee Divot Hanover was a runner‑up in a $100,000 division of the Burlington Stakes, while Proxahantis, Whitesand Dancer, Rich Cam, Leader Angus, Canaco Nimbus and Zatopec M D were also top charges
A late‑season burst in 2004 resulted in a seventh‑place finish on the WEG circuit, during a season in which he made 61 trips to the winner's circle¼overall in 2004, his stable won more than 200 races
Also finished atop the trainer standings at both Hippodrome de Montreal and Ottawa's Rideau Carleton Raceway in 2004
Before venturing out on his own, Moreau worked for trainer Robert MacKenzie.
UTR: 0.298 as of 2022-05-24