Robert McIntosh
Standardbred Trainer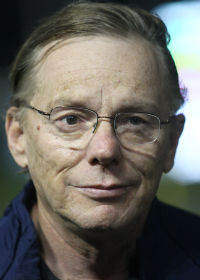 Born: 8/11/1952 in Leamington, Ontario
Resides: Windsor, Ontario
Colors: Red-White
Career
McIntosh finished 2014 with 80 wins and earning exceeding $2.4 million.
McIntosh's stable star Thinking Out Loud won the 2014 Breeders Crown Open Pace at The Meadowlands.
In 2014, McIntosh's homebred rookie pacer Go Daddy Go won the Battle of Waterloo and an elimination of the Metro Pace. Go Daddy Go finished the season with just under $400,000 in earnings.
In 2013, McIntosh's stable banked over $1.7 million and won 97 races.He also reached the 4,000 win mark.
On June 16, 2012, McIntosh earned his first Pepsi North America Cup trophy. Thinking Out Loud, driven by Randy Waples, stormed home late to best Time To Roll and Dapper Dude (McIntosh's other Cup starter) by a half-length and capture the $1.5 million Pepsi North America Cup in a stakes record 1:47.4.
McIntosh cemented his reputation as one of this country's most prolific trainers with another outstanding season in 2011. In fact, he has four O'Brien Award trophies as Canada's top trainer (1991, 1992, 1998 and 2008) and two as Canada's top breeder (2007, 2010) to his credit.
McIntosh has won the Johnston Cup as the leading trainer in the Ontario Sires Stakes programme in 1994, 2001, 2002, 2008 2009, 2010 and 2011.
He's also earned two Glen Garnsey Awards for being the top trainer in the United States and twice has been named Canada's horseperson of the year.
With 15 trips to the winner's circle, he's earned more Breeders Crown titles than any other conditioner.
In 2011, McIntosh sent out winners of $2,812,810 in purse earnings with 100 victories from 579 starters. His lifetime training statistics entering 2011 are staggering, with over 3,700 victories and $84 million in purse winnings to his credit.
His top freshman pacers in 2011 include Shelliscape ($261,544), Class Of O Nine ($235,000) and I Found My Beach ($197,776), just to name a few.
McIntosh also had success in 2011 with sophomore pacing fillies Strike An Attitude who banked $324,124 in seasonal earnings and $906,738 lifetime for McIntosh. She also equalled the world record for a sophomore pacing filly with her 1:48.4 victory in Lexington, Kentucky. She equaled Dancinwiththestarz' previous record.
Also, 2011 marked the 19th straight season McIntosh's stable has surpassed $2 million in purses and his 19th consecutive year with at least $1‑million in earnings on the WEG circuit.
In 2010, McIntosh was inducted into the Canadian Horse Racing Hall of Fame.
2010 was another successful year as McIntosh's pupils won 149 races and just over $3.8 million in purses.
On the WEG circuit alone in 2010, McIntosh's pupils started 311 times, won 54 dashes and earned $1.8 million.
Freshman pacing filly, Strike An Attitude proved to be the stable star for McIntosh in 2010. The homebred earned $582,614 with her largest payday being a second-place effort in the $600,000 Breeders Crown.
McIntosh's success in 2010 season led him to his second O'Brien Award as Canada's top Breeder in 2010. McIntosh's students Text Me earned back-to-back O'Brien Award's as the nation's top trotting colt in his division, while Windsong Soprano ($195,620) was Canada's top Older Trotting Mare.
The McIntosh brigade also included stakes winners Lauren ($316,756), Panagler ($195,620), Bramalea Hanover ($278,868), Panmunjon ($146,965) and Day To Ponder ($124,894) just to name a few.
The star of the McIntosh Stable in 2009 was three-year-old trotting filly Windsong Soprano who won 10 times while vaulting herself over the $1 million mark in career earnings.

In 2003, McIntosh was inducted into the U.S. Harness Racing Hall of Fame in Goshen, New York.

In 2001, two year‑old pacing colt Western Shooter captured the Breeders Crown at Woodbine and later set a world record in the Governors Cup at the Meadowlands which vaulted him to divisional honours in the U.S.
The list of champion McIntosh pupils is lengthy: Ontario Sires Stakes star Intrepid Seelster retired in 2001 with more than $1‑million in career earnings; filly pacer Electrical Art also banked over $1‑million prior to retirement; the great Artsplace unfurled an undefeated 16‑for‑16 season in 1992, earning Horse of the Year honours highlighted by victories in the Canadian Pacing Derby and Breeders Crown; 1993 Horse of the Year Staying Together; two‑time Breeders Crown champion Artiscape; Breeders Crown winner and current super‑sire Camluck; and millionairess, Delinquent Account.
More notables include Armbro Officer, Mystery Fund, So Fresh, Stonebridge First, Live Or Die, Make A Deal, Mr G, Three Mile Island, and her son Island Fantasy…McIntosh won back‑to‑back‑to‑back Canadian Pacing Derby's with Odds Against ('91), Artsplace ('92) and Staying Together (who was also Horse of the Year in '93).
He calls Sunset Warrior's upset win in the 1986 Breeders Crown Two‑Year‑Old Colt Pace his most memorable highlight.
With 543 OJC wins in the '90's, McIntosh's stable ranked fourth highest.
McIntosh is also a five‑time Grand Circuit Trainer of the Week at Mohawk.
His first career win came with Brilliant Bonnie in 1977 at Windsor Raceway.
McIntosh first began in the business helping his father Jack run the family stable. Later, Bob worked for his older brother Doug's stable before branching out on his own.
Follow Bob on Twitter: @Bob_Mcintosh52