By: Rob Longley for woodbine.com
TORONTO, March 8, 2018 – As an avid sports fan, Bob Baffert is well aware that March Madness, the NCAA basketball version, is right around the corner.
But the silver-haired thoroughbred trainer and Triple Crown specialist is excited about racing's own version of potential wildness on the road to the May 5 Kentucky Derby.
"March Madness, this is when it all starts," said Baffert, who will unveil one of his top hopes in this year's classics class when McKinzie attempts to run down the current colt to beat, Bolt d'Oro, in Saturday's San Felipe Stakes.
"You don't want your bubble busted too early.
"This is when they start to separate themselves," Baffert told the Bloodhorse. "We're all just trying to get there."
Many are, which is what makes this second Saturday in March (a day before the brackets are set for this year's NCAA hoops tournament, incidently) so intriguing.
It's annually one of the most dynamic prep weeks on the Derby trail with action on three fronts – in New York (the Gotham), Florida (Tampa Bay Derby) and California (the San Felipe).
While legit contenders are sure to emerge from the first two tests, there is accelerated interest in the Santa Anita race and the showdown between two big-shot prospects.
With Good Magic faltering to a no-excused third-place finish in last week's Fountain Of Youth Stakes, Bolt d'Oro is now considered by many to be the leading Derby contender.
Sent off as the 3-5 favourite in the Breeder's Cup Juvenile last November, Bolt d'Oro had some traffic trouble and finished third. And now in his three-year-old debut, the Mike Ruiz trainee has to face a stud from the always formidable Baffert barn.
It's certainly a worthy showdown in the $400,000 Grade 2 event, the major lead up to the Santa Anita Derby on April 7. Clockers in California love the way McKinzie (who will be ridden by Mike Smith) has worked of late while many believe Bolt d'Oro is the real deal.
Madness indeed.
CASSE AND FLAMEAWAY
He began his career at Woodbine, has raced at seven different tracks across North America and in Saturday's Tampa Bay Derby, Flameaway will get a good indication of where he fits in the Kentucky Derby picture.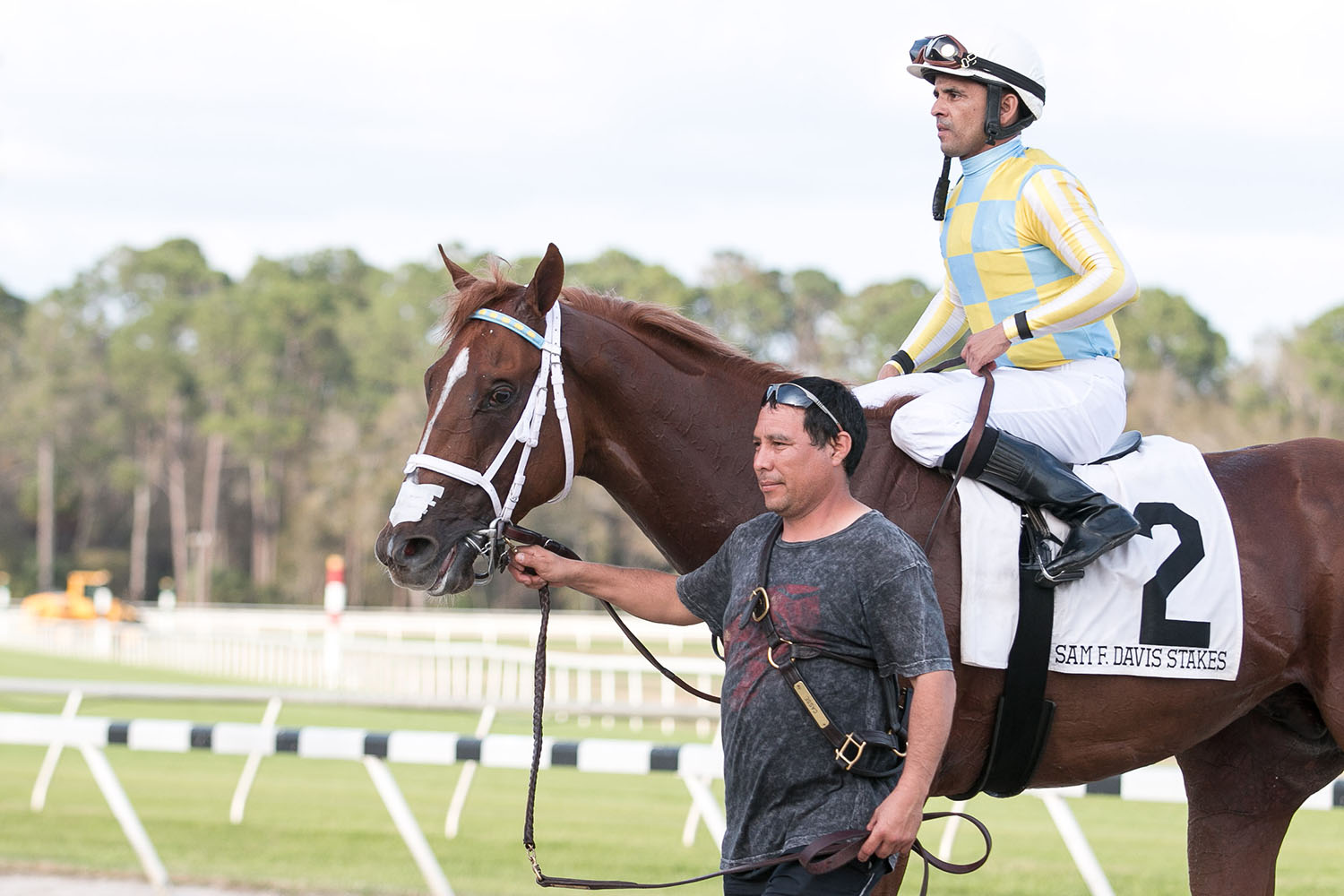 The Ontario-bred, who comes from the barn of perennial Canadian Trainer of the Year Mark Casse, is one of 11 in the field and the winner of the Sam F. Davis Stakes over the same track in his last outing is listed as the 3-1 favourite for Casse and jockey Jose Lezcano.
As for the versatility shown over multiple racing surfaces – including that career debut win at Woodbine – Casse believes it will serve Flameaway well.
"To me it just shows you how impressive he is, both mentally and physically," Casse told the Bloodhorse. Though not yet nominated to the Triple Crown, Casse will get that fixed later this month if Flameaway is on fire in his latest outing.
FINISH LINES
After evaluating the Saturday preps, there's an opportunity to back your position with the latest Kentucky Derby Future Pool. Bolt d'Oro will join the field as the 6-1 co-favourite in the morning line. Casse's Flameaway is listed at 30-1. As always, Derby futures are available at Woodbine and all its related betting portals … Over in the Gotham, trainer Dale Romans has the 9-5 favourite with Free Drop Billy. Romans scratched his colt from last week's Fountain Of Youth to enter this one … While there was no Super Bowl ring for Rob Gronkowski – the outstanding New England Patriots tight end – there may be a Derby shot for Gronkowski the horse. With a win in a Road to the Derby stakes at Kepton Park on Wednesday, Gronkowski is tied for first on the Euro points list for an automatic spot in the field.
DERBY TOP 5
1. McKinzie, trainer Bob Baffert
With Good Magic's defeat in the Fountain of Youth, we'll give this guy the tentative top spot depending on how he handles Bolt d'Oro in the San Felipe. We like him for his upside.
2. Bolt d'Oro, Mike Ruiz
Has his work cut out for him in his three-year-old debut and not just because of McKinzie. Baffert has an entry in the San Felipe and don't sleep on Restoring Hope, the other half.
3. Good Magic, trainer Chad Brown
As much as we were unimpressed with the flat effort last week at Gulfstream, we'll give him at least a partial pass on the premise that he looked for all the world like a horse who needed the start.
4. Audible, Todd Pletcher
The Holy Bull winner continues to work forwardly towards the Florida Derby where he'll have a chance to prove he fits with the top colts.
5. Free Drop Billy, Dale Romans
Making his debut on our list, it's clear that Romans has reasonable intentions for the colt by dropping into the Gotham and it's new one-mile distance. Smells like a sharpener for something bigger.
*
Follow Longley's weekly column on woodbine.com chronicling the path to the Kentucky Derby, set for May 5 at Churchill Downs, and be sure to get your tickets to celebrate the first jewel of the U.S. Triple Crown with us at Woodbine's exclusive Derby Day Party featuring fabulous food, fashion and entertainment in the Trackside Tent.