TORONTO, April 16, 2018 – Woodbine's 2018 Thoroughbred meet kicks off in five days, this Saturday on April 21. Join us in our countdown to Opening Day as we catch up with some of our top jocks.
Ranked No. 5 in the 2017 jockey standings with 99 wins, Gary Boulanger's mounts earned in excess of $4.1 million. Five of his nine stakes victories were graded events including the $175,000 Autumn Stakes (Grade 2) in which Sandy McPherson trainee Gigantic Breeze defeated the streaking Melmich.
Boulanger scored a stakes triple with Moonlit Promise (Sweet Briar Too, Grade 3 Ontario Fashion, Grade 2 Bessarabian) and doubled with Dragon Bay in the Eclipse and Nijinsky, both Grade 2 stakes events. He also teamed up with King and His Court (Wando), Involuntary (Flaming Page) and Latonka (Bull Page) for further stakes success.
2017 Woodbine Stats: 725 Starts // 97 Wins // 9 Stakes Wins // $4,141,438 Earnings // 13.37% Win Percentage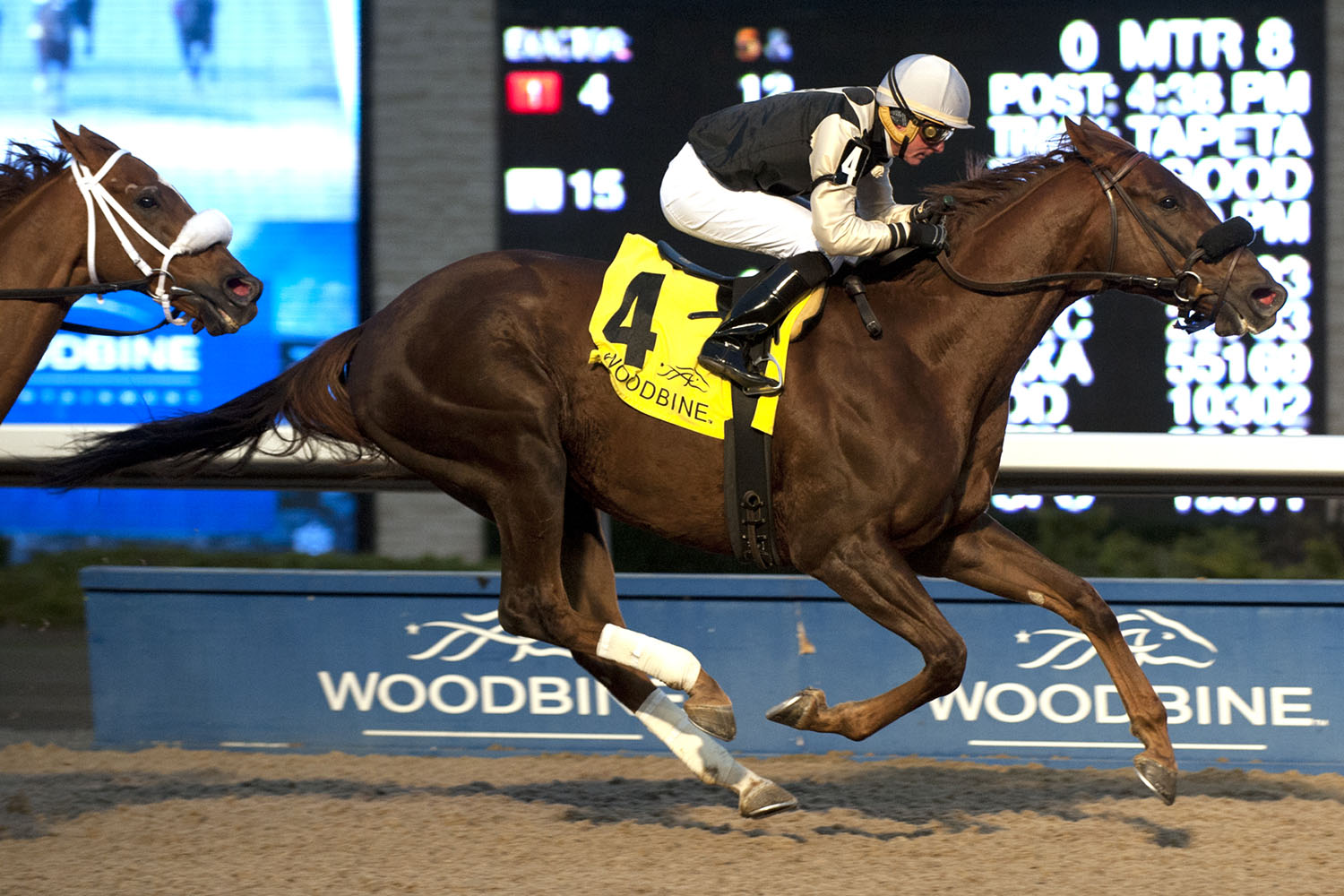 How did you spend your winter? I was in Ocala at Mark Casse's farm working for him, breaking babies and getting them ready for Keeneland. Now I'm at Keeneland [until the Woodbine meet begins].
What are you most looking forward to about the Woodbine meet? I have some nice horses coming back and seem to have some pretty nice two-year-olds so you're always looking for that new talent. It's kind of uncharted waters with them. You think you've got something nice, but you really don't know what you have. I'm looking forward to another great year there.
Do you have any goals for the meet? I'd like to break the 100-win mark this year. I got close last year so I'd like to get by that milestone. Obviously, everyone has the aspirations to win the Queen's Plate. If you're not thinking about winning that, you're in the wrong game. I'd love to win the Plate, win some major stakes and stay healthy and have a successful year.
How do you prepare for the meet? I'm riding at Keeneland now. I rode a little bit down south this winter – a few races at Tampa, I went down to Gulfstream – but I was mostly at Mark's farm in Ocala breezing horses and developing babies along with him so I stayed active that way.
If you could relive one race from the 2017 season, which would it be and why? Probably the race when Gigantic Breeze beat Melmich. Melmich is very highly-regarded and my horse won the Presque Isle Mile and came back, and to beat him, it was kind of a nice end of the year for Sandy McPherson and myself. He has a small barn and you like winning races – especially big races – for guys like that. He's a great guy, works hard and does a great job with his horses so I'm glad to see him get that accomplished.
What do you love most about being a jockey? Getting to ride horses. Besides winning races, everybody wants to win. I always thought, even when I was young, it was just such an amazing thing that I could ride horses and make a living doing it. It's something I truly love to do. I enjoy it immensely and I look forward to it every day. I look forward to finding new horses, finding that new stakes horse and getting connected with them and learning about them and trying to win races for whoever their trainer is.
How did you fall in love with horse racing? I was always a horse fanatic as a kid. I loved horses. It was all I talked about and all I wanted to do. I was introduced into it because I was doing other horses things and some people asked me if I ever thought about doing it and that led to them introducing me into horse racing and that just kept snowballing into different tracks, bigger tracks, more exposure and it's been a great ride. It's been a lot of fun. A lot of injuries, but a lot of fun.