TORONTO, August 12, 2021 – Not long after Mighty Heart captured the 161st running of the Queen's Plate last September, David Dunkley sat down to design his ninth millinery collection for the event.
With fans absent from the stands, his 2020 designs had not adorned the heads of fashionable Queen's Plate racegoers and he wondered whether 2021 would be any different. And if fans were able to return to Woodbine Racetrack for the 162nd edition, would the mood be celebratory or subdued?
Without a crystal ball to work with, Dunkley adopted a hopeful mindset and set about creating a playful collection that allowed him to indulge his artistry and use some materials that had been stored in his studio waiting for 'someday' to arrive.
"I just decided that everything was far too heavy and far too serious, and no matter what happened I needed to smile. So I kind of started with that as inspiration and thought, let's just design fun things. They may be worn or they may not be worn, but at the very least we're going to capture images of really fun, inspiring things," said Dunkley, the Official Milliner to the Queen's Plate since 2013. "So I just started to play and went with colours that I like and unusual textures. This year I used some sequins, which I normally would never design with sequins, but it was such an unusual time, let's try unusual things."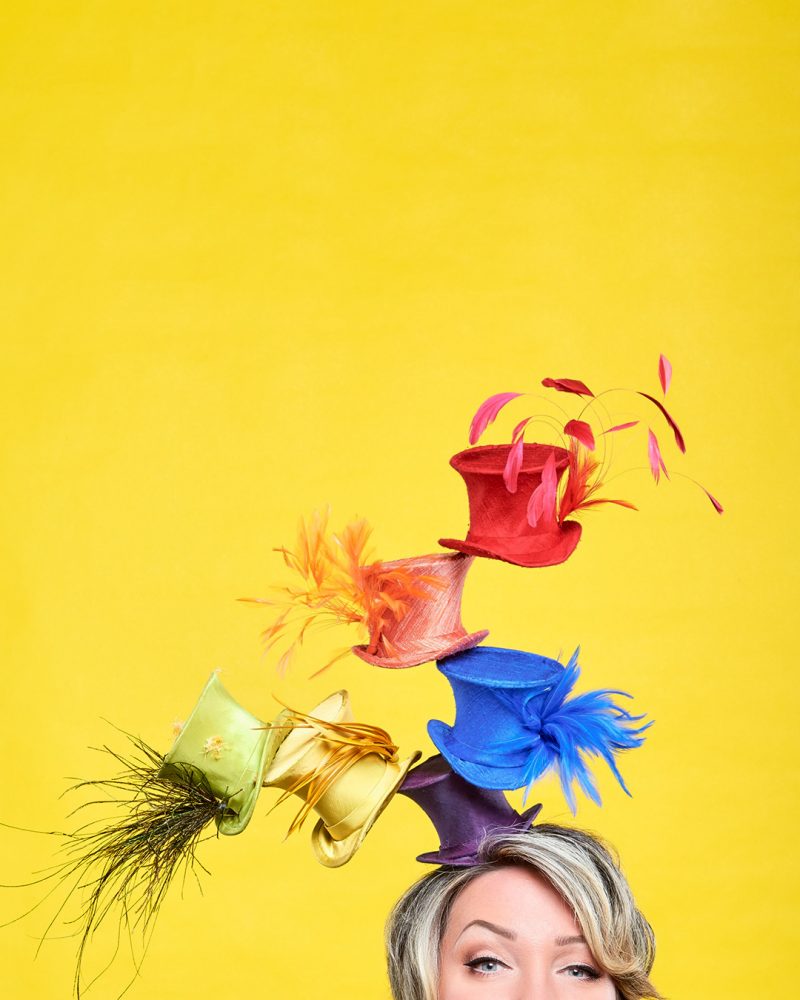 Ten months after he first put pen to paper, the sequins and glittery grosgrain ribbon, feathers and sparkling Swarovski crystals, oversized daisy and tiny cascading top hats seem like the perfect reflection of our collective need for joy after 18 months of pandemic life. To 'cap' things off, Dunkley titled the collection "Head's Up" and Kristina Laukkanen photographed each design in front of a sunny yellow background.
In spite of their primary colours and whimsical mood the pieces are smaller and less extravagant than past collections, reflecting the current scope of gatherings and events. This year's Queen's Plate crowd will be smaller and some aspects of the festival will be absent or scaled down.
One thing that will be missing from this year's Queen's Plate celebration is the Hats & Horseshoes area around the walking ring, where those who arrive hatless or develop hat envy mid-event can usually find the David Dunkley Fine Millinery pop-up shop. Instead, Dunkley will simply be a racegoer on August 22, sporting one of his handcrafted creations as he enjoys the afternoon's festivities.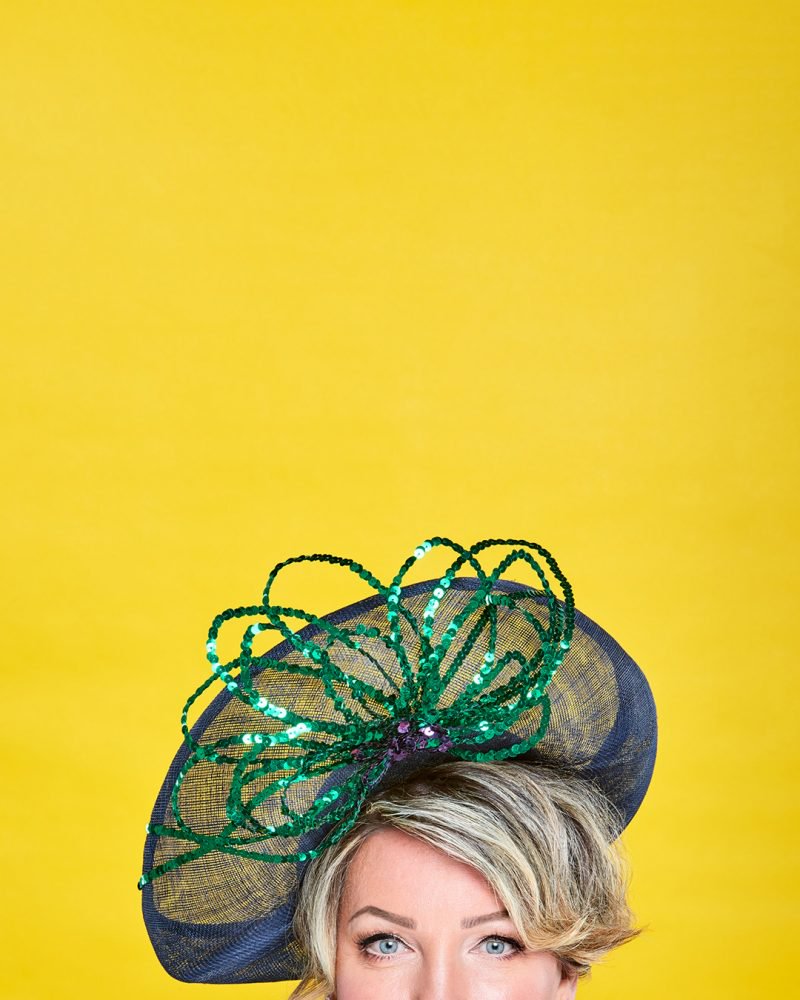 While racegoers may not be able to acquire a piece from the Queen's Plate collection on site, there is still time to visit Dunkley's Bathurst Street studio. He and his staff welcome visitors by appointment Tuesday through Thursday or during drop-in times on Friday (10 am to 6 pm) and Saturday (10 am to 3 pm).
"There is a full shop of everything you can possibly imagine that goes on your head," said Dunkley, who has also created a line of stylish face masks. "Even if you have a sense that you want to wear a white dress or a green dress, if you even know the colour, then you can come in and have a hat or a fascinator created. We still have some time."
Those who miss out on this year's collection can console themselves with the knowledge that Dunkley is already at work on the designs that will mark his tenth anniversary as the Official Milliner of the Queen's Plate.
"We have a very big, celebratory collection planned for that," said Dunkley. "The couture collection for the Queen's Plate is a bit of an indulgence on my part; a happy indulgence of art and colour and all things that are beautiful about millinery."
The complete 2021 Queen's Plate collection can be viewed at https://daviddunkley.me/gallery/queens-plate-new-collection/.
For further information or to make an appointment to visit the studio, Dunkley can be reached at 416-538-0998 or David@DavidDunkley.me
*
Sandra Snyder for Woodbine Communications