November 17, 2021 –
Written by Stacie Roberts
When Slade Jones won his first race as a jockey, he felt relief above all else.  Having the name Jones in Barbados racing circles brings with it a level of expectation.
Embarking on a career under high expectations can pile high the pressure especially when ambition and drive are proving not be enough to get past the milestone of your maiden win.
On June 18, 2021, at age 15, Slade Jones embarked on his dream to emulate the success of his patriarchs.  Lifted into the saddle of Thunder Lady for the fourth race on opening day at Garrison Savannah Racecourse in Barbados, the rookie jockey finished sixth followed by a third aboard Pray For Me in the seventh race and a tenth place finish with Ultimate in the last of ten races that day.
With a few near misses at the wire in his 30 mounts throughout the summer, that maiden win eluded him until October 16, the twelfth race card of the season.  Sat aboard the 3/2 favourite, Pitons Punch, Slade says he knew that trainer Robert Peirce had given him a sound opportunity to finally take that walk into the winners circle.  Slade's 7lb apprentice weight advantage was of no use here as the favourite was saddled to carry 123lbs, the second highest weight of the eight competing in the 5-furlong handicap event.
Bursting from the gate, Slade found a position on the outside of horses remaining within striking range of the front runners.  Bumping and scrubbing his way to the front when it mattered most, Pitons Punch crossed the wire with half a length on the fast closing Super Heights, whose jockey N'Rico Prescod gave Slade a congratulatory fist bump while galloping out after the wire.
"It was the way you would want to win your first one," exclaimed Slade when asked about the victory, "Bumping, knocking and riding all out for home. Very exciting.
"I felt a lot of relief especially with all the expectations given that my Dad is Jono Jones and my Grandad is Chally Jones," remarked Slade, "With this first one down I will keep my head down and keep winning.  I want to have the same success as them. They believe in me and I have a lot of good backers and everyone is happy for me."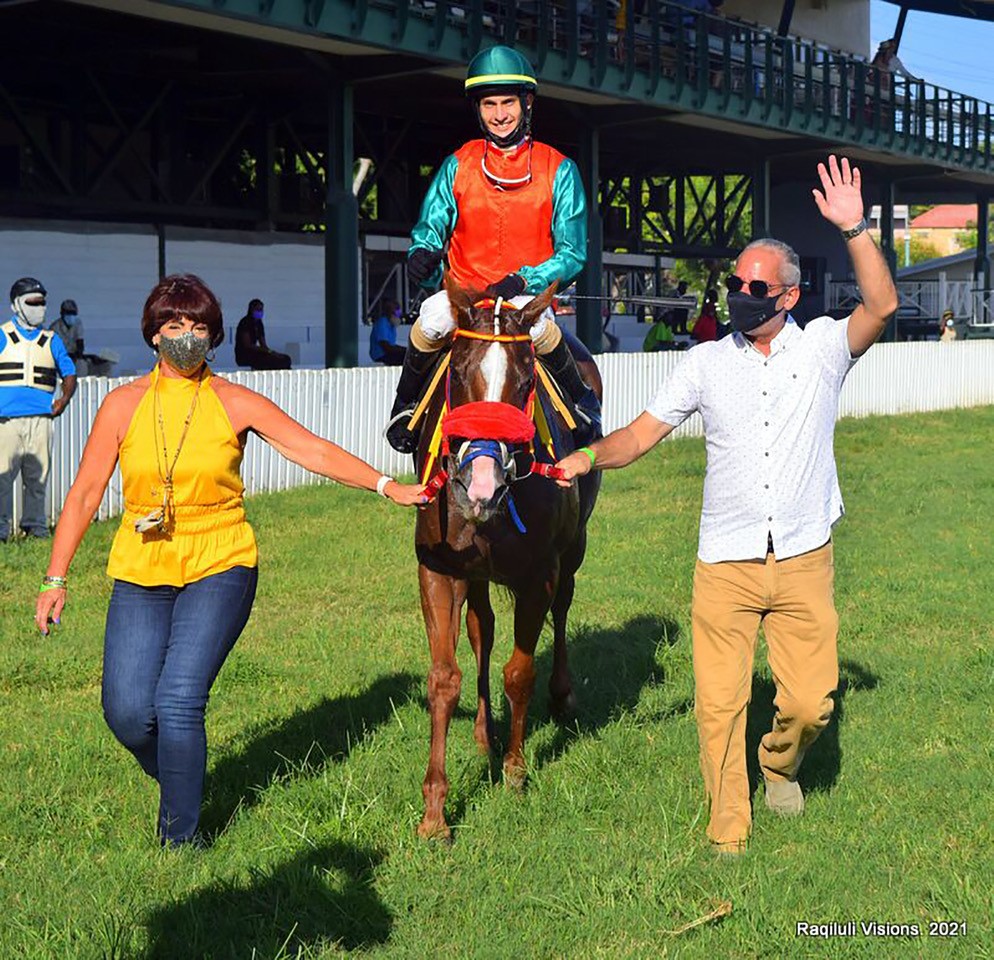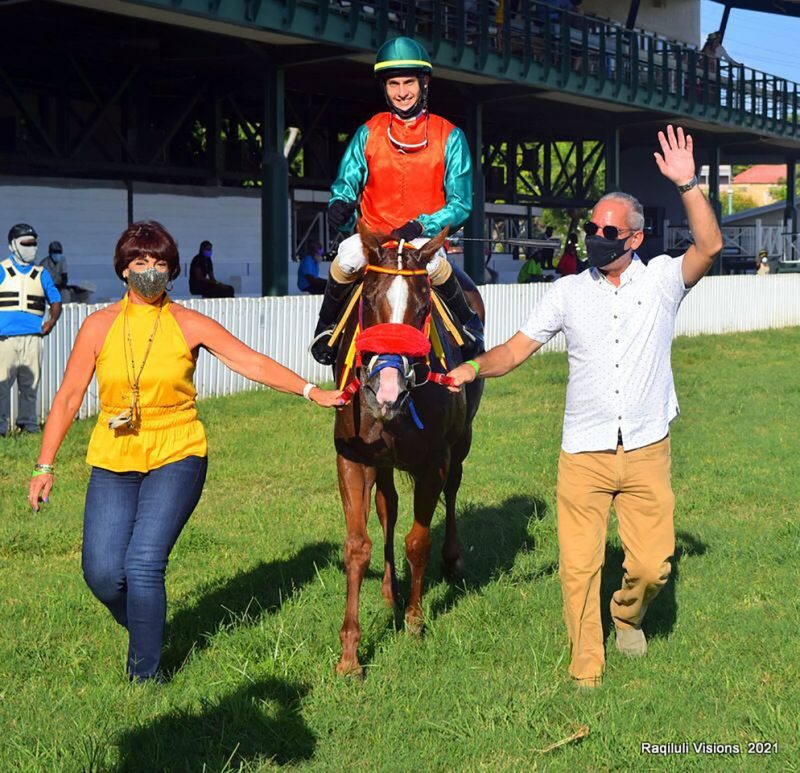 Being as successful as his father and grandfather is a grand ambition for any jockey never mind for an heir pursuing the throne.
Challenor "Chally" Jones is touted as being among the best jockeys to emerge from the Caribbean and was the first Barbadian Jockey to reach 1,000 wins in Trinidad.  Similar to his grandson, the South Caribbean Champion Jockey began his career at the racetrack in his early teens.  The talented jockey enjoyed success throughout the 1960s to the early 1980s when he dominated winner's circles in Barbados and Trinidad.  He was the winner of the Barbados Derby a record 11 times and holds the Trinidad Derby jockey record (tied with Ricky Jadoo) of six wins.
Chally, who started out at the track as a groom, is one of six jockeys inducted into the Trinidad and Tobago Racing Hall of Fame.  On January 1, 1972, he was appointed by The Queen on the advice of Her Majesty's Barbados Ministers to the Most Excellent Order of the British Empire (MBE) for his contribution to horse racing in the role of jockey.
After retiring from the saddle, his success as a breeder and trainer have been just as impressive.  Chally Jones has trained five Barbados Derby winners to date including three of his own Blue Ribbon Stud Farm bred horses (alone or in partnership).  A filly, Paddy Bird, bred in partnership with his wife Diana, was his first Derby winner as a breeder in 1986.  The great Incitatus, who Chally bred in partnership with Jean Louis Beuzelin, was the winner of the Barbados Triple Crown series (ridden by Jono Jones) in 1996 as well as Areutalkintome, another Triple Crown winner in 2009.
The aforementioned Incitatus relocated to Woodbine with trainer Ron Burke in 1997.  He won the Grade 2 Connaught Cup followed by a head bob second in the Grade 2 Hong Kong Jockey Club Stakes in 1999 as well as the Grade 2 King Edward Breeders' Handicap in 2000, all with jockey Slade Callaghan in the irons.
Barbados Derby winners Overdraft (1991), Winsome Lass (1992) and Zarmella (1994), were all under the training of Chally and ridden to victory by son Jono.
Another prestigious race at the Garrison Savannah is the Barbados Gold Cup which began in 1982.  Chally trained three winners in that race, Vardar with Patrick Husbands riding in 1990; Incitatus with Dale Whittaker aboard in 1997 followed by Federico with Simon Husbands in the saddle in 1998.
Today, Chally no longer breeds horses and has five in training upon which grandson Slade climbs aboard to exercise in the mornings at the Garrison. Three decades earlier, Jono Jones was a teen galloping for his father to gain experience before blossoming in the saddle.
Jono began race riding on May 26,1990 at the age of 14 winning his first race seven months later aboard Rugby Lass on December 8 for owner GH King and trainer Liz Deane.
The following two years he was crowned champion apprentice in Barbados.  In 1991, at the age of 15, he won the first of his five prestigious Barbados Derby races, aboard Overdraft, trained by his father for owner Herbert Gonsalves.  His other winners were Winsome Lass 1992; Zarmella 1994; triple crown winner Incitatus 1996 and Alaska Pete 2000.
Riding for Barbadian Trainer Sir Michael Stoute, Jono raced in Europe and England and had a two-year stint in Martinique coming away from that island with riding titles in 1994 and 1995.  He won his first journeyman riding title in Barbados in 2000, the same year he won his first Barbados Gold Cup aboard Blast of Storm for trainer William Marshall and owner Sally Arbib.
Jono joined the jockey colony at Woodbine Racetrack in Toronto, Canada and made a splash by winning on his first mount, Annie's Creek, by 6-1/4 lengths for owner, trainer Audre Cappuccitti on May 9, 2001.  For the next three years, Jono would continue to ride at both meets during which time he won the 2001 & 2002 Barbados Gold Cup once again with Blast of Storm and again in 2003 aboard Thady Quill for trainer William Marshall and owner Gay Smith.
In 2004 Jono committed to ride the Catherine Day Phillips trained, A Bit O' Gold, owned by the Two Bit Racing Stable, in Canada's most prestigious race, The Queen's Plate, the first leg of the Canadian Triple Crown held at Woodbine Racetrack.  After finishing a close second in the Plate, the pair went on to win the other two legs of the series, The Prince of Wales Stakes at Fort Erie Race Track and the Breeders' Stakes on the turf at Woodbine.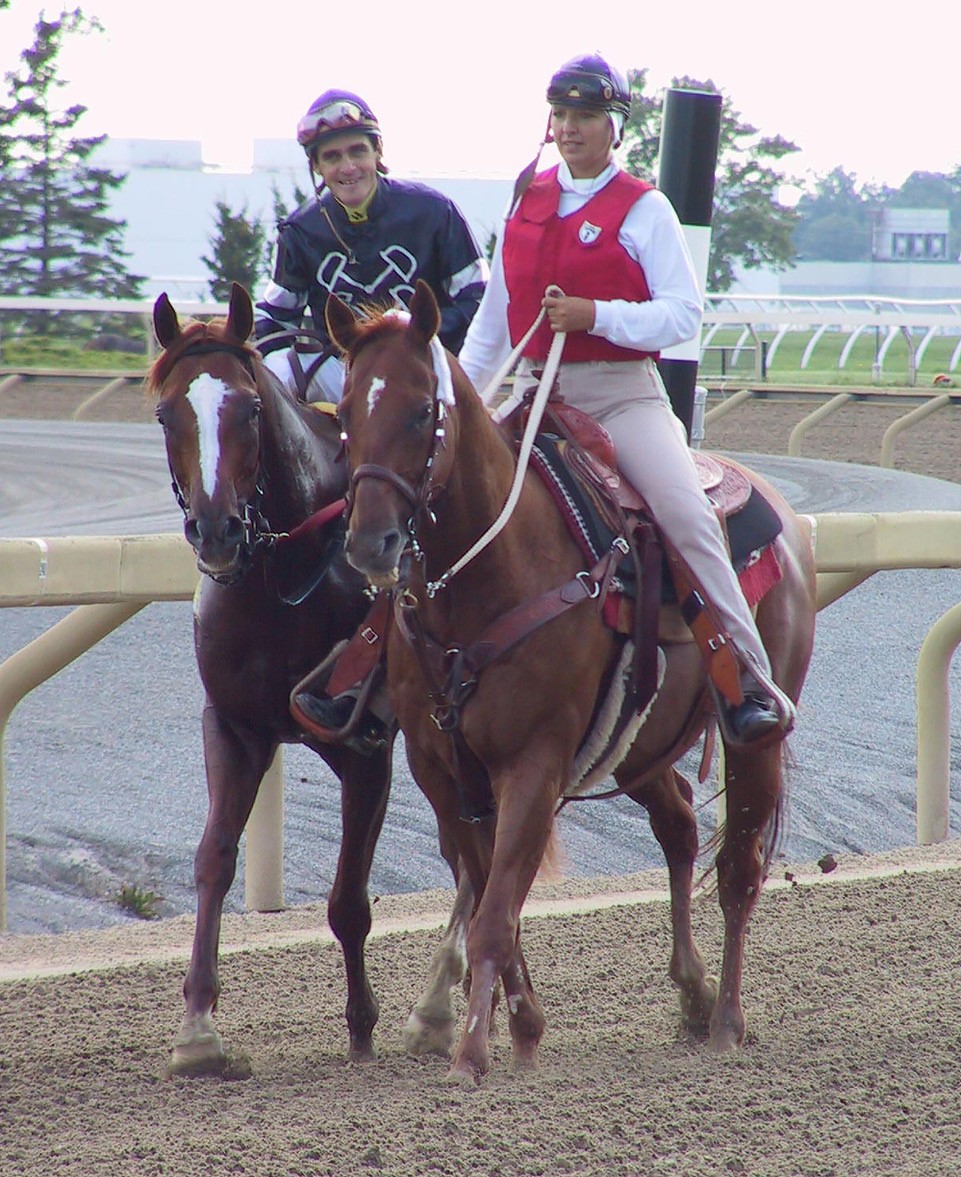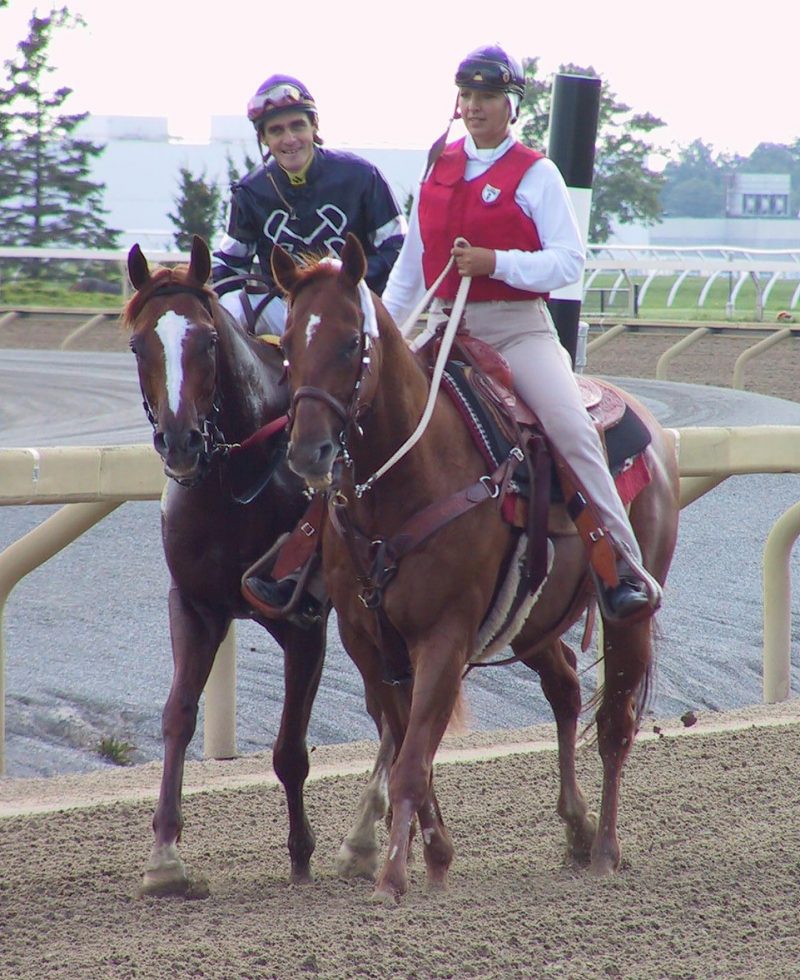 Jono won the next year's Breeders' Stakes with the Catherine Day Phillips owned and trained Jambalaya and again in 2009 with the Roger Attfield trained Perfect Shower for owner Charles Fipke.  The latter trainer-owner combination had provided Jono with a Queen's Plate victory the year prior in 2008 aboard Not Bourbon.
While Jono was enjoying continued success as one of Woodbine's leading riders, wife Sara gave birth to their twin boys, Slade and Tosh, on May 3, 2006, in Toronto.
On July 8, 2011, Jono conceded to the battle of making weight and rode his last race at Woodbine, ending a twenty-one-year career at age 35.  In his eleven years based at Woodbine, Jono rode 658 winners, and garnered more than $40 million in earnings in his 5,602 starts in Canada.
Jono and his family returned to living in Barbados and a short while afterward his marriage to Sara ended.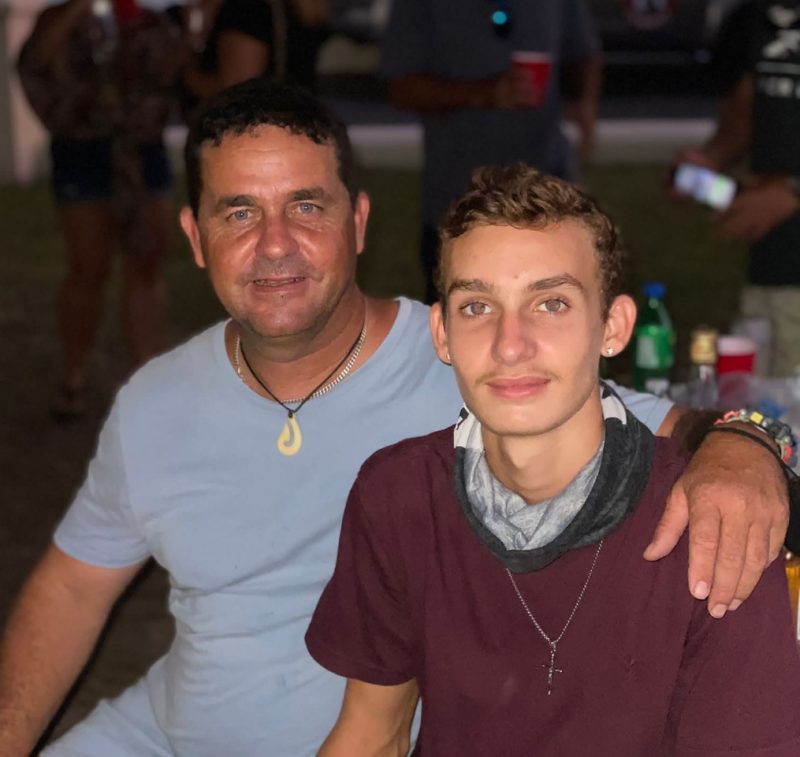 You will need to look to the ocean to find Jono these days as he now runs a successful long-liner fishing business as co-captain of Legacy Fishing Charters in Barbados.
Growing up, the Jones twins would split their time between parents and while Tosh had no interest in horses, Slade always wanted to become a jockey.
"Ever since I was little I always wanted to be a jockey," imparted Slade, who mentioned he was named after Slade Callaghan, a family friend and fellow Barbadian who continues to ride at Woodbine. "Tosh is more into shooting clay pigeons but I always wanted to be with the horses."
Slade Jones began riding at age six at the Barbados riding institution, Big C Stables, owned and run by his Grandmother Diana Clarke and his mum Sara.
Slade was a natural rider and excelled in showjumping competitions held at Big C Stables as well as in Canada at Iron Horse Stables until he was 13.  His athleticism also made him a fan favourite at the Barbados Ninja competitions winning the competition at age 12 and again at age 13 when he competed against more advanced competitors in the 13-18 years age division.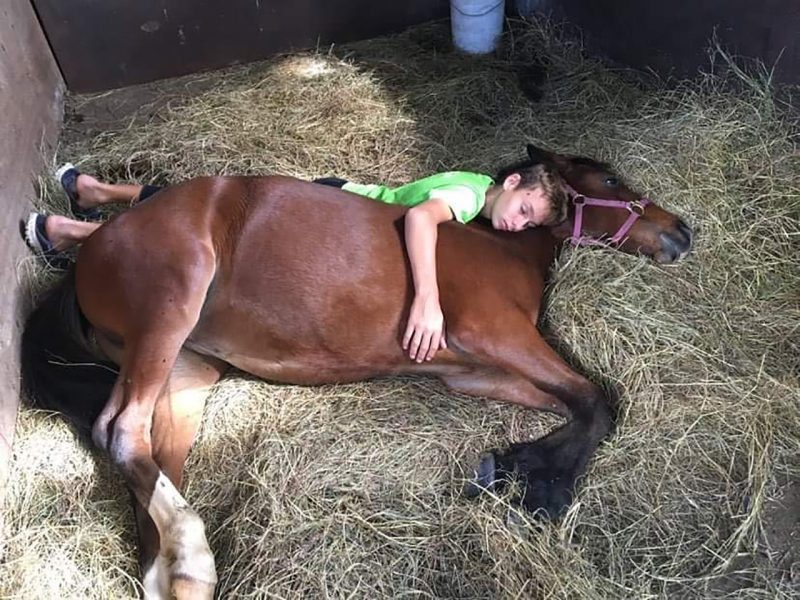 Slade then began working at the racetrack exercising racehorses for his grandfather Chally, which is where you will find him most days now in between classes during his final year of high-school.
Slade's goal is to follow in the footsteps of his father.  He is looking forward to moving his tack to Woodbine Racetrack when he is old enough to race ride in Canada. With the talent and support of his patriarchs, Slade is certainly one more Jones to watch in Barbados and one day soon at Woodbine in Canada.
Update:
November 13, Slade would record bookend wins on the card at Garrison Savannah, winning the first race with the two-year-old, The Code, in a photo finish and the last race aboard the five-year-old horse, San Pedro, with a well timed sprint to the finish.