By: Beverley Smith for Woodbine.com
Gustav (Gus) Schickedanz, one of Canada's most successful breeder/owners, died on the evening of June 17 at his home near Schomberg, Ont., with his family around him. He was 90.
"He enjoyed life more than anyone I know," said Lauri Kenny, his farm manager for 34 years. "And he always did things first class."
Schickedanz had suffered a couple of strokes over the past three to four weeks, one of them mild, the other he could not overcome. He was last at Woodbine Racetrack, where he had enjoyed so many triumphs, about a month ago. In April, he was given the E.P Taylor Award of Merit during the Sovereign Awards, but Schickedanz never asked or expected praise or reward.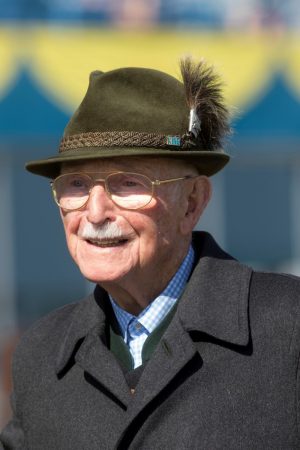 He carved out a highly meaningful life after escaping a Russian invasion into East Prussia (now Lithuania) where he was born, only a couple of kilometres from the Russian border. He was only 15 when he drove a team of horses under darkness of night with his family on Oct. 8, 1944 to escape the Russians, who had taken up residence in their farmhouse, and shot an employee trying to leave.
He and his family escaped the shelling that followed on their heels, while his sister suffered a serious head wound from shrapnel, and crossed a bridge which the Russians destroyed a couple of hours later. They settled in Bavaria, but as Gus, the youngest, turned 16, he was conscripted into the Nazi army. His mother burned the papers and hid him. After the war, when no country wanted to accept a German immigrant, Gus was the first to make it to Canada, the first country to open its doors.
Gus arrived with $3 in his pocket, got a job laying bricks the next day, shared an apartment with his three brothers, who arrived the following year and in 1953, they incorporated Schickedanz Brothers Inc., a construction company that developed properties around the world.
Always a lover of horses (his family had raised Trakehners in Germany), Gus began to put together his own thoroughbred breeding and racing operation during the 1970s. He made it work, in spades. (His brother Gerhard imported the dam of Abdullah, the giant grey Trakehner that won Olympic gold and silver for the U.S. show-jumping team in 1984.)
Schickedanz's first stakes winner was Victorious Answer, who became his foundation broodmare, too. Schickedanz horses won 10 Sovereign Awards, three of them for Broodmare of the Year, a tribute to his breeding acumen.
Kenny enjoyed his trips with Schickedanz as they went on the hunt into the United States to sales and stallion viewings, always on the hunt for broodmares. Schickedanz would pack a flask of tea, another one of coffee, tote along a Bavarian ham and the two would talk horses non-stop.
On one trip, Schickedanz paid $430,000 for Sharpening Up, in foal to Secretariat. The offspring, called Secretarin, had little talent, Kenny said. But Sharpening Up made amends by foaling stakes winners All Firmed Up, Firm Dancer and Woodcarver, winner of the 1999 Queen's Plate. Sharpening Up became a Broodmare of the Year in Canada, and Woodcarver was Canada's top three-year-old colt that year.
Schickedanz was without fear when he went to a Fasig-Tipton Matchmaker auction in Kentucky and paid $22,000 for a Mr. Prospector breeding opportunity and $27,000 for Danzig. This merely entitled Schickedanz to spend the full stud fees ($120,000 and $150,000) when they got the chance to breed to them.
The Danzig mating, to Schickedanz's homebred mare, Sweet Briar Two, produced Languhr, the crack sprinter who won top graded stakes in the United States, 1996 Vosburg Stakes and Forego Handicap and in 1997 the Carter and the Metropolitan Mile. Langfuhr went on to produce Whitney and Woodward Stakes winner Lawyer Ron and Arlington Million champ Jambalaya.
Schickedanz's Gal in a Ruckus, was the first Canadian-bred to win the Kentucky Oaks (1995) and Jambalaya was the first Canadian-bred to win the $1-million Arlington Million.
Two sons of Langfuhr, Wando and Mobil, who together won 18 stakes races and $4.4-million, came along at a time when Schickedanz had suffered a stroke. Wando became Canada's seventh Triple Crown winner in 2003, with Mobil finishing second in the Queen's Plate.
"I think Wando turned him around," said Mike Keogh, Schickedanz's private trainer for almost 26 years, speaking of his health.
Statistics and Sovereign Awards don't tell the whole tale of Schickedanz, however. "He was like a father to me," Keogh said. "They were a very generous family. He was a strong, fair, honest man."
Two days after Kenny began to work at Schonberg (Beautiful Hill) Farm, Schickedanz told him that whenever Kenny's daughter attended college or university, he would pay the toll. And he did, paying the tuition and the accommodation for a three-year stint at Fanshawe College. "That's the kind of people they were," Kenny said.
Around the farm, Kenny was often heard talking about cars, and in particular had his eye on a Ford Mustang. And he ordered one. But Schickedanz told the dealer to send the invoice to him. It was a $43,000 vehicle.
For his 80th birthday, Schickedanz chartered a plane for 26 people, and flew Kenny and friends down to Aiken, South Carolina, where he owned 1,600 acres in farm land for a celebration. Schickedanz had a limousine pick them up and they all spent three days and two nights in a hotel. "He did it in style," Kenny said. 
When one of Keogh's grooms, Kevin Pasher, bought a filly, Miss Sea, at the Toronto yearling sales, Schickedanz picked up the boarding bill. "You work hard," Schickedanz told him. "You deserve a break."
He was always a good-natured person, who still possessed a mighty grip late in age. And always, there was the trademark "Amen," as he declared a truth.
Services for Schickedanz will be held June 20 at the Egan Funeral Home in Bolton. Ont., at 12:30 p.m. He is survived by wife Ann, daughters Lisa, Susi, Tina and Heidi, 10 grandchildren and two great-grandchildren.