By Tom Cosgrove for Woodbine.com
TORONTO, July 30, 2018 – The world of thoroughbred racing recently lost a legend.
"Manny" Ycaza passed away in Forest Hills, New York at age 80 on July 16th.
He was one of a handful of jockeys who rode Canada's most famous horse, Northern Dancer, owned by Mr. E.P. Taylor's Windfields Farm.
When I spoke with Manny in May of last year, I was reminded he was aboard when the horse had his "coming out party" at Aqueduct Race Track in New York. Winning the Remsen Stakes as a 2-year-old was a big deal in November of 1963.
Unfortunately, the feat was somewhat overshadowed, like everything else in media, by the assassination of U.S. President John F. Kennedy during the week. In fact, that race was the second time Manny rode Northern Dancer, having won an earlier prep race in 'the Dancer's' U.S. debut.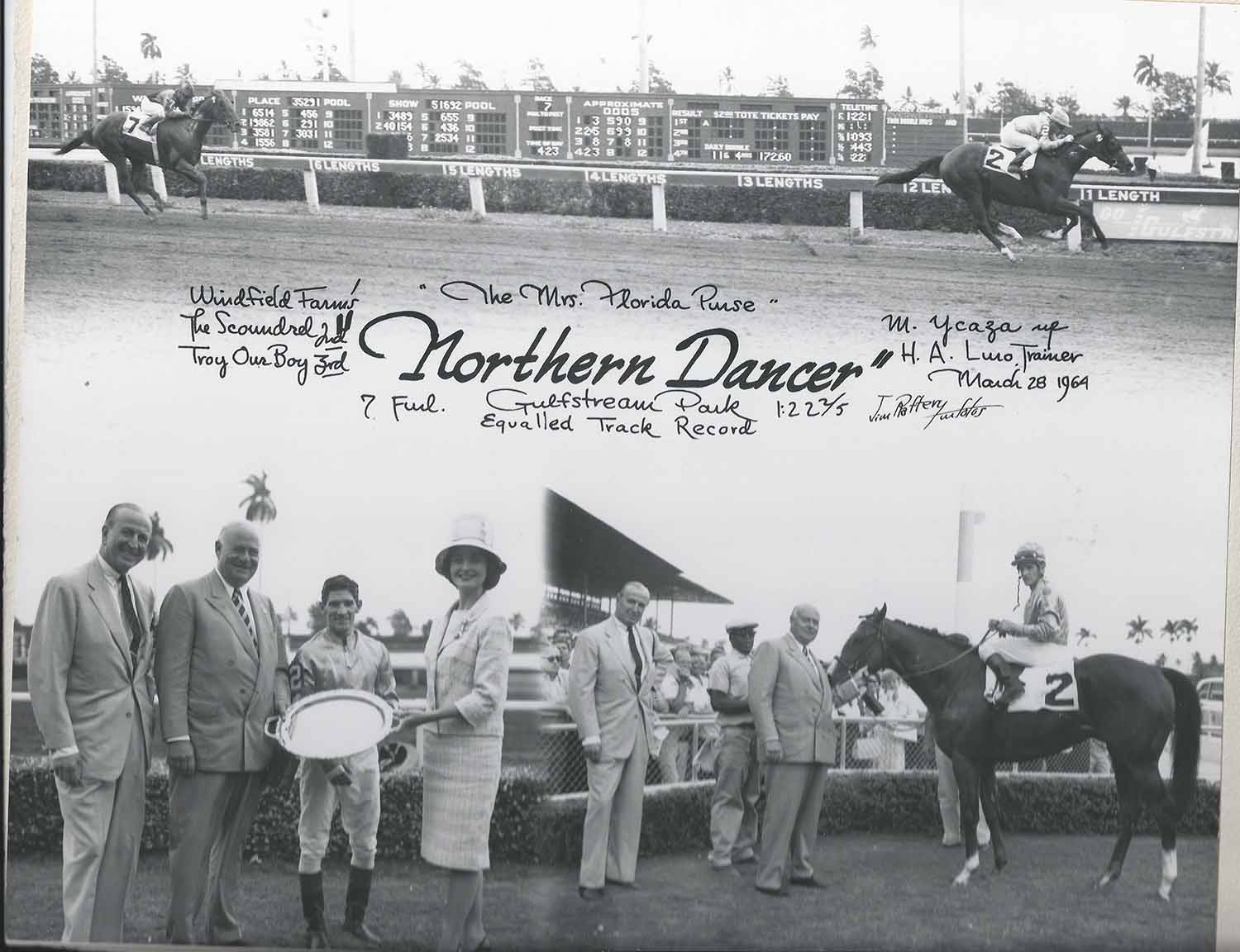 Panamanian-born Ycaza would be reunited with Northern Dancer early the following year in Florida when regular jockey Bill Shoemaker had another engagement in California.
"I could have ridden him all along but was under contract to Mr. Guggenheim (owner of prominent Cain Hoy Stable)," said Manny. "In those days, for jocks there were no appeals (riding infractions) and no way out."
Most people don't know when Northern Dancer lost his bid for the 1964 U.S. Triple Crown to Quadrangle in the Belmont Stakes, the winning rider was Ycaza.
There was one more twist to this story.
Shoemaker, after winning both the Flamingo Stakes and Florida Derby on Northern Dancer, opted to ride California-based race favourite Hill Rise in the 1964 Kentucky Derby. With Ycaza already committed elsewhere, iconic jockey Bill Hartack inherited the mount and, as they say, the rest is history.
Northern Dancer became the first Canadian-bred to win the Derby followed by a victory in the Preakness Stakes at Pimlico. He lost the aforementioned Belmont Stakes in New York but finished his racing career in winning the Queen's Plate here at Woodbine.
Ycaza enjoyed great success in Canada.
In 1963, he was summoned from New York to ride Windfields' Canebora to victory in the Queen's Plate at Woodbine.
He missed the mount at Fort Erie when the horse won the second jewel of Canada's Triple Crown, the Prince of Wales Stakes, but was back again at Woodbine to pilot Canebora in the final leg, winning the Breeders' Stakes on the turf.
Canada would have to wait 26 years for another Triple Crown champion when With Approval completed the sweep.
"I loved riding horses for Mr. Taylor," exclaimed Manny. "He treated me very well and (trainer Horatio) Luro always had his horses at their best."
Manny had a reputation for being an aggressive rider, sometimes overly so. His fiery temper led to nearly 400 days of suspensions over the years but leading horse owners and trainers stuck with him nevertheless; Messrs Guggenheim and Taylor included.
Ycaza's combative spirit and fierce desire to win would later be rewarded.
Contemporary rider Jacinto Vasquez talked about him in the July 20th edition of the Daily Racing Form.
"He got in a lot of trouble, but he really didn't mean to," he said. "He used to ride very powerful horses, and when he turned for home he used to make a hole, even if there wasn't one. But, really he was a nice guy. He didn't mean to hurt anybody."
Vasquez concluded that Ycaza, "…was as good as anyone who rode in this country.
He had everything. He was a competitor. He had a lot of guts!"
The fiery Ycaza was inducted into the National Museum of Racing and Hall of Fame in Saratoga Springs, New York in 1977 and was the recipient of the prestigious George Woolf Memorial Award in 1964. He won 2,367 races from 10,561 mounts.
Carlos Manuel de Ycaza (1938 – 2018)
Rest in peace, my friend.