By: Hayley Morrison for Woodbine.com
TORONTO, May 13, 2018 – As the afternoon light softly touches down upon Malcolm Pierce's barn, Janeen Lalsingh quietly sweeps the shedrow and preps evening feed.
A truck stacked with a mountain of hay lopes along the backstretch while several ducks putter outside the barn. Yet, the horses take no notice, instead focusing their gaze intently on Lalsingh.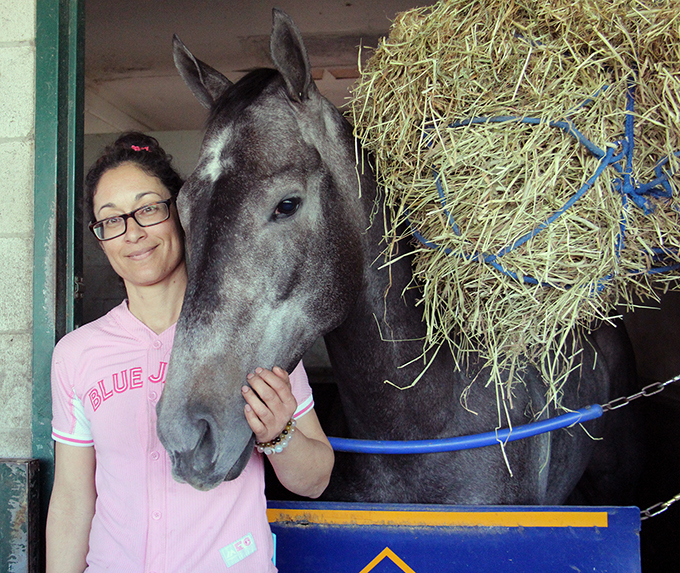 In the first stall, You're Mine, a four-year-old bay filly better known as 'Gracie' in the barn stands quietly, listening to Lalsingh but not budging from her spot.
"This is the resident diva in the barn and she knows it. She is a smart filly, she is a Congrats," said Lalsingh, who is keenly aware of her horses family lineage, among other things.
Several heads pop in and out, no nickering, no pawing, just a subtle stare down, reminding their caretaker what time it is.
"They are a little miffed because now I would usually go and pick a couple of buckets of dandelions and clover and they are all waiting. That's what she is waiting for, she knows I'm going to go, they are spoiled – they are my children."
Lalsingh has worked in the horse racing industry for nearly two decades, spending the last 14 years working as a groom for Malcolm and Sally Pierce at Woodbine Racetrack. Lalsingh currently oversees the care of five horses in the outfit including Gracie. Working a solid 12 hours at the track (sometimes more), she mucks stalls, grooms, feeds and preps her set of horses for training as well as race days. She is the true definition of a racetracker, living and breathing the industry day in and day out.
Racing is also in her blood. "Well, I was born into a racing family, so it just came naturally liking the game and obviously the love of horses," said Lalsingh, who was born and raised in Trinidad.
Kids off to their Winter quarters ☀️#TeamPierce #PinOakStud #Tampa #Missingthemalready ☹️??????? pic.twitter.com/0OygNY0Xmp

— Janeen Lalsingh (@ClothesHorse39) November 23, 2017
Lalsingh walks down the shedrow and proudly introduces the newest addition to her set, a handsome two-year-old War Front colt by the name of Implication. "He's pretty smart and he's actually very affectionate. Quite a character, at the gate (of his stall) just hanging with us and very curious."
While Implication takes the cake for one of the most handsome horses in the barn, his stablemate Split the Sea is second to none in bringing the flashy and fierce to the crew. Bred by Sam-Son Farm, the three-year-old daughter of Stormy Atlantic, has not surprisingly garnered the fashionable barn nickname 'Barbie.'
"Last year when the babies came in there were three of them and they were all pretty girls. She was the most forward and confident and everybody all remarked how beautiful she is, how she's like a little Barbie doll and the name just stuck."
Bonding with the filly over the last year, Lalsingh has enjoyed watching her mature and develop into a racehorse. Lightly raced with only two starts in 2017 and one start in 2018, Barbie has already proven she's a very capable athlete, running a game second during a windstorm earlier this season.
"She is very classy because she never batted an eye with all the craziness on the front side. She took it all in stride, once she saw that I wasn't panicking, that I wasn't scared either, she wasn't scared. She took it all in stride and there were all other fillies in the race and they were all acting up – which is understandable because it was crazy. She took it with grace."
Split the Sea is a granddaughter of Canadian Triple Crown champ Dance Smartly and Lalsingh is hoping the blonde bombshell of a chestnut filly will live up to that name.
"I tease her and say, 'You look like your granny, I hope you can run like her."
Not to be overshadowed by Barbie, a four-year-old grey filly by the name of Science Fiction peeks her head around the haynet to greet Lalsingh. The most seasoned of Laslingh's crew, 'Sci' has run at Churchill, Keeneland, Remington Park, Oaklawn Park, Tampa Bay and Woodbine.
"She loves attention, she loves people as you can see and she is one of Miss Sally's favourites. She lets her lick the spoon after she mixes the feed," said Lalsingh of the four-year-old Tale of The Cat filly.
The one horse who isn't trying to steal the spotlight and remains quietly tucked away in the back of his stall is Armament or 'Georgie." Snoozing while engulfed in a comfy bed of straw, his ears flick forward as Lalsingh approaches.
"Before Implication came he was my only son and he knows it. He's a momma's boy, he's an absolute momma's boy."
The four-year-old War Front colt spent the winter at Tampa, but Lalsingh knows he's happy to be back at Woodbine. "He was a little unlucky at Tampa. The last race there, he literally fell on his face coming out of the gates… he loves Woodbine and Eurico (Rosa Da Silva) loves him a lot too."
Back on home turf and re-united with Da Silva, Armament romped to victory in a six and half furlong maiden special weight on May 6, giving the Sovereign Award-winning jock his first win of the 2018 meet.
Lalsingh beams at her boy, happy his season is off to a good start while also knowing the colt possesses something special. "His first start as a baby he finished behind Conquest Farenheit and he has gone onto win two stakes races out in California so that just tells you."
Is it obvious that the kids are coming home tomorrow? Missing is Jack's donut will get it fresh in the morning at Timmies! ?????????#Spoiled #TeamPierce #PinOakStud #Samsonfarm #ByeTampa #HelloWoodbine #BetWoodbine pic.twitter.com/pqBgZWlsYr

— Janeen Lalsingh (@ClothesHorse39) April 6, 2018
Even if you don't get a chance to see one of her 'kids' racing, it's hard to miss the epic shout outs and updates she posts on her Twitter account @ClothesHorse39. Just like a doting mom, she makes sure to showcase their racing achievements whether they finish first or simply put in their best effort.
Asked what she loves about her job, Lalsingh pauses and looks over to her horses patiently waiting for those promised snacks of delicious dandelions and fresh cut clovers.
"You know people don't give them enough credit, that they've got feelings too and that they are sensitive animals. The more attention and love you put into them they give it back to you, they do. They love you unconditionally and when you are having a bad day they pick up on it. It's just love and passion."