Barb Minshall knows you can't keep a good horse down.
Throughout a career that has spanned five years and 28 races, Admiralty Pier has experienced his share of good luck, bad fortune, big highlights and a few disappointments.
Yet through it all, stakes scores, winless streaks, and everything else in between, the six-year-old son of English Channel has endured and in doing so, carved out an impressive career on the racetrack.
"He's been a nice horse," said Minshall, Canada's champion trainer in 1996 of the horse who sports a record of 6-5-3 from those 28 starts. "I said it a few weeks back… this is probably the only horse that's been Grade 1-placed at six-furlongs and a mile-and-a-half. He's a very versatile horse."
His latest engagement comes into the form of the Grade 2 $250,000 Nearctic Stakes this Sunday at Woodbine. The chestnut is listed as the 7-2 second choice in the morning line.
Admiralty Pier, who has the most experience of the 10 starters, arrives at the six-furlong turf race off an impressive second-place finish in the Grade 1 Highlander on August 22 at the Toronto oval.
Under Antonio Gallardo, the gelding, bred in Kentucky by Calumet Farm, rallied stoutly to miss the top prize by a half-length.
"He came home fast," praised Minshall. "Silent Poet (the race winner) is a good horse. We were probably a little wide and couldn't get to him, but the horse that won is a nice one. He [Admiralty Pier] was coming off a mile-and-a-half race going back to three-quarters, so we were a little slower leaving the gate than we normally are."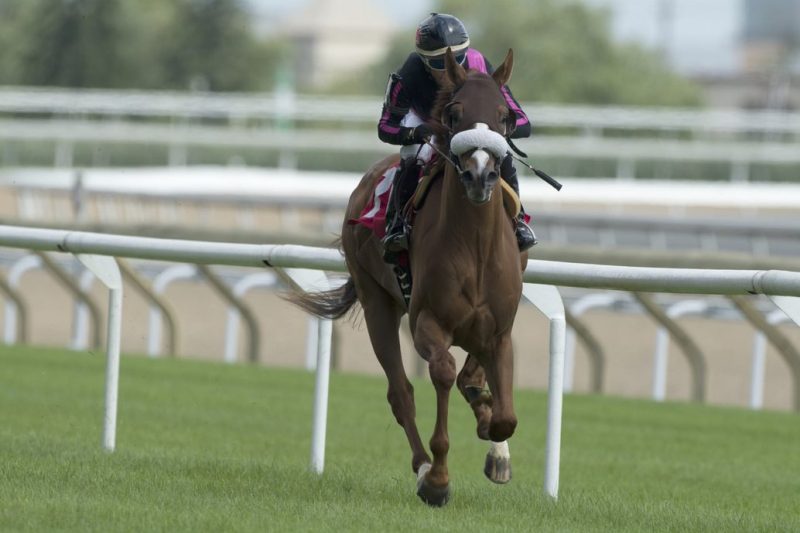 That performance came on the heels of a seventh-place result in the Niagara Stakes, an about 1 1/8-mile turf race.
"He went six furlongs in 1:08, which was too fast going that far."
For Minshall, watching her wily veteran campaigner rebound from an off-key effort is hardly surprising, but always rewarding.
"You can never count him out. He's all racehorse, there's no question about that. He tries every time. He's just a really nice horse."
The gelding, owned by Hoolie Racing Stable LLC and Bruce Lunsford, is no stranger to finding his mojo after finishing off the board.
Admiralty Pier won his debut in August 2017 at Woodbine and then finished third in the Grade 2 Summer Stakes and fourth in the Grade 3 Dixiana Bourbon Stakes. He closed out his two-year-old season with his first stakes win, an off-the-pace score in the 1 1/16-mile Display Stakes on the Woodbine main track.
He ran third in the Grade 3 Kentucky Utilities Transylvania Stakes in his first race as a three-year-old but was unplaced over his final three starts of 2018.
His four-year-old debut yielded a 3 ½-length win in January 2019 in an allowance-optional claiming race on the Tampa Bay Downs turf.
Testing mostly graded stakes competition over the next 11 months without a top-three finish, he stopped a six-race winless stretch with a win in an off-the-turf race in December 2019.
On February 8, 2020, Admiralty Pier notched his first graded stakes crown when he eked out a nose victory in the Grade 3 Tampa Bay Stakes.
After a seventh-place finish in the Grade 3 Challenger Stakes four months earlier, he came back with a flourish, finishing second in the Connaught Cup Stakes, just a half-length behind the winner. He ended his five-year-old season with a third in the Pattison Canadian International.
Two months after finishing twelfth in the Grade 3 Louisville at Churchill Downs this May, he made his way to the Woodbine winner's circle courtesy of a wire-to-wire triumph in a 1 1/16-mile turf race.
"He's always been a little bit of a tricky horse to train," offered Minshall. "You couldn't call him an easy horse to train. He's always been a little quirky. He spends a lot of time in the field, training. I don't take him to the track a lot. He likes that kind of training and it works for him. He likes a lot of TLC. He always tells you when he's ready. He tells you when he can run. You just have to listen to him."
Minshall likes what she's hearing ahead of the Nearctic.
"He's good to go. It would have been nice to try the (Ricoh) Woodbine Mile again (Admiralty Pier was sixth in last year's running). Maybe, knock on wood, we'll get to do that again next year. The distance suits him. But he feels good and he's good to go."
Chris Lomon, Woodbine Communications