TORONTO, May 3, 2018 – We caught up with Men's Lifestyle expert Richard Cazeau, who will be returning as host of Woodbine's Derby Day Party this weekend, to chat about spring fashion trends for the first Saturday in May and some of his first racing experiences.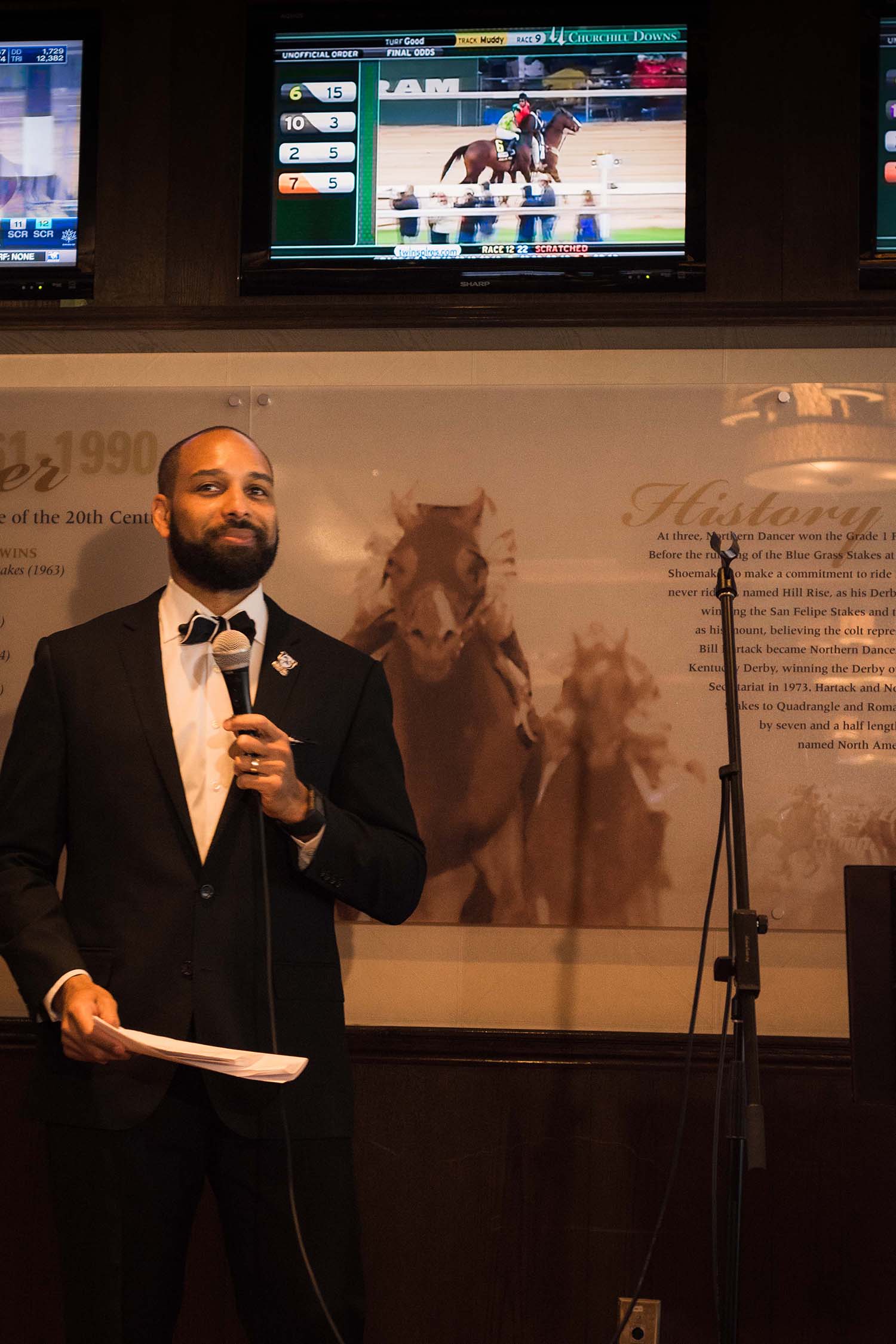 What was your introduction to horse racing?
 My introduction to racing, like perhaps many people, was through cinema. It was through the different films that talked about racing as an experience and a lifestyle, and the people who would go through the experience, show their love for horses and champion the sport. That was very much the introduction for me and then to see it live and direct at Woodbine was a full circle of understanding as to what exactly that is.
What are some of your favourite fashion trends for men this spring?
What I like about spring fashion is you have so many options. You have the option to play with stripes, solids, colours, and you can go in the direction of florals in terms of patterns to wear. The idea is to be completely comfortable and slim fitting at the same time so I love that about spring trends for men. And I love that the bow tie is continuing to have an impact over the tie when it comes to dressier fashion for men.
Do you have any advice on how to incorporate these trends into a sophisticated look for the Derby Day Party?
One thing I always think about when it comes to sophistication is to do your best to keep things calm in terms of your overall style and then allow two or three key items to pop with flair. It could be your accessories; it could be your tie, it could be your footwear. Really just take advantage of your accessories to do the talking for you and keep the rest of your outfit somewhat clean and slick without being over the top in terms of prints, patterns or colours.
What were some of your favourite moments from hosting Woodbine's inaugural Derby Day Party last year?
What I loved about last year was the community engagement, and when I say that I'm talking about the crowd, how culturally progressive it was and just what people brought to the table in terms of the inspiration and excitement around the event. I loved the fashion as well, that people really did make an earnest effort to look fashion-forward at the event. We also had a couple of live performances and David Dunkley was there sharing his fascinators and there was a lot of beverage and food tastings. I think food is always an important thing too. I think what Woodbine does for food is always incredible. I know your Chef de Cuisine, Michael Mortensen, really has an interesting demeanor and attitude towards what he brings to the table and how he presents the food selection. If anything, Woodbine brings rich and goodness to the table and to people's mouths. I would certainly say it was an overall experience. And I think that the step and repeat was a beautiful bonus!
Check out some highlights from last year's Derby Day Party below and be sure to follow Richard Cazeau on Instagram and Twitter to keep up on the latest men's lifestyle trends!
https://www.instagram.com/p/BTxEIqlgq9a/?taken-by=richardcazeau
https://www.instagram.com/p/BTwu3TIgGT_/?hl=en&taken-by=richardcazeau
https://www.instagram.com/p/BTxoeP1Aq-D/?taken-by=richardcazeau
https://www.instagram.com/p/BTxoG3tgrPM/?hl=en&taken-by=richardcazeau
https://www.instagram.com/p/BTxquOjgMfA/?taken-by=richardcazeau
https://www.instagram.com/p/BTxqp16g4ch/?hl=en&taken-by=richardcazeau
https://www.instagram.com/p/BTw0gWOgzQD/?hl=en&taken-by=richardcazeau
https://www.instagram.com/p/BTxqPQEgw6q/?hl=en&taken-by=richardcazeau
Join Richard Cazeau at Woodbine's first must-attend social event of the Thoroughbred season to watch the 144th running of the $2 million (USD) Kentucky Derby from Churchill Downs and enjoy fabulous racing, food, fashion and entertainment. Woodbine's Derby Day Party will be held in the Trackside Tent on Saturday, May 5 from 1 p.m. to 8 p.m. Get your tickets at Ticketmaster.ca.