By Chris Lomon for Woodbine.com
TORONTO, June 29, 2018 – Sam Roberts definitely has something to sing about when it comes to his upcoming Saturday performance at Woodbine Racetrack. It's one of several must-see events centred around the 159th edition of the Queen's Plate.
"I've never been to Woodbine before, but obviously it's a legendary spot in terms of the history of the horse racing in Canada," said Roberts, the award-winning Canadian singer/songwriter who released his first true debut in 2002, "It's one of those unforeseen marriages. When you're playing sweaty rock and roll venues most of your life, you never think one day that you'll be hobnobbing with racing people and fans. I think this is a nice twist in the road for the band, where we've come from and where we're going. This is definitely going to be the first time anyone with a fascinator has been anywhere near a stage we've performed on."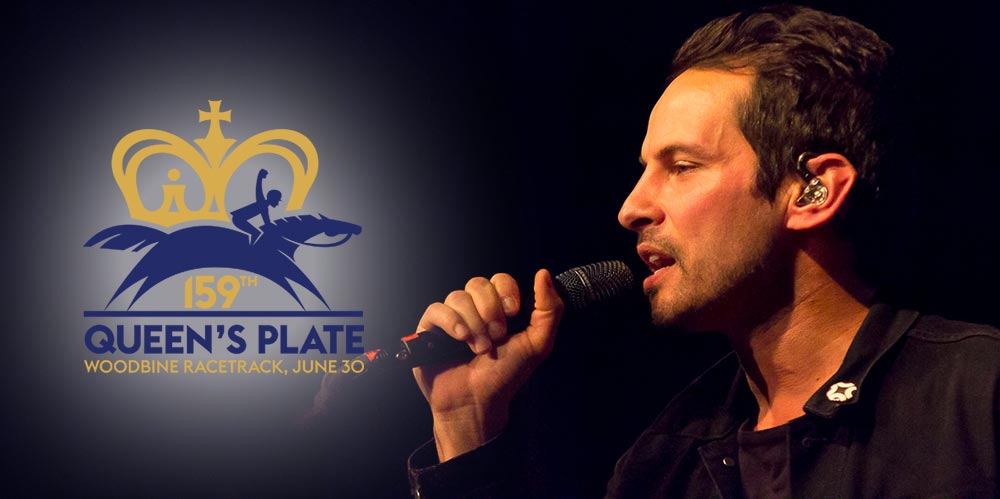 The Sam Roberts Band, who in 2016 traveled to the Bathouse, The Tragically Hip's studio near Kingston, Ontario to record their sixth full-length album, TerraForm, take the stage at Woodbine on Saturday evening at 9:00 p.m., following the action-packed afternoon of racing.
Roberts has played at several notable events during his enduring career. The multiple Juno Award winner was the main performer at the NHL Awards in 2003, headlined the Grey Cup in Saskatchewan that same year, opened for rock legends The Eagles in New Brunswick in 2008 and performed at the 2010 Winter Olympics in Vancouver.
He's looking forward to adding another memorable evening to his impressive list of shows that have literally taken him all over the world, including Paris last year where the band brought their music to the Champs-Élysées.
Having the opportunity to see the world through such a unique lens is something he's never takes for granted.
"That's exactly right," said Roberts, whose second album, We Were Born in a Flame, won Juno Awards for Album of the Year, Rock Album of the Year, and Artist of the Year in 2004. "You start to realize the privilege of it and the connections you're able to make with the audiences around the world.
"You see Spain and other places as a rock'n roller. It's also different because we wake up at 11:30 every morning everywhere we go. I don't know what any country is like in the morning. We know a lot about their nightlife. I'm going to have to go back and see the places and wake up at 6:00 a.m. to see what normal people do when they wake up. We always miss breakfast. Trying to get bacon and eggs after 11:00 in the morning is almost impossible. We'll do a breakfast tour one year."
Before that happens, however, Roberts, the 2007 Juno recipient for Video of the Year (Bridge to Nowhere), and his bandmates have something else on their plate, so to speak.
"The fact that we are still able to do it and that there's a real sense of adventure, vitality and ambition in the band – it makes me happy that it's still there, not just for me but for my bandmates, too. Knowing that fire is still burning, I couldn't ask for more than that. We're excited for this."
As for what band he'd love to share the Woodbine spotlight with, Roberts went with an iconic British band that recently announced it's reuniting after 20 years apart.
"There were rumors that The Kinks were getting back together and I'll put this out there: I want to be on the bill with them," he said. "That would be a dream come true, but I'm sure I'll be vying with about 15,000 other bands who wish the same thing."
We couldn't let Roberts go without asking what name he would choose if he had a horse entered in this year's Queen's Plate.
His answer certainly didn't disappoint.
"Let's think here," started Roberts, who also won Juno Rock Album of the Year honours for Chemical City and Love at the End of the World. "I'll go with Cosmic Vibe Machine. I think the naming of racehorses is actually harder than writing songs. Some of the names people come up with are just unbelievable. When I tune in to watch to watch the races, I'm always floored by some of the names. But I'll stick with Cosmic Vibe Machine for now."
For more on the Same Roberts Band and all the Festival related events visit the Queen's Plate website.