By: Eric Wing for Woodbine.com
TORONTO, July 6, 2018 – Russell Wilkes had attended tournaments for years—but not as a contestant. Whether at Woodbine, in Las Vegas or in places in between, Wilkes delighted in tagging along and cheering on his longtime friend Bob Montgomery (winner of this year's Horse Player World Series) as he followed the contest circuit. Despite Montgomery's frequent prodding, however, Wilkes never, himself, played in a tournament.
"I'm more of a standardbred guy," he told Montgomery once. "The Thoroughbreds just make me confused."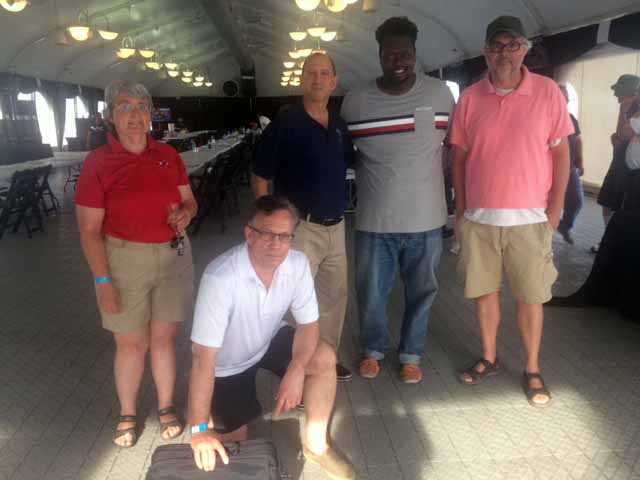 Wilkes, a recently retired liquor store manager from Stittsville, Ontario, finally played his first tournament in August 2016, but only due to a sizable assist from Montgomery.
"Bob paid for my entry that day," Wilkes, 58, laughed.
Wilkes finished second that day, and the result encouraged him to stick his toe a little deeper into the tournament waters. Later that year, he played in the Orleans Fall Classic in Las Vegas and finished second there as well, this time earning $20,000, an amount that still represents his biggest winnings as a contest player.
Despite the successes, however, Wilkes was not at ease with certain aspects of the contest scene, especially the entry fees associated with some of the more major events
"I don't have the resources to put up thousands of dollars to play in a big-money tournament," he said. "I mean, I could…but I don't feel comfortable doing that. For contests like those, I'll only play the online feeders."
Wilkes did just that earlier this year, winning a $3,000 entry at Horsetourneys.com to the Keeneland Grade I Gamble tourney in April. After having tasted success in mythical-money tournaments like the Orleans Fall Classic and others online, the 58-year-old looked forward to trying his hand at a prestigious, live-bankroll event.
It did not go well.
"The tournament required you to place 10 bets of at least $200 each," he recalled, "and I guess I got nervous putting in big bets like that. In one of the races, I mistakenly just bet $100. Not long after that, one of the tournament officials came and sat down next to me."
The official was not bearing good news. For failing to adhere to the $200 minimum, Wilkes had been disqualified.
"I felt awful," Wilkes confessed, "but I did get to keep what was leftover in my bankroll, and based on the results that day, that turned out to be a good thing. Had I kept betting, I wouldn't have had a hope in hell!"
So a difficult psychological blow turned out to be a financial saving grace, and for Wilkes it was just another chapter in what has already been a pretty unforgettable 2018.
On March 23, he won his first ever seat to the National Horseplayers Championship (NHC) by winning a free, online qualifier against thousands of opponents at Horseplayers.com.
Then, during Preakness week, he won an $18 feeder contest at Horsetourneys.com that earned him the right to play in a $165 NHC qualifier. He won that too, and the tournament neophyte suddenly found himself with not one but two entries, the maximum permitted, to the 2019 NHC.
That brings us to the June 16 Spring Meet Horseplayers Tournament at Woodbine. Contestants, who paid $150 per entry, battled for $2,500 in bonus cash plus two NHC seats. So why did Wilkes purchase a maximum three entries for the Spring Meet Tournament given the fact that he was ineligible to win a third NHC seat?
A friend and fellow contest player, Stephen McNatton, informed Wilkes that the NHC Tour offered generous bonus money of up to $100,000 (U.S.) to those who displayed sustained excellence throughout the year, as measured by a special points system. Wilkes's two online victories had propelled him to the Top 20 of the NHC Tour standings, and McNatton told Wilkes he could move higher yet if he recorded a high finish at a live, brick-and-mortar event. With a reasonable entry fee of $150, the Spring Meet tourney seemed like just the ticket for Wilkes.
"I just wanted an ontrack score," he said. "I had no intention of trying to win."
It didn't seem like such a hot ticket halfway through the competition. Players were required to make at least five $10 wagers from a starting bankroll of $50. With just three races remaining on the Woodbine card, Wilkes had lost three plays on one entry and two on the other two. He had yet to cash a ticket of any sort.
Wilkes wasn't demoralized, though. He really liked Mr. Havercamp in the 8th race, and decided to go "all in" on him with all three of his entries. "He was a dominant horse last year," Wilkes said. "He was from a nice barn and he looked good on the track."
Mr. Havercamp came through and paid $5.10 to win. Wilkes now had some ammunition with which to play the final two races.
In the 9th race, he bet modestly, picking a different horse across each of his three entries. One of those was 7-2 winner Florida Won from the Norman McKnight stable. With one race to go, Wilkes now found himself in 3rd,13th and 25th places in the field of 137.
Wilkes played his top entry very conservatively, wagering just the minimum $10, hoping to preserve a top 10% score that would earn him those NHC Tour points he was after. His 13th-place entry had about $86 on it, and he wagered it all on his top pick in the 10th, Love Thy Kitten, who was conditioned by one of his favorite trainers, Mike Maker. For his other entry, Wilkes played an all-in win bet on a different horse, a big longshot.
Love Thy Kitten broke slowly, but rumbled home late to win and pay $10.80. The win moved Wilkes's 13th-place entry all the way to first with a total of $464.90. The entry that had been third dropped back two places, but that still left him in first and fifth places. Wilkes got to keep his final bankroll amounts ($464.90 plus $145.25 for his 5th-place entry). He also received $1,125 from the Woodbine prize pool for the first-place finish and another $125 for finishing fifth—and he received enough NHC Tour points for the win to move all the way up to third-place in those standings.
What's next for Wilkes? The cost-conscious retiree—who advises new and prospective contest players to "Stay within your means"—will continue to concentrate on tournaments with reasonable entry fees and prize structures that offer solid value.
"I will play the next two at Woodbine for sure," he said, referring to the July 21 Mid-Summer Horseplayers Tournament and the August 25-26 Weekend Horseplayers Tournament. "I'd love to play in the September tournament too, but I may only play if I can somehow win my way into that one."
Given Wilkes's recent run, don't bet against that happening.
***
TOURNAMENT NEWS—The two available NHC berths at the Spring Meet Horseplayers Tournament went to runner-up Anthony Peterkin ($330.00) and third-place finisher Louis Cavalaris ($270.50), who prevailed in a tiebreaker over fellow $270.50 scorer David Green by virtue of having selected more winners. Peterkin earned a prize pool bonus of $550, while Cavalaris and Green each received an additional $225.
Russell Wilkes's Spring Meet Tournament victory also put him in the early lead of the 2018 Woodbine Player of the Year Standings. Players receive points for top finishes in Woodbine's four major horseplayer tournaments. Those who play in at least three of the four events automatically become eligible for end-of-season bonuses, including $6,500 and a Sovereign Award to the overall top finisher.
The Series continues with the Woodbine Mid-Summer Horseplayers Tournament on July 21 when two NHC spots will be on offer. The entry fee for this contest, lowered in 2018, is now just $250.
Following the Mid-Summer Tournament is the two-day Woodbine Weekend Horseplayers Tournament on August 25-26. Here, four NHC seats and one Breeders' Cup Betting Challenge entry are at stake. This event also has a reduced entry fee for 2018—$350.
The four-event series concludes with the September 15 Woodbine Mile Horseplayers Tournament, which carries a $3,500 buy-in and will offer two BCBC entries, four NHC seats and rich cash bonuses.
***
Eric Wing is the Communications Director at HorseTourneys and the longtime emcee at the National Handicapping Championship. Prior to joining HorseTourneys, Wing headed up Communications at the National Thoroughbred Racing Association and The New York Racing Association. Wing's Player Profile will be published monthly on the last Friday of each month on woodbine.com.