Summer Sunday has one last journey to take before heading to greener pastures.
Less than a week from now, the striking six-year-old mare will depart the barn of trainer Stuart Simon and head over to the Woodbine paddock for the La Prevoyante Stakes.
The 1 1/16-mile Tapeta race for Ontario-sired fillies and mares, three-year-olds and upwards, will be the swan song for Summer Sunday, the multiple stakes-winning daughter of Silent Name (JPN).
Should she win the $100,000 race, the veteran campaigner would eclipse the $1million mark (CDN) in lifetime earnings for owners Anne and William Scott.
Soon after the race, Summer Sunday will be on her way to Ireland to begin a new life.
"She's going to be a broodmare, and she's going to have a forever home with Mr. Scott's relative in Ireland," noted Simon. "It's very nice to know that she's going to a place where she'll be well looked after for the rest of her days."
The reality of the La Prevoyante being her final start has already hit Simon.
"It's going to be emotional…" said the longtime conditioner, his voice trailing off. "We didn't raise her, but we bought her as a yearling, and we tried to keep her safe and looked after her whole life. It's going to be very emotional. She's so special. You always dream of having these kind of horses."
Her most recent start, the Eternal Search on October 29 at Woodbine, was the ninth career stakes score for Summer Sunday, who sports a record of 11-3-1 from 21-lifetime starts.
Summer Sunday launched her career with a win on July 15, 2017, going on to net the natural hat trick to complete her rookie season with a perfect three-for-three mark, which included victories in the Nandi and Muskoka Stakes.
In 2019, she was named Canada's champion female sprinter.
Simon, who has 838 career wins, continues to marvel at the mare's versatile ways.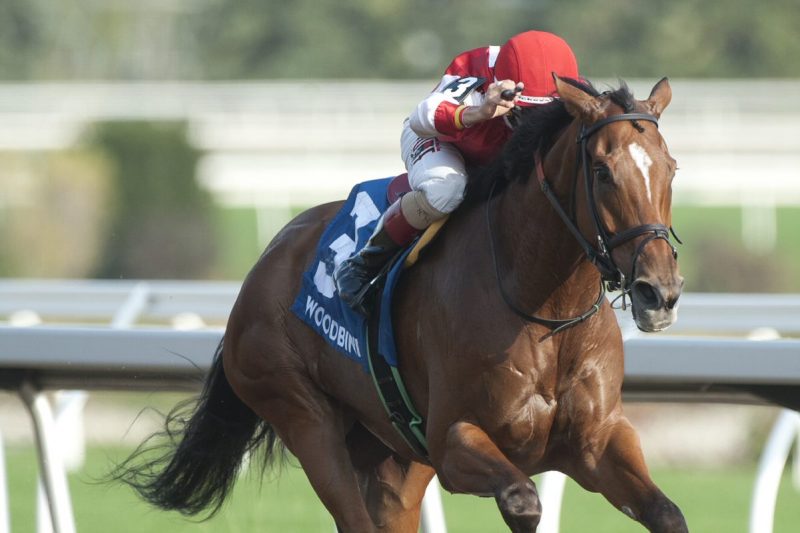 "She has won stakes races from five furlongs up to a mile-and-a-sixteenth on all three surfaces at Woodbine. She's won a five-furlong race on the Inner Turf, she's won multiple graded stakes on the main track, and she's won a graded stakes race on the E.P. Taylor Turf Course, as well as a two-turn Open stakes race on the synthetic. Not many of the past champions and good horses here have that kind of diversity. Not taking anything away from all of the great horses that have been here, but most of them are really good at one thing, probably, whether it's running short or running long, turf or synthetic."
Regular rider Rafael Hernandez is equally effusive in his praise of Summer Sunday's ample abilities.
His highest compliment is divided between the conditioner and the dark bay.
"I liked her from the first time I got on her," said the veteran jockey, who has over 2,800 career wins. "She used to be a filly that was all speed. Every time the gate opened, it was 'go, go, go.' Like every horse, when they grow up, they start to figure it out. They don't have to be on the engine the whole way. They can settle down. She's been doing that for the last couple of years. She can settle off the pace and be able to finish. We can do anything we want with her."
One race, in particular, stands out for Hernandez.
"I remember – if you speak with Stuart, I think he would agree with me – it was the stakes race (2019 running of the Grade 2 Royal North) when she had never been on the grass before. It was six furlongs on the E.P. Taylor. Stuart told me there weren't races coming up for her, so we had to give it a shot. And it was the most impressive race she had. The E.P. Taylor is very hard to win on. With speed horses, that long stretch, it can really be hard on them. It was an impressive race from her. Stuart is an unbelievable trainer, and he has done a great job with her. On the track, she is so calm and so professional. Stuart has worked hard over the years to get her to settle down, and she has in every way."
Simon also easily recalled the Royal North performance.
"She was bred for the turf, and she trained like she would like the grass. Just the way it fit into the schedule, we decided to run her in that race. And she came up with such a great effort."
On a crisp autumn Saturday – the forecast is currently calling for light snow, and a high of 0 degrees Celsius – Summer Sunday will go postward for the 22nd and final time in her career, in search of her 12th win and the $1 million mark in earnings.
The horseman who has campaigned the versatile Ontario-bred hopes she goes out a winner, perhaps channelling the luck of the Irish ahead of her new post-racing life.
If she doesn't happen to cross the wire first, Simon won't hang his head.
He has no reason to.
"I expect her to run well. She's as honest as they come. The mile and a sixteenth doesn't bother me. She's acting more and more as she's gotten older that she wants to run further. I've run her once going two turns, and she won that race. She defeated an open field of horses, including the filly (Souper Escape) that won the Sovereign for top older mare in 2020. She's no one-trick pony, that's for sure."
Hernandez is hopeful she lives to her name this weekend. Well, sort of.
"The last few times we've been racing in the stakes on Saturdays when most of the stakes she wins are on Sunday, just like her name. But it doesn't matter. Whenever she races, she gives everything she has."
It's one of many things Simon will miss about Summer Sunday, who was bred by Trinity West Stables Ltd.
That said, he's content to see one of his top stars begin a new chapter in her life.
"It's starting to hit home more and more that this is going to be it. And it's time. I'm glad, and I'm happy for her and very comfortable with the decision to stop on her. She's good right now, but you don't want to push the envelope. You want her to have a good life because she deserves it."
Chris Lomon, Woodbine Communications