Sometimes it's hard to sum up what something truly means to you.
A job, a partnership, a new addition to the family. Yet, for trainer Ian Howard, there's no difficulty in finding the heartfelt words that sum up what horse racing means to him and why he keeps at the daily grind.
"When racing goes right, it's about as special as it gets. There's lots of hard and disappointing moments, but at its best – it's as exciting as it gets. Actually, just watching horses from where they start to where they finish up and improve and their development. It's not like any other business or sport, because you have something in it, it's an animal that you are trying to develop a partnership with. The level of excitement when it goes well really compensates for all those moments that you wonder why you do it."
The sunlight shines through the barn as Howard steps in with coffee and snacks for his help. The last horse from his outfit, Striking Moon, is being cooled out (i.e., hand walked) around the shed. The rest of his horses enjoy a mid-morning snooze, as trainer Randy Thompson, walks by on a horse, and rider, Neil Husbands, who gets on horses for Howard, hustles forward to his next set (horse) in another barn.
Lean, tall, and agile in his gate, Howard moves across the shed as if it's a second home. Howard has spent many mornings on the backstretch looking after his horses and many afternoons running his trainees at the Rexdale oval. So, in a way, it is a second home. Involved in the game for nearly fifty years, you could use the term 'seasoned' to describe the decades he's spent immersed in this world. Howard started as a groom for Hall of Fame trainer Jim Bentley in the 70s when his parents ran horses with the conditioner. In the 80s, Howard worked as an assistant for Trevor Swan. Since the early 90s, he's been a trainer at Woodbine.
Groom, assistant trainer, and trainer are all jobs Howard has held. However, growing up around horses and being exposed to the racing game from an early age provided the seemingly natural transition into the sport of kings.
"My parents would go to the racetrack. I remember seeing Secretariat when I was a kid. So, being around the racetrack and having horses, it seemed like a logical step," said Howard, whose dad had a farm in Peterborough and then up in Kleinburg.
His father, the late Jake Howard, was a notable figure in the sport. A lawyer by trade, Jake was a chairman and director of the Ontario Jockey Club. He was also the chairman of Woodbine Entertainment Group (WEG) between 1999 to 2001.
Howard's mom, Nancy, has also been involved with horses and rode when she was young. She currently part-owns Striking Moon.
"She's a pretty regular attendee when the racing has been open," said Howard.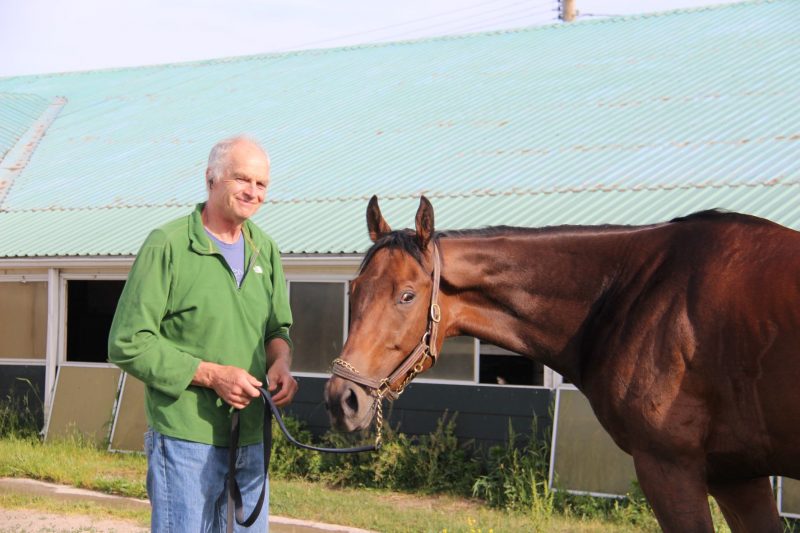 Howard's wife, Robin, is also no stranger to the racing oval. "She galloped at the racetrack when I was with Bentley. She taught the equine program at Humber College for quite a few years. She's done show horses since she was a kid. She and my daughter (Rachael), between some clients probably have about 8 to 12 show horses."
Robin and Rachael run Wayward Farm, a training and show facility located at Adena Springs North in Aurora, Ontario. As noted on their Instagram page @waywardfarm_, they offer 'boarding, training and riding from ponies to Grand Prix jumpers.' The Howards compete in Ontario and also in various parts of the U.S.
A penchant for horses (whether in racing or show jumping) runs deep within the Howard family. Howard's sister-in-law is Olympic show jumping champ Leslie Howard. Aside from earning two Olympic medals, gold in 1984 and silver in 1996, a list of other accolades follow Leslie's name. Some of her feats include wins in the FEI World Cup Finals (1986), the du Maurier Ltd. International (1997), and a silver medal at the Pan American Games (1999). There's more, but you get the point.
Another family member involved in the show jumping world is Howard's son, Chris, who worked with Leslie when he was 18 or so. Chris is currently the Operations Manager of Evergate Stables in Wellington, Florida. Evergate is home to an established team of equestrians, including the founder, Jenn Gates, Nayel Nassar, and Harrie Smolders.
Before Chris found himself at Evergate, he worked in the racing industry with his dad for about six years. At present, Chris owns several horses trained by his dad, including Bid Once and Spite Store. Striking Moon is also part owned by Chris, alongside his grandmother Nancy and long-time horseman Donald Ross.
Howard might run a small operation at Woodbine, but he remains extremely grateful for clients such as Ross. "He goes back with my parents to the first horse they had with Bentley in the 70s. Mr. Ross is the kind of person that if you get to train for you're just really fortunate. He is a gem to get along with and very supportive, and you couldn't ask for a nicer person to have as an owner. It's been a long time together and a lot of fun. He's just been the kind of owner you hope to have."
As a trainer, Howard broke his maiden back in 1993 with a chestnut gelding named Chairman John at Greenwood Racetrack. Some of Howard's top earners over the years include stakes-placed Bogue Chitto and graded stakes winner, Quaesitor.
In Howard's office, a collection of photos from nearly floor to ceiling catch your gaze and grab your attention. The trainer's desk is occupied by framed pictures of his daughter flying over jumps, while the walls are decked out with win photos from various trainees over the years. But, stealing some of the spotlight is the bright yellow racing cloth worn by Quaesitor during the 2013 Valedictory Stakes. Owned by Wayward Stable and bred by Gill Howard, Nancy Howard, and Donald Ross, Quaesitor is a horse that Howard remembers all too well. Not simply based on his winning resume but also because of a strange pocket of time in which the future of Quaesitor's career came into question.
"He had been second in a straight maiden as a two-year-old – his first start going a mile and sixteenth. He ran in the Coronation (2011), he was pretty green. He was very lucky. He didn't really settle. We took him to Florida, trained well, came back and then he looked like he was about to die."
Howard scoped the horse to determine the root cause of the horse's alarming change in condition. He was shocked to find Quaesitor's stomach contents contained rubber, rubber that the racehorse was eating from the walls of his stall. Howard removed the rubber for the safety and well-being of his equine athlete and then proceeded with training.
"The reason we had to supplement him to (the Prince of Wales) is because at one point, it looked like he was never going to make the races again."
During his three-year-old campaign, he did not participate in the 2012 Queen's Plate but placed fourth in the Prince of Wales and then posted a third-place finish in the Breeders' Stakes. A year later, the son of Friends Lake captured the Gr.3 Valedictory Stakes at Woodbine. From 22 starts over four years, the champ earned just north of $470,000.
Quaesitor is one of many horses that have provided an exciting and interesting time for Howard during his career.
Where is the champ now?
"He is still kicking around as a riding horse. He's been a riding horse ever since. He's happy and enjoying his life," said Howard. Quaesitor lives up on the farm managed by Robin and Rachel. Nicknamed 'Chippie,' Rachael describes the chestnut thoroughbred as "unique and set in his ways, but a very kind and funny soul."
In more recent years, Fact Checking, one of Howard's other top earners has also moved on to a new career. "We retired Fact Checking, she is bred. She had been pretty good. That was a mare that we can go back to the 70s with that family. We kept her, we bred her. We try not to get too large, just a manageable number. Hopefully, she has a nice foal, and try to find a couple other horses."
Fact Checking is in foal to Souper Speedy and up on the farm in Aurora.
Racing and breeding horses sometimes go hand in hand, depending on the outfit and the racing stock they own. While some horses from Howard's barn go to the breeding shed, others transition into different careers, such as show jumpers. One such horse that comes to mind for Howard is Ocean Rise, who was race trained but sustained an injury as a three-year-old and never raced. However, that didn't stop him from finding another type of winner's circle.
"Ocean Rise was a champion at the Royal a couple of times (in the 90s). There have been several that have gone on to be event horses or riding horses. You try to find them a good home if they can't make it as racehorses," said Howard, who keenly understands that not every thoroughbred is destined to run around the oval.
Howard washes the dirt off Striking Moon's legs before letting the gelding graze outside the barn. The son of Palace Malice soaks in the sun and listens in with a keen ear to a reporter asking questions.
A quiet lull has enveloped the barn. It's that time of day, just before the speaker comes alive, broadcasting from barn to barn the first run down of races for the upcoming race day.
*This past Sunday, Striking Moon ran a closing second in the third race (a starter optional claiming race) at Woodbine. The gelding was claimed for $10,000 by trainer and owner Jeff Voyce. When a horse is entered into a claiming race for a tag (i.e., $10,000), it presents another trainer and owner with the opportunity to own and run that horse. Depending on the conditions of the race, the horse may find itself running at the same place or another track.
At present, the seasoned trainer admits there are not any big runners in his barn. He does, however, have a youngster shipping in this season.
"A two-year-old that is a half-brother to Lucky Score that's on the farm. He will be coming in. He is by Society's Chairman," said Howard, whose son, Daniel, part-owns the new trainee. Daniel, who is a corporate insurance lawyer, also owns horses with trainer Matt Douglas.
Meanwhile, Howard will continue to train the current squad and yes, continue the grind.
Summing up what racing means to you is one thing. Yet, putting in the everyday work, the actual grind before the glory, is what carries this industry into another race day, another meet, and hopefully, years of great racing to come. Like many horse people on the backstretch, Howard keeps grinding, which in itself, is a pivotal piece in keeping this game alive.
By Hayley Morrision for Woodbine Communications