As Teon Walker walked through the shedrow in Barn 9 on the Woodbine backstretch last March, a striking dark bay, head high, eyes forward, appeared to gesture him over.
It was the first day on the job for Walker, 19 at the time, a moment that brought out a myriad of emotions as he readied himself for the 30-minute drive from his home in Brampton, Ontario, to one of the top Thoroughbred racetracks in the sport.
As the hotwalker stepped outside of the sunlight and into the shadows of the barn of trainer Harold Ladouceur and his wife Jessie, any trepidation Walker had about how he would be received by his new boss or the stable of a dozen Thoroughbreds disappeared the second the kind-eyed gelding glanced over at him.
"I remember Harold and Jessie showed me all the horses and when they showed me Primo Touch, he came to me, and he put his head on my shoulder," recalled Walker, whose grandmother Angela Walker worked for years as a groom and hotwalker for the Ladouceurs. "It was an instant connection, I think, for the both of us."
The kid with a love for horses and the veteran campaigner would become inseparable from that moment on.
Every morning Walker arrives at the barn, the Kentucky-bred is waiting for him.
"When I come in, he likes to look at me. Early on, I started to think, 'This is my guy, this is my boy.' I have this bond with him. They asked me to start brushing him, to become a groom, and doing that, it just strengthened that bond we have. Every day, we became closer."
Owned by Kirk Sutherland, the son of Midas Touch has had exactly that for his connections.
In 41 races, Primo Touch has posted eight wins and 19 top-three finishes, along with just over $252,000 (U.S.) in purse earnings.
His 2021 campaign didn't get out of the gates in stellar fashion, a tenth-place finish on June 13. But things would soon get better, much better, in fact, for the front-running, free-wheeling sort.
In July, Primo Touch stepped up to tackle the stakes ranks. He finished fourth in the Niagara, then fifth in the Grade 3 Singspiel.
On September 8, he climbed the class ladder and took on a world-class group in the Grade 1 Pattison Canadian International, at 1 ½-miles over the world-renowned E.P. Taylor Turf Course.
"His past couple of races before that, we saw that he truly is a speed horse," offered Walker. "He loves the front. We really prepared him for that race. We took a lot of time with him. I did everything slowly with him, just to reassure him and have him calm for the big race. I stayed with him the whole day. I didn't go home because I wanted him to know I was there with him every step of the way. I told him, 'If you're going to go to the front, keep it. Don't let them catch you. And if they do, finish with heart, and finish strong.'"
Sent off at 41-1, Primo Touch, with Daisuke Fukumoto in the irons, took his preferred position on the front end. The duo was five lengths clear at the half, and four lengths ahead after a mile.
With every stride, Walker urged him on.
When 4-5 choice Walton Street and two-time International winner Desert Encounter enveloped Primo Touch ahead of the 1 ¼-mile mark, he heeded Walker's pre-race pep talk advice.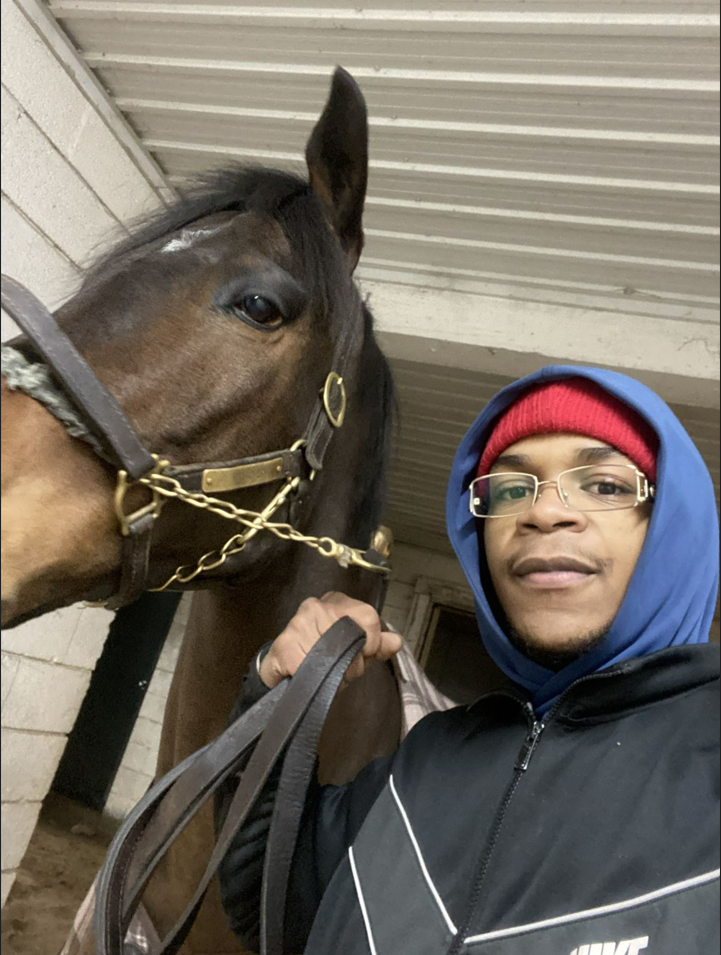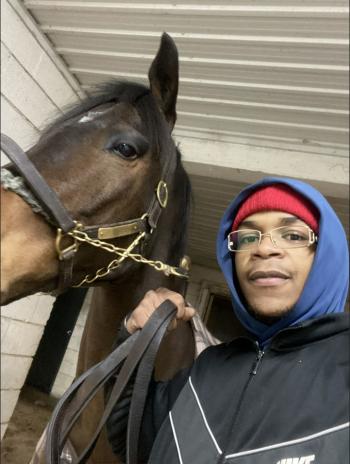 He finished strong.
At the wire Primo Touch held third, a result that felt more like a Grade 1 triumph to his connections.
"He came up huge," said Harold Ladouceur. "We were over the moon. He ran so hard and gave everything he had."
It was exactly what Walker had expected.
"He goes to the front, he tries to keep it and if he gets passed, he doesn't give up. He stays calm, he stays focused and he works hard."
Words that could easily be applied to Walker, who is planning to complete his post-secondary education at Humber College over the next few years.
In just over 12 months in Barn 9, he's become a beloved member of the Ladouceur operation.
"For me, what stands out is his dedication, his morning revolves around the horses, nothing else," said Harold. "He loves horses. He's quiet but funny, and he's very well mannered."
Jesse offered up similar high praise.
"Teon's best quality would be his kindness and patience. I would like to think our horses are generally well behaved, but I have never heard Teon raise his voice, cuss or call a horse a nasty name. I appreciate that so much because not only do I own many of the horses, so I would find it offensive, but I know horses understand so many words, much like dogs, maybe more, and they most certainly feel our energy. So, his energy is always peaceful which makes them feel secure and confident. Teon treats 'Primo' like a big horse and I think some horses just know. Whether it's the therapy blanket, extra grazing, treats, all the little things that let a horse know we care… Primo gets all of that from Teon."
Walker, who grooms seven horses, is grateful for the path that brought him to the racetrack, for Primo Touch, and for all the horses under his care.
It's not uncommon for him to work seven days a week.
"The love of the horses, that's what it is for me. I don't like sitting around at home. If I feel my best, I come in every day. They don't ask me to, but I want to. I do appreciate when people acknowledge that I am a hard worker, that they see my dedication. It makes me want to come back every day. I like Harold and Jessie. They make me feel good."
As does the seven-year-old star of the Ladouceur barn.
The morning hugs from Primo Touch never get old for the 20-year-old Walker.
"He's calm and he's never rowdy. Maybe we're the same. Sometimes, he has his days and I understand. Even then, he knows I'm there to take care of him. He's my boy. I call him 'Primski,' just a fun little name for him. I'm very lucky that he has come into my life."
On any given day during the Woodbine season, odds are the hard-trying horse, and his doting groom will be hanging out together for hours.
Just the way both want it to be.
"Each time I come to work, Primo looks at me, like he's waiting for me. I go over to him and we have a big hug. Like I said, that's my boy. He makes every day a good one for me."
Chris Lomon, Woodbine Communications