The connections of the diminutive yet dynamic Queen's Plate hopeful are taking a worldly view of what possibly lies ahead.
It has been a decidedly different experience for each of the three – one trainer and two co-owners – in how they have followed the progression of three-year-old colt Rondure, a son of Oxbow-Carat Weight.
Over 6,600 kilometres (4,100 miles) away from the sights and sounds of Woodbine Racetrack, Harry Dobson, one part of the ownership group known as Borders Racing Stable Ltd., has been putting his laptop to good use at his Monaco villa whenever the Ontario-bred homebred races.
Two times zones west of Woodbine, Hazel Bennett, who calls Calgary, Alberta, home, has been doing the very same, unfailingly dedicated to tracking every step and stride of her rising sophomore star.
Stationed at Barn 14 on the Toronto oval backstretch, conditioner Katerina Vassilieva continues to carefully craft the path to a possible spot in the starting gate for the 163rd running of North America's longest continually run stakes race.
While they are worlds apart, literally, the trio is very much on the same page with their horse.
Making a connection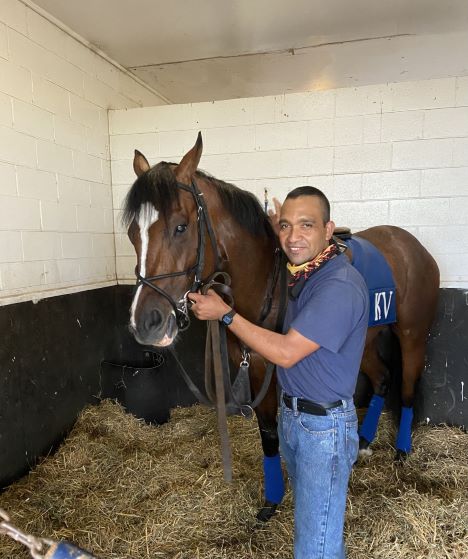 How the three came to be associated with one another is a story in itself.
Dobson, a mining mogul, and Bennett, who worked as an investment advisor, met over 30 years ago.
"I had made a fair bit of money in mining stocks, and a friend of ours, John Toffan – he always loved racehorses – we would go watch his horses run," recalled Bennett, a member of the Jockey Club of Canada. "He had Mane Minister, who finished third in all three Triple Crown races in 1991. He also had Free House, who finished third in the 1997 Kentucky Derby and Belmont, and second in the Preakness. He told Harry, who had horses in Ireland with [trainer] Jim Bolger, that he should have horses in North America. So, we met Harry that way. We started with one broodmare in the 1990s, and we ran under his name for a bit. He felt it would be better if it was an Alberta company, so I named it Borders because that's where he was born in Scotland. That's how it all began."
Part of the ownership group that sold English soccer powerhouse Manchester United to Malcolm Glazer in the mid-2000s, Dobson is a lifelong horse racing fan. His roots in Thoroughbred ownership dates back over 40 years.
"I was about 34 when I really started getting into owning racehorses," recalled Dobson, on the phone from his home in Monaco. "I'm a farmer's son from the Scottish Borders and I still farm there. I went to Canada about 45 years ago, maybe a little longer, and I met a Canadian girl. I lived there for about six years and moved back to Europe. I was an investment banker, but I mainly did mining finance. Then I started doing things for myself. I was chairman and one of the founders of Kirkland Lake Gold, which was strange in a way because that's where my late wife was born and brought up. So, in a way, it was a bit like going home. I then moved to Monaco, and I've been here for 20 years."
Horse racing has remained a steadfast passion of his.
The rise of Rondure
Borders Racing Stable, which currently has approximately 30 horses, including its broodmare band, has 51 career wins on its own, and more victories with various partnerships over the years. Roaring Forties, Viazar and Via Ann are some of the operation's top performers.
Rondure, foaled on April 8, 2019, has potential to be its most accomplished runner.
"Harry helps me name some of them now," noted Bennett, a director with HBPA Alberta and chair of the Alberta Thoroughbred Aftercare Society. "I looked at Oxbow (winner of the 2013 Preakness Stakes), and thought, 'How am I going to name this guy?' I got out the dictionary and started looking at names and came across Rondure. It means, 'gracefully rounded curve.' And that's what we went with. A lot of people thought it was a French name."
Rondure was also known by a different name for a while.
"Our horses are all with Sue Foreman, who has her farm in Ontario, and does an absolutely wonderful job," said Bennett, who races Carat's Song, Rondure's half-sister, in Alberta. "Rondure, his barn name back when he was at the farm was Oliver. The name has to begin with the first letter of the sire for the colts, and with the fillies, it's the first letter of the dam. That's how they keep them all straight."
Whatever the handle, the horse can run.
Owners and trainer are hopeful he can tackle 1 ¼ miles on the Woodbine Tapeta.
After two troubled journeys to begin his career, Rondure turned heads in his three-year-old debut on May 14 at Woodbine.
Sent off at 10-1, the colt, under Shaun Bridgmohan, romped to a 10 ¾-length score, a performance that elevated his Plate profile and understandably pleased his connections.
"The way he quickened when called on really stood out to me," offered Vassilieva. "His turn of foot was really impressive. He came home so well, and the fact that he could rate and be patient until called on by the rider. It's funny. Shaun told me after the race that the jockey on the horse beside him, coming out of the gate, he yelled to his horse, and Rondure thought that was for him. Before the race, when we were discussing the tactics, I was guessing that the horse would want to be somewhere mid-pack and make a run. Shaun came out of the gate and Rondure thought the yelling from the jockey next door was for him, so he took off. Shaun was remembering my words and thinking, 'Katerina said to be mid-pack,' so he was worried, took him back and halfway through the race, he knew he had lots of horse left, and that he could call on him any time. So, he was very happy with him and said he was very professional."
Dobson, now 74, who has a string of horses that compete across the globe, would cherish the sight of the Borders silks represented in the Queen's Plate.
"He seems to be a nice horse," he said. "When you look at him, you wouldn't think he could do what he does. He just seems to relax and does have a tremendous turn of foot. With that kind, you are always in with a chance. Let's just say he surprised us in his first run as a three-year-old, but I thought it was a very good run in the stakes race. He was very strong late. You would get the impression from it that he would stay longer. The pedigree wouldn't necessarily say that – although Oxbow was second in the Belmont – so it's possible he could get the Plate distance, but on the mare's side, you wouldn't think he would get that mile and a quarter."
In his next start, the seven-furlong Queenston Stakes on June 12, Rondure finished with a flourish, crossing the wire a head behind top Plate contender, undefeated The Minkster.
For Vassilieva, the runner-up result brought about a myriad of emotions.
"On a personal level, I want to say that if anyone were to win that race other than us, I'm glad it was [fellow trainer] Dan Vella. He was the one who so graciously recommended me to Borders Racing. If it wasn't for him, I wouldn't even have the horse. It was one of those bittersweet moments. I couldn't be mad at who beat me, but we wanted to win. It was an interesting coincidence that it was the two of us racing to the wire."
As for Rondure's performance, Vassilieva gave a glowing review of her sophomore star.
"Ahead of the stakes race, there were some questions around if that maiden win was sort of a fluke and how he would fare the next time. That effort confirmed to me that he's a nice horse and that he can compete at that level. I was very pleased with the effort. It would have been nice to win, but he ran a game race and we were all very pleased. Shaun was frustrated that we didn't win. This time, he had to ride him a little bit harder. He was happy with the effort, but wished we would have won. It's one of those things where you are very happy with how the horse ran, but obviously, you wish you were the one to get the bob."
Raising the stakes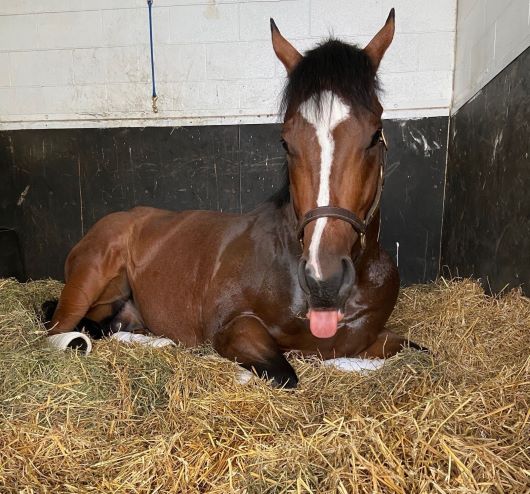 Rondure's next task will either be July 2 in the Grade 3 $150,000 Marine Stakes, at 1 1/16-miles on the Tapeta, or the $150,000 Plate Trial, a 1 1/8-mile test over the Tapeta, on July 24.
The race could play a prominent role in the decision-making process as to whether or not Rondure will continue on the path to the Plate.
"You always worry about the distance and if they will be able to get it," said Vassilieva. "It's still a bit of a question mark, but the fact that he was gaining at the end of the Queenston and had a nice gallop out, told me that he will want more distance in the future, which is a good sign. And I often say, 'Dreaming is free.'"
Thoughts of the Plate dream becoming a reality is something owners and trainer are endeavoring to rein in for the time being.
On certain days, it's easier said than done.
"That's what you do in this business, you dream," said Bennett. "But that's okay. It's what you should do. These wonderful animals, they allow you to do that."
Question marks remain, not just for Rondure, but for any of those who are hopeful of securing a spot in the Plate starting gate less than two months from now.
Vassilieva, whose top horses have included Big Bazinga and Jilli Marie, knows exactly what she has in Rondure.
What he might give away in size is made up through brute strength and unyielding determination.
"He's very small in stature, but he's stout," said Vassilieva. "He has a stout, muscular body and a big heart. It's hard to knock any of his races. Danny [Vella] said even his first two starts, he ran into trouble, but he never stopped trying and never gave up."
If Rondure is feeling any stress, he's certainly not showing it.
"He knows how to take care of himself," said Bennett. "He'll eat everything in sight and then he's down for the count, sleeping."
Like clockwork, added Vassilieva.
"He loves to sleep. Every day, around 10:30 or 11, he eats his breakfast and then goes to sleep. You will find him around that time, every day, sprawled out in his stall. Which is always a good sign to me, that he knows how to rest and relax."
It's an approach Rondure's trio are trying to emulate as the leadup to the $1 million Plate intensifies.
Should it become a reality, the little horse that could making it on to the big stage, Bennett and Dobson will each make the trip to Woodbine from their respective home bases.
"The video service at Woodbine is terrific, so I get to watch the races on my computer," said Bennett. "I enjoy watching races from there and all over. We have a couple of horses racing at Santa Anita as well, for the past 25 to 30 years. But if we make it to the Queen's Plate, I will be there. It's a party every day here in Monaco, and I'm sure it will be a big one that day at Woodbine."
Bennett won't be late to the party.
"I will be there, absolutely. Watching them in the morning, I love that. I get so nervous in the afternoons, but I wouldn't miss that day for anything."
For now, Vassilieva will maintain her grounded approach, meticulously dedicated to piecing together the gameplan to get Rondure to the next step and beyond.
Whatever the outcome, she knows she'll have the backing of Bennett and Dobson.
"They are fantastic owners. They've never questioned me with any of the horses and let me do my job. They support me in all of my decisions and always put the welfare of the horse first. It's a pleasure working for people like that."
Worlds apart in distance, but perfectly aligned on their horses, Rondure included.
Chris Lomon, Woodbine Communications / @WoodbineComms