TORONTO, December 23, 2017 – Woodbine Entertainment team members have been busy in the community assisting various organizations throughout the holiday season.
>> Woodbine Entertainment builds a Toy Mountain
Woodbine has been a proud supporter of the Salvation Army's Toy Mountain for more than 20 years hosting raffles, bake sales, BBQs and toy drives. Through its combined efforts, and with help from the HBPA, Woodbine donated $12,000 to Toy Mountain, which will provide 800 children with a toy this Christmas. Members of the Woodbine team represented the company on November 28 at Garden Square in Brampton. As per the annual tradition, CTV's Tom Brown was on hand to spread holiday cheer to an excited crowd before recognizing Woodbine's generous contributions to the campaign.
>> Woodbine Entertainment contributes to Toys For Tots campaign
The Woodbine – Mohawk Park team has collected $4,500 worth of toys and cash for the Halton Regional Police's Toys for Tots Campaign. The Halton Regional Police, in partnership with the Salvation Army, collect new, unwrapped toys to distribute them as gifts to under privileged children in the Halton Region during the holiday season. Toys For Tots delivers a message of hope and encouragement for children and their families.
>> Greenwood shares the warmth
The weather outside is frightful and for those without a warm winter coat, this time of year can be less delightful with every gust of wind. Woodbine Entertainment team members at Champions Greenwood recently held a successful coat drive in support of The Good Shepherd Ministries in Toronto. Thanks to their efforts, The Good Shepherd Ministries received 40 winter coats to help keep some individuals warm this season.
>> PX lends a helping hand at Ernestine's Women's Shelter
Woodbine Entertainment's People Experience (PX) team members volunteered at Ernestine's Women's Shelter on November 28. The visit is an annual tradition for the team to lend a helping hand where needed. This year that included organizing shoes, cleaning and collecting the leaves outside, reorganizing the donation areas and taking inventory of donations.
>> Marketing gets into the holiday spirit with Youth Without Shelter
Woodbine Entertainment's Marketing team carried on the long standing tradition of visiting Youth Without Shelter (YWS) on December 5 to help prepare and serve a warm and delicious holiday dinner. Each team member was assigned a station to serve either mashed potatoes, vegetables, Shepherd's pie, cranberry sauce, or the very savoury turkey. After the Marketing team served dinner, they fixed themselves a plate and shared the spirit of the season with the youth living at the shelter.
>> Woodbine Entertainment joins Miracle on Main Street
The Woodbine Cares team was out in the community of Milton on December 11 celebrating the holidays at the Tiger Jeet Singh Foundation's Miracle on Main Street. Woodbine presented a cheque for $10,000 to the foundation, which was the winner of the Woodbine Cares Week Charity Challenge. These funds will be used to purchase toys for the Salvation Army, Halton Women's Place, Halton Learning Foundation, McMaster Hospital and SickKids Hospital.
>> Woodbine Entertainment helps spread holiday cheer
Woodbine Entertainment participated in the North Etobicoke Santa Claus Parade on December 3 and the Campbellville Christmas Parade on December 17. The Woodbine line-up included a tractor disguised as Rudolph pulling a festive float featuring the Toy Mountain collections barn as well as Woodbine's food truck and Standardbred starting car adorned with holiday decorations.
>> Woodbine Entertainment assists with Winterfest at Ernestine's Women's Shelter
Woodbine Entertainment returned to Ernestine's Women's Shelter on December 20 to offer assistance with their annual "Winterfest" holiday party for the children at the shelter. Led by the Woodbine Entertainment security team, volunteers helped with security, nail and face painting, and oversaw some of the children for the evening.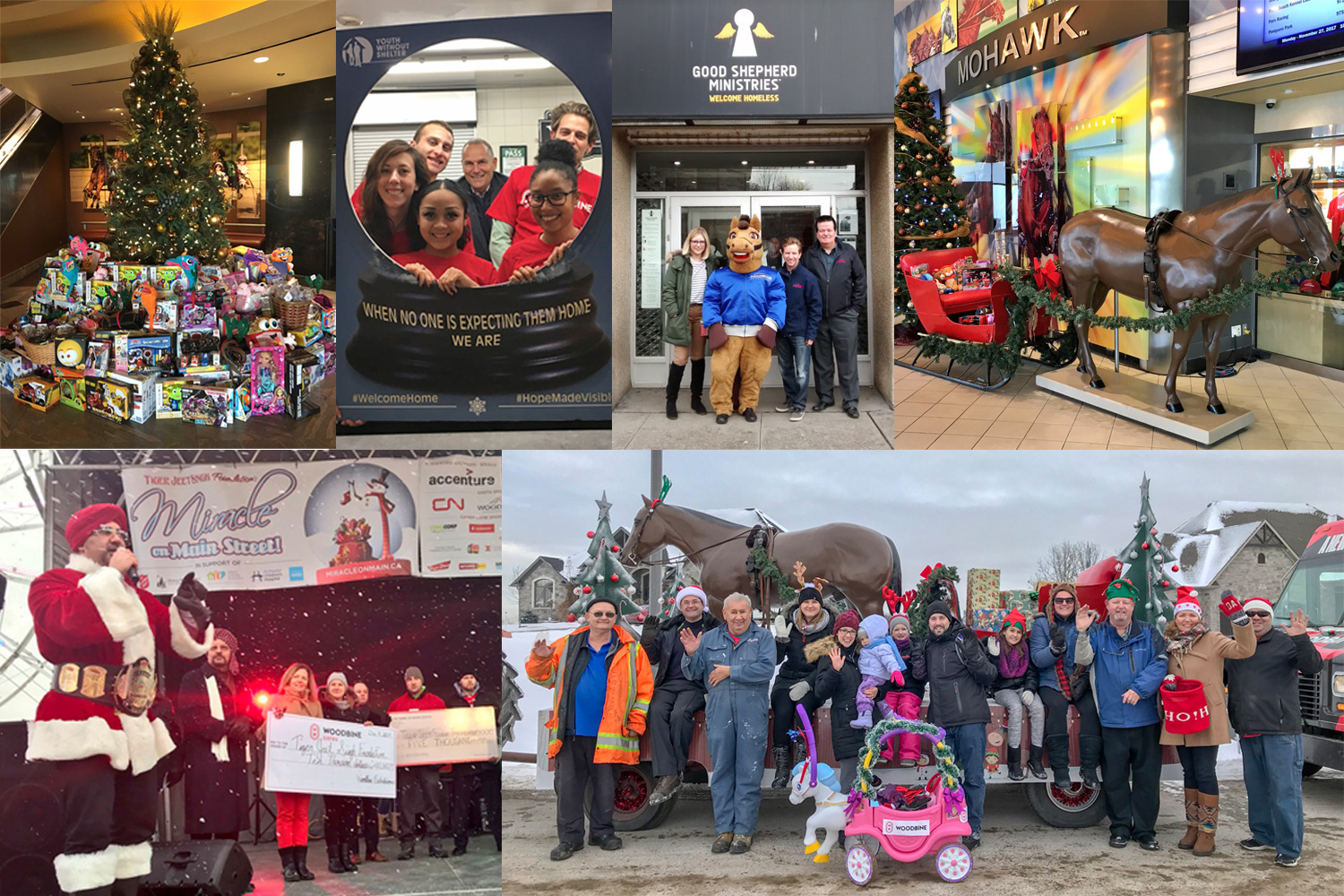 Follow @WoodbineCares on Twitter for updates on Woodbine Entertainment's community involvement.