Woodbine Puts Fans in the Saddle with Dynamic New Horse Racing Simulator
 Turf Cup fan engagement platform will be onsite this weekend for the Ricoh Woodbine Mile 
TORONTO, ON, September 13, 2019 – Woodbine Entertainment announced today its dynamic new animated horse racing simulator will be on display as part of this fall's marquee horse racing and community events.
The Turf Cup simulator leverages industry-leading simulation technology to let fans experience what it is like to be a jockey coming into the final stretch of Canada's top horse races. The fan activation will be on location at Woodbine Racetrack every Saturday and Sunday including this weekend's Ricoh Woodbine Mile – one of the top events for Thoroughbred racing in Canada.
The Turf Cup delivers an exciting and exhilarating jockey experience. Designed and built in partnership with Australian tech leader Catalyst VR, the innovative activation is the first of its kind in Canada.
In addition to regular appearances at Woodbine Racetrack, fans can also experience the Turf Cup during a slate of special racing and community events including the Breeders Crown at Woodbine Mohawk Park and Road Hockey to Conquer Cancer. OLG and Pepsi have signed on as presenting sponsors of the Turf Cup simulator rewarding riders with instant prizes and an opportunity to win $1,000.
"This is an immersive and engaging experience for fans, delivering the true exhilaration and excitement of horse racing," said Daniel Caufield, Head of Partnerships for Woodbine Entertainment. "Nothing is more dramatic than the final push to the finish line and our Turf Cup experience give fans an incredible heart pumping ride that brings them closer to the action than ever before."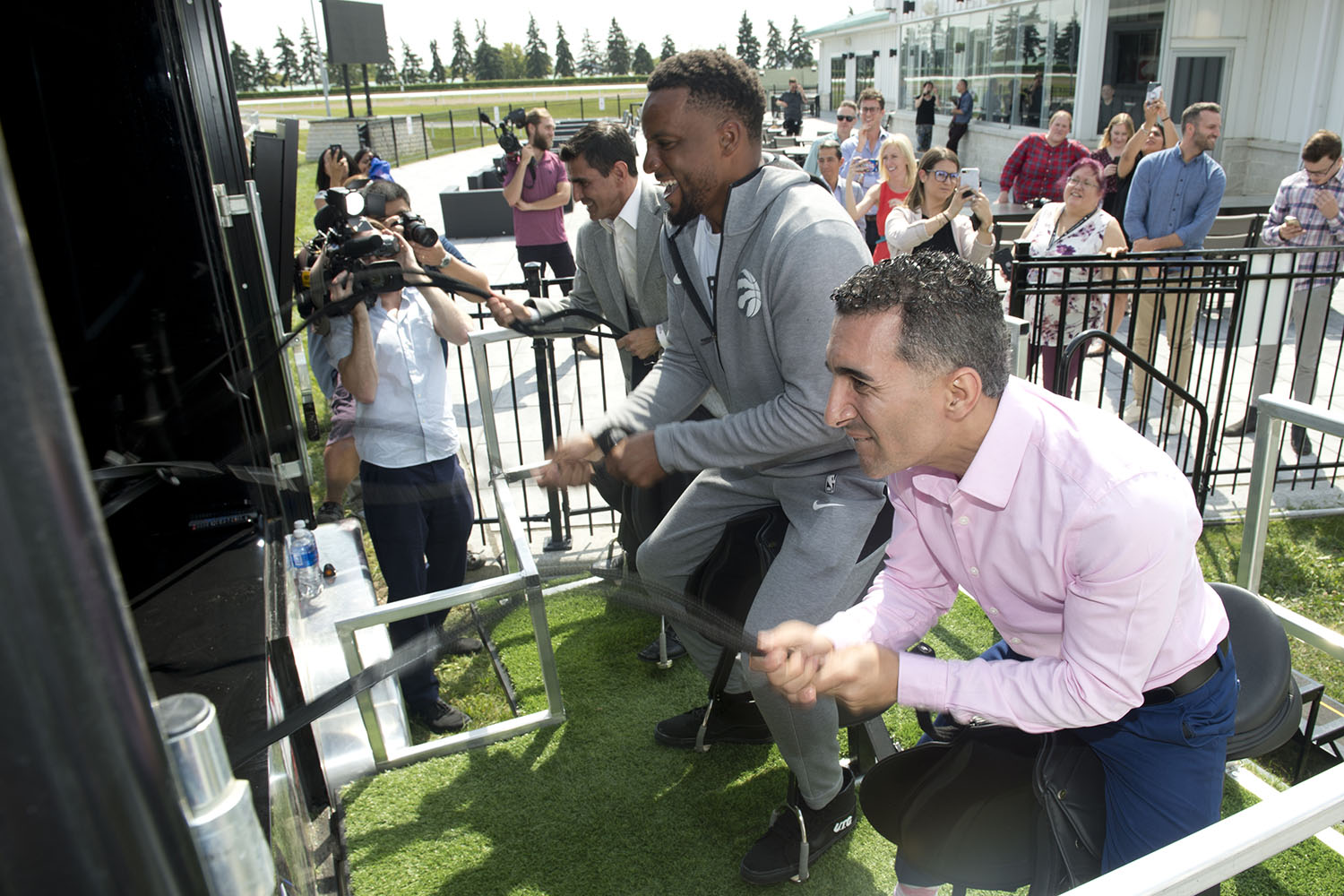 For more information, visit Woodbine.com and follow @WoodbineTB #WoodbineTurfCup
Check out Woodbine Entertainment's Jason Portuondo competing against jockeys Rafael Hernandez (forefront) and Eurico Rosa da Silva on the Woodbine Turf Cup at Woodbine Racetrack.