"The horses… they truly are my salvation."
It's been 15 months since longtime Thoroughbred trainer Nick Gonzalez lost his wife, best friend, and assistant trainer Martha to cancer at the age of 58.
Together, the couple built one of the most successful conditioning operations in Canada, a stable that produced numerous high-profile stakes champions, Sovereign Award winners, and a pair of Queen's Plate crowns.
Much has changed for Gonzalez, both on and off the racetrack, since Martha's passing, but there has been one treasured constant in the conditioner's life, a presence that has helped the 69-year-old navigate his way through difficult times.
"The horses really have helped me more than I could have ever imagined," said the lifetime winner of 1,541 races. "They really are my salvation. When I have my quiet time, sitting here thinking about things, I can get down and feel sad. And that's alright. But then I think of the horses, not only the ones I have now, but the ones Martha and I had so much connection to over the years."
There are plenty of highlights to speak of.
The Gonzalez stable has enjoyed a number of successes over the years, including two those Queen's Plate victories, with Big Red Mike in 2010 and Midnight Aria in 2013.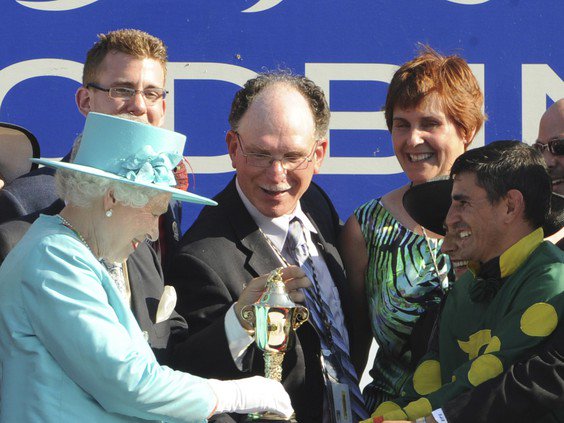 "You think about the past, how hard we worked and what we did in our career, the days starting out, working together to build something special. Eventually, we were able to achieve that. Winning our first Plate in 2010, and meeting Queen Elizabeth… that's something that we'll never forget. And then three years later, we won the Plate with a horse we claimed at Gulfstream. It's been a great ride and those moments, the horses, it all keeps me going."
The barn's most recent major wins came with Stronach Stable's talented Silent Poet, whose list of victories includes the Grade 2 Play the King Stakes in 2019, the 2020 edition of the Grade 2 Nearctic and last year's Grade 1 Highlander.
Silent Poet's impressive score in the Nearctic, run at six furlongs over the E.P. Taylor Turf Course, was an emotional day for many, including Gonzalez.
In the last strides of the race, two weeks to the day after Martha's passing, announcer Robert Geller exclaimed, 'This one's for you, Martha.'
It was a sentiment echoed by jockey Justin Stein.
"The win has a lot of meaning," said the veteran rider. "People watching on the outside might not understand, but the family here, the community at Woodbine, I'm sure they were cheering big for this horse for reasons that we all know."
It remains a special moment for Gonzalez, whose bond with his horses has continued to grow.
And not just the ones currently racing.
In the days leading up to Christmas, Gonzalez thought of ways he could best honour Martha.
After a few considerations, he knew exactly what and who it would be.
"We bought Riker as a two-year-old in training at OBS," he recalled of the graded stakes-winning son of Include. "His breeding wasn't anything outstanding, but he breezed well and he was a decent-looking individual. We actually spent a little more than what he had originally talked about, but it ended up being one of those fairytale stories."
Did it ever.
The Kentucky-bred dark bay won 12 races from 56 starts, including three straight victories, all stakes, to kick off his two-year-old season.
Riker, named Canada's champion two-year-old male in 2015, also contested the Breeders' Cup Juvenile at Keeneland, finishing a respectable sixth in the Grade 1 tilt.
His final trip to the winner's circle came last August at Thistledown.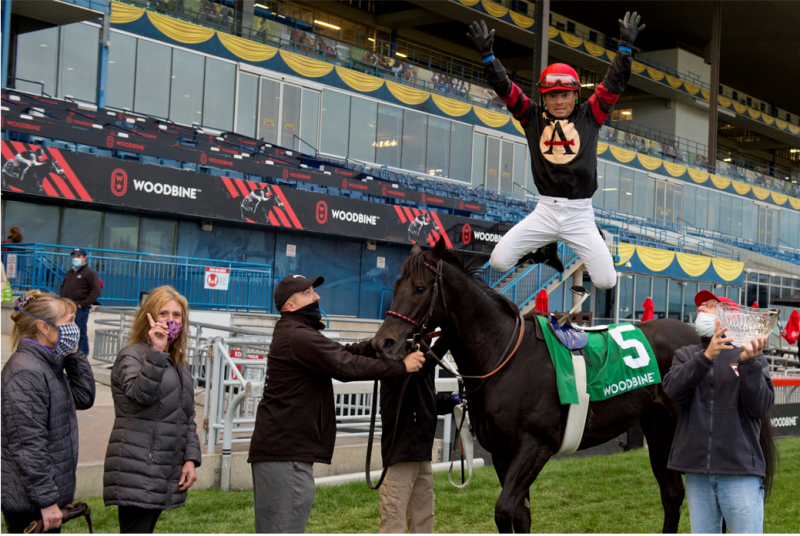 "I followed him throughout his career after he got claimed off us. A good friend of mind from Fort Erie, who races in Ohio, Elliot Sullivan, he had claimed him. He went to different barns after Elliot, but I was just so glad to find out through him, that he and his wife Jackie, who is the daughter of the racing secretary at Fort Erie, were able to get him out of a tough situation."
And into much greener pastures, namely, a home at LongRun, one of the continent's most respected horse retirement and adoption organizations, whose 100-acre farm is home to over 50 retired Thoroughbreds.
Gonzalez is grateful to have Riker in good hands.
"To know that he has been taken in by LongRun, it's wonderful. We ended up finding the Breeders' Cup blanket in one of the tack rooms at Fort Erie. I thought it would be fitting for LongRun to have it. In my office at Woodbine, I had a Mike Burns' four-picture plaque of him when he won his races before he won the Sovereign Award. I gave them that four-picture plaque, the Breeders' Cup blanket and a donation from my Martha and myself. I'm very good friends with (LongRun founding member and longtime chairperson) Vicki Pappas, and when I gave her all of that, we both had a teary-eyed look going. It was emotional, but it was pretty cool to be able to do that."
He knows Martha would be thrilled too.
"To see Riker in such a wonderful place, when people email or send me photos of him, I just look up in the sky and think of Martha seeing it too."
Currently in Florida gearing up for the start of his 2022 season, Gonzalez is buoyed by the thought of adding more wins and more memorable moments for the stable.
The number of horses he will send out won't be near the 50 to 60 he and Martha once tended to, but they will be, just as they always have been, meticulously prepared for each start they make.
"Martha did so much over her 35 years as an assistant trainer, and I was happy to have her do that. We've been lucky to have horses with the Stronachs, like Silent Poet, who was Martha's last favourite. When she got sick and could hardly come out to the barn anymore, she watched him and loved him. She called him her baby. He's in Ocala training now, so we'll hope for another great year from him. I just can't say enough about him. He's a great one and every time he's out there, I think of Martha."
Just as Gonzalez often does, including each time he finds himself around the horses.
"I'm lucky to be around them. I also have good people in my life and it's important to be able to talk about the times when you are down or having a tough day. We all need that. But these horses, they will always be my salvation. There's no way I'm ever going to stop. Physically and mentally, it's great for me. It keeps me going and they keep me going."
To view a tribute to Martha Gonzalez, click here. 
Chris Lomon, Woodbine Communications