Each week until opening day of the 2022 Woodbine Thoroughbred meet, a familiar name in the sport will be in the spotlight, answering some fun, offbeat questions, giving readers a unique perspective into their personality.
Don MacRae is a multiple graded stakes winning trainer, who has recorded 540 career wins and over $10.7 million (U.S.) in purse earnings. Some of his top horses include 2013 Grade 3 Whimsical Stakes winner Acting Naughty, 2016 Grade 3 Bold Venture Stakes victor Puntrooskie, multiple stakes winner Avoman, and Civil Code. MacRae won a career-best 49 races in 2006. In 2010, he posted a career-high $741,535 in purse earnings.
You get to play on a line with two current NHL players. Who do you choose and why?
"Naturally, everyone is going to say Connor McDavid, but I can't go there because he's too fast and I wouldn't be able to keep up. Sidney Crosby is definitely on the list. He's a typical all-round Canadian kid, a phenomenal player who can see the ice and makes everyone around him a better player. My other guy is kind of off-the-wall, someone not many people would expect you to go with. That would be Zack Kassian. He's been through a lot of things in his life. I watched him play in the World Juniors. He was a wild kid but seems to have really grown into himself. He played on a line with McDavid for a while. He's a teammate who would always have your back. If you went into the corners and got roughed up, Zack Kassian would be there for you. So, I'd want to play with a superstar and a grinder."
Name your top sports move of all time.
"I'm a lover of all kinds of movies. I really enjoyed Draft Day, with Kevin Costner. I thought it was great. I like all the hockey movies too, like Slap Shot. Playing hockey as much as I do, you throw a lot of lines out from that movie. Some great hockey chirps in there that you can use yourself."
Which actor plays you in the Don MacRae movie?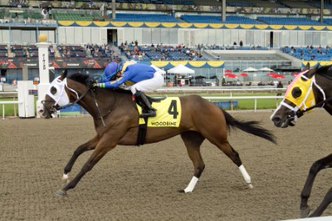 "My wife and I had a phenomenal laugh about this question. It's kind of a tough answer. I would love to have someone like Kevin Costner play me, but in the grand scheme of things, I think it would be someone like Adam Sandler. I can be serious when I want to be, but I enjoy having a laugh and making people laugh. Probably a combination of Costner and Sandler would be the best way to put it."

Gate crew. Track announcer. Jockey valet. You get to do one for a day. Which one do you choose and why?
"I would go with track announcer. I like rhyming off the races. I loved when [trainer, horseman] Doug McPherson gave his call last year and I've enjoyed it when [Woodbine on-air personality] Jason Portuondo has done it once in a while. I think it takes a real skill to do it. You have to be quick-witted and I'd like to give it a shot one day. As far as gate crew and jockey valets, those boys are phenomenal at what they do, but I'd have to go with track announcer."
You get to play tour guide at Woodbine. Where does the tour start and finish?
"This a very good question. Naturally, you have to start on the backside. I think you have to go through Hall of Famer Roger Attfield's barn. The setting, on the grass, near the dirt track, is amazing. A couple of barns I think you should definitely go through is someone as hard-working as Kevin Attard, to see how someone like him goes through the grind, and definitely the professionalism of Josie Carroll's barn – I don't think anyone runs a better shedrow than her. I think everyone should venture out and see the E.P. Taylor Turf Course. If you stand on the backside and look down that backside view of the turf course, it is mind blowing. At the end of the day, everyone at the racetrack wants to end up in the infield winner's circle. I think everyone should be in there at one point in their life. When I bring new people into the game, I explain to them that walk across the main track to the winner's circle is something that will give you goosebumps every time you do it. I don't care how many times you do it, that's a place you want to visit."
Chris Lomon, Woodbine Communications