By: Rob Longley for Woodbine.com
TORONTO, April 26, 2019 – Bob Baffert the horse trainer has no peer when it comes to preparing horses for the Triple Crown and specifically, the most celebrated opening jewel. A five-time Derby winner in his celebrated career, he is a factor every May that he sets foot in the Commonwealth of Kentucky.
And when it comes to this year's 145th running of the Run for the Roses, the California horseman believes that any of his three entrants this year could give him a back-to-back trip to the most famous winner's circle in the sport.
When it comes to handicapping this year's field, Baffert isn't ready to predict greatness for any of his entrants – Game Winner, Improbable or Roadster. And more than anything, that speaks to the competitiveness of the field.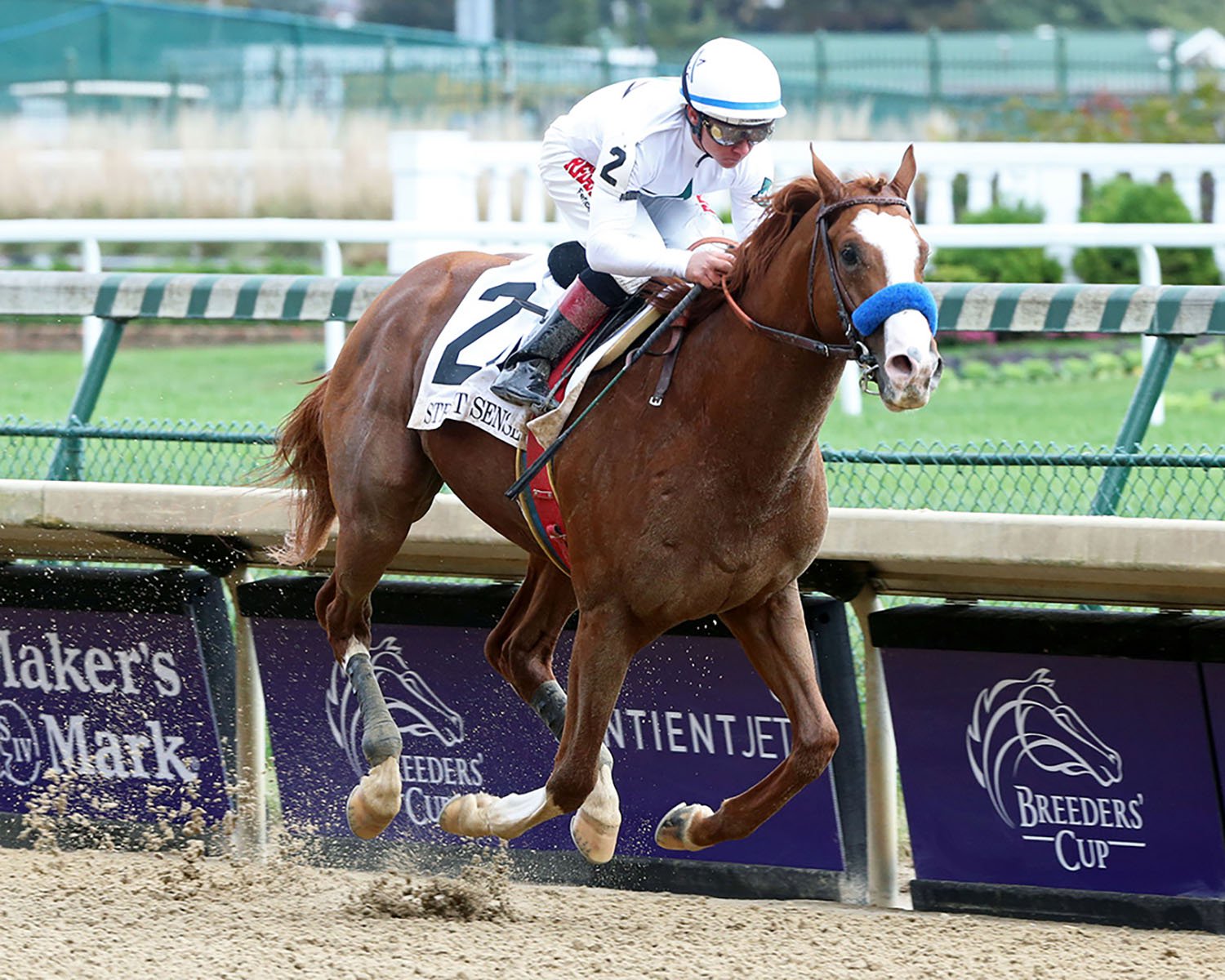 "It's a tough Derby this year," Baffert said earlier this week while dropping in to Louisville to watch Improbable work this past Monday. "We're fortunate to have three in there (but) there's a lot of parity."
It's certainly a different feeling than a year ago when he shipped eventual Triple Crown champion Justify to Kentucky and essentially dared the rest of the field to come and win it.  None could, of course, and Baffert went on to win his second Triple Crown in four years.
"I think they're three solid horses and I think any of them could win it," Baffert said of the well-regarded trio he has sent to Churchill Downs. "But they've got to get the trip, the post is important. Last year when we came in with Justify, it was man against boys."
Baffert is willing to concede potential favourite status to Richard Mandella's Omaha Beach, the impressive Arkansas Derby winner in his last start. Improbable was second in that race, running huge after issues in the starting gate.
In touting Omaha Beach, Baffert shared his opinion on the delicate business of jockey Mike Smith jumping off Roadster and on to the other colt. Baffert and Smith have had much success together most notably with Justify last spring.
"Omaha Beach is a really good horse – he must be, since (jockey) Mike Smith went ahead and took him," Baffert said, offering a polite analysis of the Hall of Fame jockey's decision. "He feels pretty good about that.
"I have a really good relationship with Mike Smith, and we talked a long time. I told him, 'If you want to ride that horse, then go ride him.'
"It's a business, and we take riders off, but Mike is a great guy, and I'm not upset with him."
LIFE'S A BEACH
Mandella is enshrined in the Horse Racing Hall of Fame in Saratoga, New York and is proven stakes-winning trainer at tracks the world over.
But the one glaring hole on his resume is the lack of a win in the Derby. Not that he hasn't been trying, however.
Omaha Beach will mark his seventh Derby starter in the American classic, the first coming back in 1984 with Bedouin, who finished a disappointing 15th.
"I remember what a big deal it was and all the excitement," Mandella said. "They were not paying attention to us."
Mandella had some notable company as a first-time Derby trainer in that running 34 years ago. In fact, a pair of other future Hall of Fame horsemen joined him in the pursuit. Bill Mott, who has Tacitus and Country House in this year's Derby, was 13th with Taylor's Special and Shug McGuahgey was sixth with Pine Circle.
FINISH LINES
Complicating the process of establishing an early favourite for the Derby is what has been described as a mild quarter crack suffered by Omaha Beach. Mandella doesn't seem overly concerned however, as the crack was patched two weeks before the big day … The serious business of the final pre-Derby workouts will dominate the action at Churchill Downs this weekend. Most trainers prefer to get that final major move out of the way a good week prior to the Derby. Included in that group will be trainer Mark Casse's War of Will, who is tentatively scheduled to work on Saturday. A two-time stakes winner already this year, War of Will arrived at Churchill Downs on Tuesday.
DERBY TOP FIVE
1. Omaha Beach, trainer Richard Mandella
With no prep races to alter the order, we keep the Arkansas Derby winner and probable morning line favourite, he remains at the top of our list. The Mandella-trained colt is confident and versatile and seems to be getting stronger with each outing. The Mike Smith decision to ride him virtually assures he will be the post time favourite and all eyes will be on the track early Saturday morning when he has his final scheduled work.
2. Tacitus, trainer Bill Mott
Status quo for this guy based on his Wood Memorial win and the fact that he, like Omaha Beach, ships to Louisville riding a two-race win streak. He took some heat early in the wood, recovered and then ran gamely throughout. Can Tacitus give Mott his first Derby win, a perfect cap on a Hall of Fame career?
3. Roadster, trainer Bob Baffert
Based on his Santa Anita Derby effort, we considered putting him on top and he certainly fits among the top contenders. Gets the slight nod among the three-horse Baffert cavalry headed to Churchill Downs, though we could see any one of the three prevailing. It's happened before with Baffert and each of the three brings its own mix of credentials.
4. Game Winner, trainer Bob Baffert
A runner-up finish to his stablemate in the Santa Anita Derby is not a knock that worries us much given that it's highly unlikely Baffert had him 100 per cent cranked up for that effort. Though he's had a pair of runner-up efforts as a three-year-old, he's still the two-year-old champion and a serious horse.
5. War of Will, trainer Mark Casse
Lost some supporters with his troubled trip in the Louisiana Derby, a race that you can toss given his stumble at the start. The Casse barn was super encouraged after his most recent work and given his physical stature and two stakes wins already this year, looms as a serious threat in the Derby and one that could fetch a decent price.
Follow Rob Longley's weekly column on Woodbine.com chronicling the path to the Kentucky Derby, set for Saturday, May 4 at Churchill Downs. Be sure to join us in celebrating the first jewel of the U.S. Triple Crown at Woodbine's annual exclusive Derby Day Party featuring fabulous food, fashion and entertainment. Tickets are now on sale at Ticketmaster.ca.