TORONTO, November 19, 2020 – Nine two-year-olds, including impressive first-time winner Haddassah, are set to contest Sunday's $125,000 Grey Stakes (G3), at Woodbine, on a card that also includes the $125,000 Mazarine Stakes (G3) for fillies.
Bred and owned by Al and Bill Ulwelling, Haddassah, a bay son of Air Force Blue, didn't fly under the radar in his curtain-raising effort on November 1.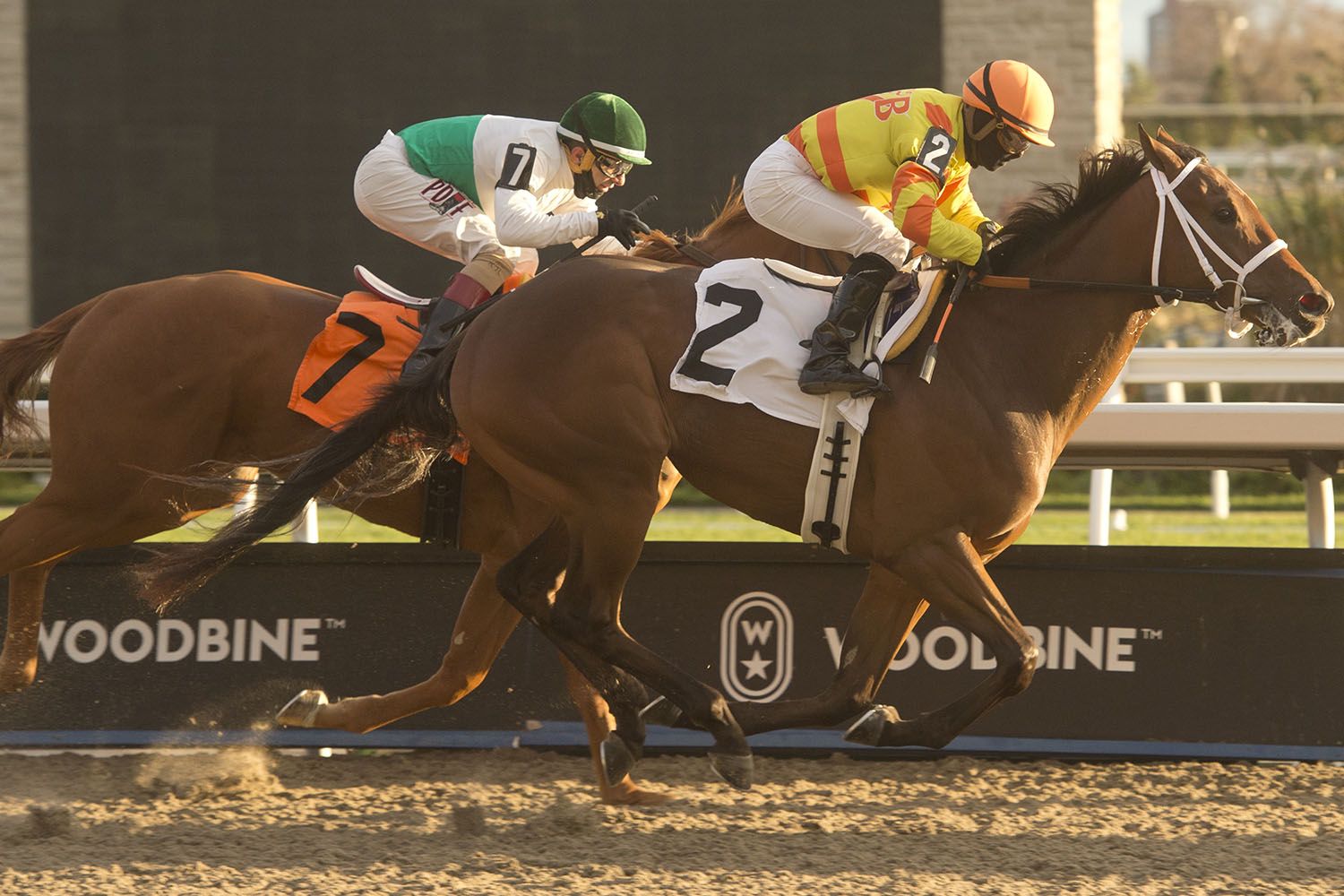 Trained by Kevin Attard, the Ontario-bred went off as the 9-5 choice in the 1 mile and 70-yard main track maiden special weight event, a race that was originally scheduled for the turf.
Under Justin Stein, Haddassah improved from seventh at the quarter-mile mark to second at the stretch call, going on to record a half-length score in a time of 1:42.50.
The gelding will now look to build off that smart score when he takes to the Woodbine Tapeta again on Sunday.
"The farm in Kentucky liked him as a baby, then as he got to Kevin, from day one, he has liked him," said Al Ulwelling. "He had more leg than his brother and sister… just a taller, better-balanced horse. What stood out to us most was if he was fit enough [for his debut], and he was."
Stein, who has 125 wins (as of November 18) on the season and currently sits atop the Toronto oval jockey standings, was impressed by Haddassah's debut.
"He really showed a determination to beat his company in his first lifetime race," praised Stein. "He ran like a true professional."
The Ulwellings would like to see a carbon copy of that effort in Haddassah's second start.
"We are really excited to watch him Sunday," said Al Ulwelling. "We feel he will run better with a race under his belt and just knowing he has been through the process."
"Haddassah had trained really well heading into his first start," noted Attard. "It was nice to see him transfer that into his debut. He was very professional and looked impressive graduating. He has come back to work well in the interim and we're hoping to see him take another step forward Sunday."
The same connections will also send out Stephen, a two-year-old son of Constitution.
Bred by Trackwest Racing Inc., the Ontario-bred colt broke his maiden in his most recent start, the $250,000 Coronation Futurity, on November 1 at Woodbine.
After an eighth to launch his career on August 30, Stephen finished second in his next start, a 1 1/16-mile maiden special weight race on October 4.
"Stephen has really taken a step forward since his career debut," said Attard. "Going into his second start, we thought he'd run a big race and he did. He had some traffic trouble but closed really well to run second. In the Coronation, he ran a similar race, but was able to get by and win. He's a colt that has a great mental attitude and is very easy to ride. We're excited to have two nice Canadian-breds."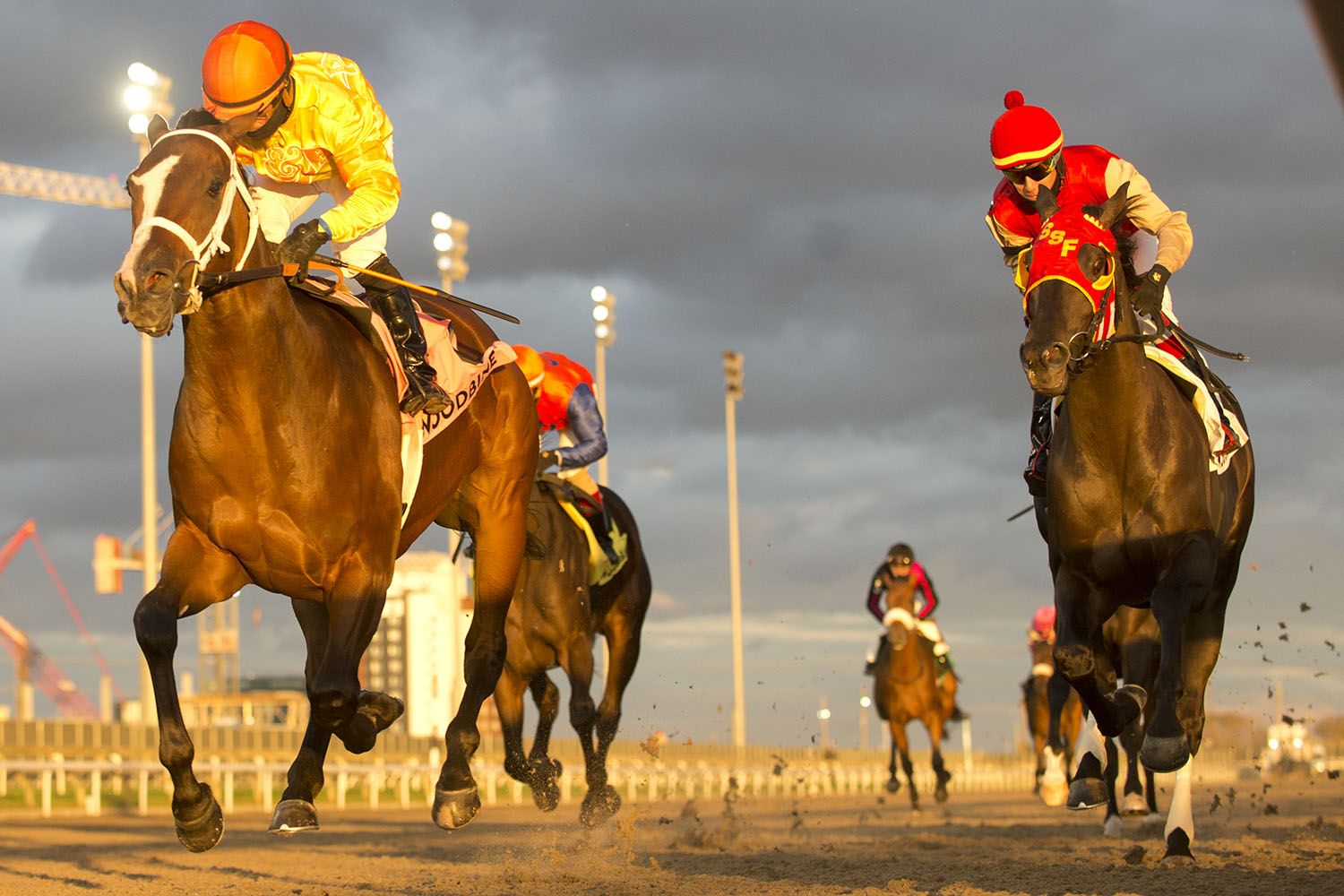 Mark Casse will present the one-two punch of Helium and Easy Time in the Grey Stakes.
Owned by D J Stable LLC, Helium deflated his competition in both of his starts, including a 4 ¼-length romp in the Display Stakes on October 18 at Woodbine.
Under Emma-Jayne Wilson, the son of Ironicus watched his lead balloon from one length at the stretch call to an open-length victory in a time of 1:22.62 for seven furlongs on the Woodbine main track.
Helium won his debut, also at seven furlongs on the Tapeta, by 3 ¼ lengths on September 27, paying $16.10 for the win.
"Where these races [Grey and Mazarine] are situated in the calendar – especially the Grey – is going to make to this one a really good race. In the past, we would run the Grey [earlier]. I don't know who else is going to go in there, but we're going to run two really good horses."
A victory by Helium would certainly stamp him as a legitimate contender – along with Grade 1 winner and fellow Casse pupil Gretzky the Great – for Sovereign Award two-year-old male honours.
"Helium is quite talented," said Casse. "He's raced extremely well in both of his races."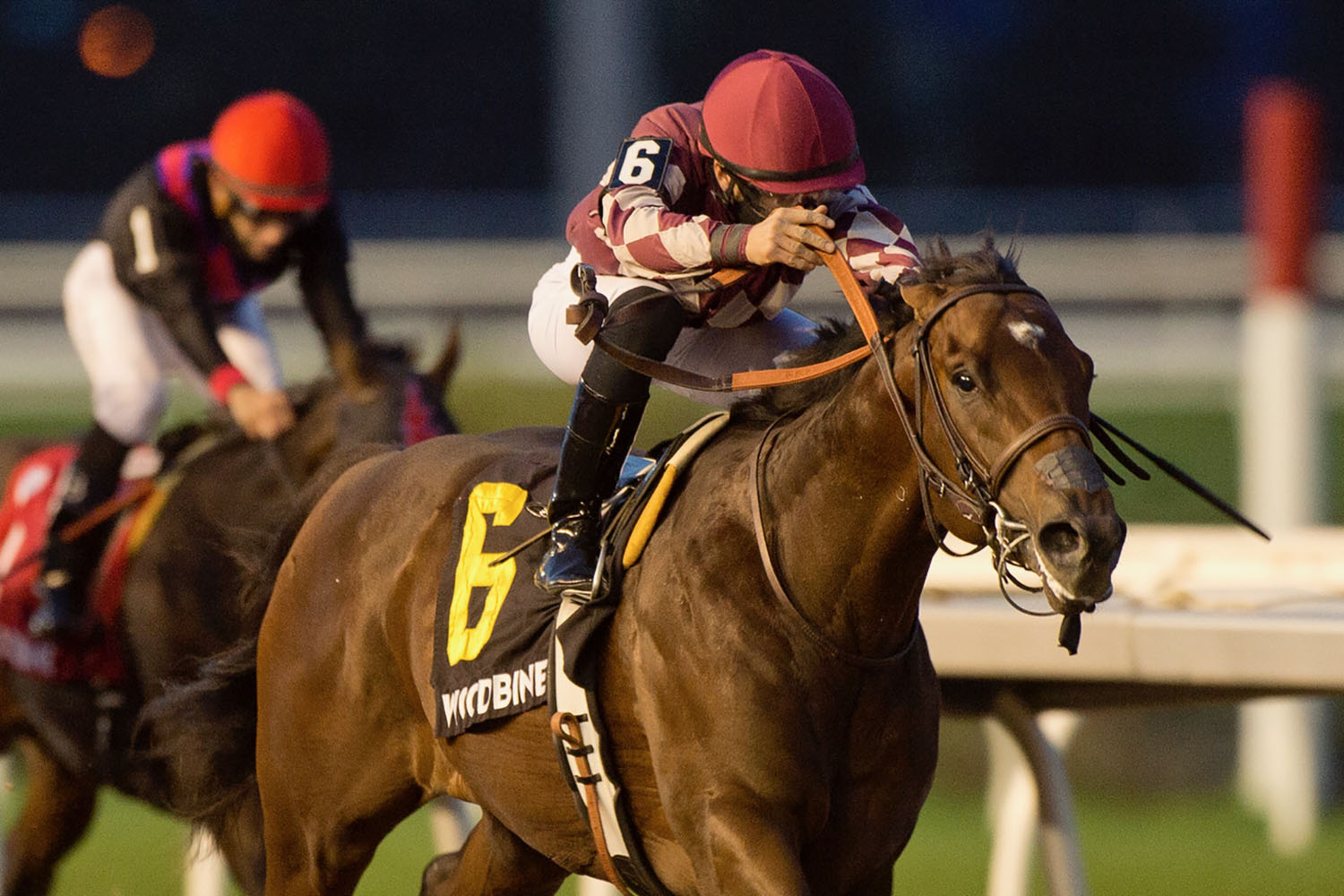 Casse's other trainee, Easy Time, a dark bay son of Not This Time, was exceptional in taking his debut on October 25 at Woodbine.
Sent off as the slight 7-5 choice, the colt, bred by Breeze Easy LLC, converted a mid-stretch bid into a 2 ¾-length win. Easy Time covered the seven-furlong Toronto oval Tapeta test in 1:23.92.
"He was extremely impressive in his first start. He's by one of the best young freshman sires in North America. And now, we're going to run him two turns for the first time. I think Easy Time will give Helium a run for his money."
Owner J.K.L Ross won five straight editions of the race, from 1921-25. Wando, Canada's most recent Triple Crown champion (in 2003), won the Grey in 2002. Mine That Bird, the 2009 Kentucky Derby winner, took the race in 2008.
***
Mark Casse, who has seven Mazarine titles, has two opportunities to add to that impressive total, Sunday at Woodbine.
The 1 1/16-mile Mazarine, which offers Grade 3 status and a purse of $125,000, has attracted a field of seven two-year-old fillies, including Casse charges Souper Sensational and Sleek Lynx.
Owned by Live Oak Plantation, Souper Sensational has lived up to her name over two starts, including a fantastic four-length display in the Glorious Song Stakes on October 17 at Woodbine.
Sent on her way as the 3-5 choice, the chestnut daughter of Curlin widened her advantage down the lane, going on for the easy score in a time of 1:21.84 over seven furlongs on the Woodbine Tapeta.
Three weeks earlier, Souper Sensational broke her maiden at first asking as she registered a 2 ¼-length win, also at seven panels, in a time of 1:23.54, in a $126,800 maiden special weight event.
"We decided not to go to the Breeders' Cup with her," offered Casse. "She's been very impressive so far in her couple of races. We feel like her pedigree says she should be able to stretch out. She's coming out into it well. She had a nice breeze [four furlongs in :48.80 over the Woodbine main track on November 14], but it wasn't so much what she did during the breeze, but what she did after it. She galloped out really strong. Every indication says she should get two turns. But until you try it, you don't know."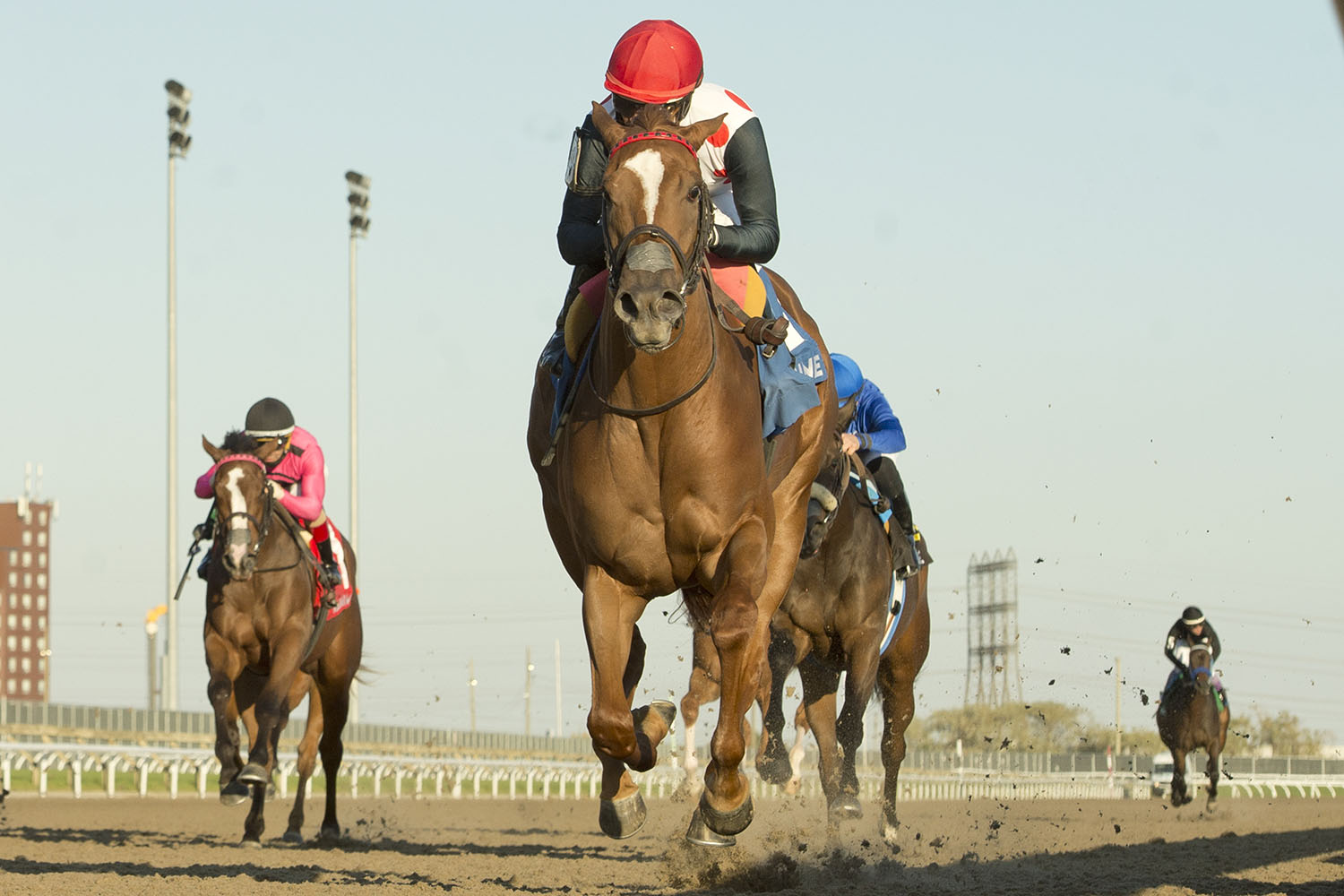 Sleek Lynx, owned by Gary Barber, will contest her fourth lifetime race, and second stakes outing.
The dark bay daughter of War Front, who finished fifth in the Natalma (G1T) on September 20, broke her maiden last time out, a 1 ¼-length victory over one mile over "good" going on the E.P. Taylor Turf Course.
Bred in Britain by Haras Don Alberto, Sleek Lynx finished second in her debut on July 23 at Gulfstream Park, finishing a half-length behind Director's Cut in a one-mile grass race.
"She's probably a better turf horse, but we're getting near the end of the year. She has a huge pedigree and it would be nice to pick up some black type with her."
Casse won three straight Mazarines from 2012-14. His most recent triumph came three years ago with 2018 Queen's Plate champ and Canada's 2018 Horse of the Year, Wonder Gadot. He was also victorious in 2004 and 2007 with Higher World and Officer Cherrie, respectively, as well as in 2016 with Gale Force.
The Grey Stakes is race 10 and the Mazarine is slated as race 11 on Sunday's 13-race card. First post time is 1:25 p.m. Fans can watch and wager on all the action via HPIbet.com.
$125,000 GREY STAKES
Post – Horse – Jockey – Trainer
1 – Haddassah – Justin Stein – Kevin Attard
2 – British Royalty – Patrick Husbands – Barbara Minshall
3 – Stephen – Justin Stein – Kevin Attard
4 – Lucky Score – Daisuke Fukumoto – Ralph Biamonte
5 – Barrister Tom* – Kazushi Kimura – Michael Ewing
6 – Lomaki's Gem – Jerome Lermyte – Stuart Simon
7 – Helium – Emma-Jayne Wilson – Mark Casse
8 – Easy Time – Rafael Hernandez – Mark Casse
9 – Gospel Way – Emile Ramsammy – Nathan Squires
* denotes supplemented
$125,000 MAZARINE STAKES
1 – Il Malocchio – Sahin Civaci – Martin Drexler
2 – Sleek Lynx – Rafael Hernandez – Mark Casse
3 – Do You Love Me – David Moran – Michael Trombetta
4 – Batyah – Justin Stein – Graham Motion
5 – Army Wife* – Kazushi Kimura – Michael Maker
6 – Designer Ready – Emma-Jayne Wilson – Barbara Minshall
7 – Souper Sensational – Patrick Husbands – Mark Casse
* denotes supplemented