TORONTO, July 22, 2021 – Another Time, a five-year-old daughter of Munnings, looks to go one better in Saturday's Grade 2 $175,000 Nassau Stakes, at Woodbine.
Bred by Machmer Hall, owned by Hoolie Racing and trained by Barb Minshall, Another Time just missed taking last year's running of the one-mile E.P. Taylor Turf Course event, finishing a neck behind Elizabeth Way for all the spoils.
The dark bay arrives at the Nassau off a strong two-length score at 7 ½-furlongs over the Toronto oval's Inner Turf on June 12. Sent off as the 9-5 choice, Another Time was settled into second spot by jockey David Moran, before the duo assumed command at the stretch call and then easily held off their rivals.
The performance was even more impressive, offered Minshall, considering the Kentucky-bred had a rough beginning to her journey.
"She's always been a nice filly," said Minshall, who won back-to-back editions (1995-96) of the Nassau with Bold Ruritana. "I was expecting her to run well. She had been ready to run for quite a while before that. She was definitely ready to run. She gets over the turf very well and she does everything right. She actually stumbled a little bit coming out of the gate, so it was a really nice recovery and effort."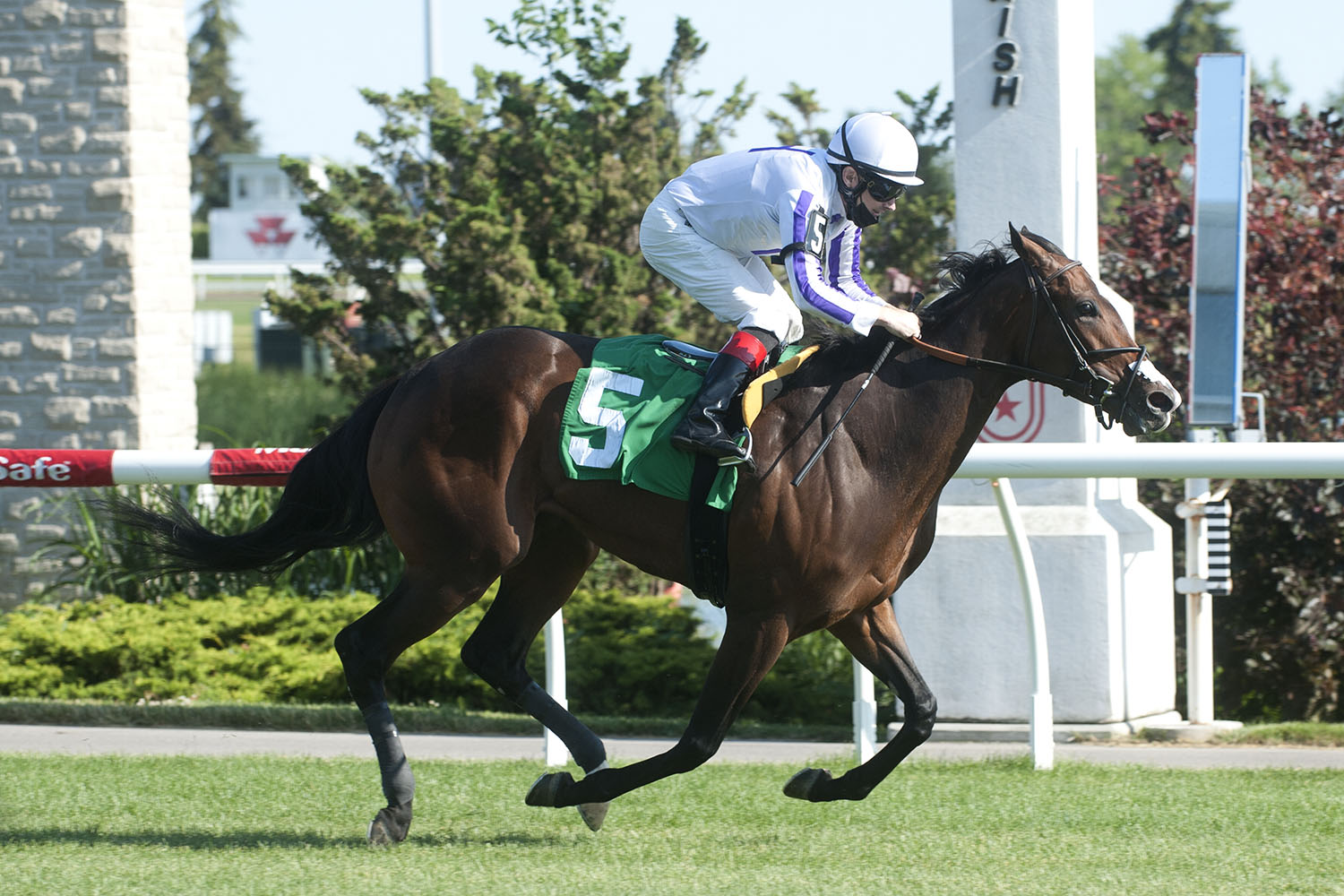 Another Time launched her career on October 21, 2018, at Woodbine, finishing third in a six-furlong main track race as the 7-5 choice. She broke her maiden one race later, doubling up in December to close out her rookie season.
In 2019, Another Time posted a third (in the Gasparilla Stakes, at Tampa Bay Downs) in three starts.
She returned to action with a winning effort at Tampa Bay in March 2020, and went on to contest four consecutive graded events – Grade 2 Nassau, Grade 3 Trillium, Grade 3 Seaway, and Grade 2 Canadian – ending her year with a 2-1-1 mark from seven appearances.
Sporting a lifetime mark of 5-1-3 from 14 starts, Another Time's connections are looking to add a stakes victory to her stat sheet.
"She runs well off the layoff," said Minshall. "She got injured in the last race [Canadian] before the layoff and was off quite a while. I don't think it was the [1 1/8-mile] distance of the race – she just wasn't right after that race. I think she's more than capable up to that distance and she's really good right now, knock on wood. She doesn't need to be on the lead. She can be close. If someone wants the lead, she can sit off it. She's also the type of horse that's more than willing to carry on in front. She gives the rider a lot of options on where to be and I think that makes her dangerous in that regard."
Dangerous enough, hopes Minshall, to see her go one better than she did in last year's Nassau.
"She almost had that race. I'm hoping she can get that graded stakes win on her résumé. It would be nice for the long-term plan for her."
Eight horses have won the Nassau twice, including Eternal Search (1982-83). Augustin Stable took a division of the 1985 edition with Annie Edge, who won the Grade 2 New York Handicap one year earlier.
The Nassau is Race 6 on Saturday's 10-race card. First post time is 1:10 p.m. Fans can watch and wager on all the action via HPIbet.com.
$175,000 Nassau Stakes (Grade 2)
Post – Horse – Jockey – Trainer
1 – Abby Hatcher – Kazushi Kimura – Anne Meah
2 – Another Time – David Moran – Barb Minshall
3 – Tappitty Tappitty – Patrick Husbands – Mark Casse
4 – Saratoga Vision – Jeffery Alderson – Alexander Patykewich
5 – Abscond – Justin Stein – Eddie Kenneally
6 – Our Secret Agent – Emma-Jayne Wilson – Mark Casse
7 – Crystal Glacier – Shaun Bridgmohan – Mark Casse
8 – Sunset Kiss – Gary Boulanger – J. Kent Sweezey
9 – Honey Cake – Antonio Gallardo – Jonathan Thomas
10 – Jolie Olimpica – Luis Contreras – Josie Carroll
11 – Royal Wedding – Simon Husbands – Nathan Squires
12 – Merveilleux – Rafael Hernandez – Kevin Attard
***
Nine starters, including veteran campaigner Woodbridge, will travel 'about' 1 1/8 miles over the E.P. Taylor Turf Course in Sunday's $100,000 Niagara Stakes, at Woodbine.
The running of the Niagara, for four-year-olds & upwards, includes Mike Keogh trainee Woodbridge, a gelded son of Langfuhr bred by the late Gus Schickedanz.
The bay, owned by The Estate of Gus Schickedanz and Donald Howard, will be making his first appearance since contesting a pair of graded stakes events in 2020, both of them at Woodbine.
Woodbridge finished fifth – two lengths behind Count Again – in the Grade 3 Singspiel in September and followed it up with another fifth, this time in the Grade 1 Northern Dancer Turf in mid-October.
"It's really the only spot I've got to run because he's not eligible for 'two other than' yet," noted Keogh. "He won last year in late August, so I don't want to run him for a tag. So, this is the spot to start. The distance is okay, but I think further down the road he's better going a mile and a quarter, and a mile and a half, maybe. He ran some big races going long last year, in the Singspiel and Northern Dancer."
Prior to those engagements, the Ontario-bred lit up the toteboard on August 29 in a 1 ¼-mile turf race at the Toronto oval.
Sent off at 50-1, Woodbridge took the lead an eighth of a mile from home and dug in gamely to secure a neck score in a time of 2:02.65 over firm going.
Keogh, inducted into the Canadian Horse Racing Hall of Fame last April, would relish a duplicate of that performance.
"That would be great, wouldn't it?" said Keogh. "He runs well fresh, and I've had some stiff works into him, a few seven-eighths and a mile."
Woodbridge started his career with four straight top-three placings, including a maiden-breaking score in his fourth start on October 2, 2016.
The multiple stakes placed gelding has compiled a record of 3-2-7 from 28 career starts.
"He's lovely to be around. He's a happy, little horse. When you're setting his feed, he hollers like crazy, which I love to hear horses do. They don't all do that, but he does."
Also contesting the Nassau is six-year-old Admiralty Pier.
Owned by Hoolie Racing Stable and Bruce Lunsford, the graded stakes winning son of English Channel heads into Sunday's added-money affair off a winning effort at Woodbine on July 4.
Trained by Barb Minshall, the chestnut gelding, bred in Kentucky by Calumet Farm, has assembled a 6-4-3 mark from 26 lifetime starts.
"He's doing great and he's a very solid horse," noted Minshall. "I expect him to run very well. He's all class. He's a two-year-old Sovereign [Award] champion still going at six. That in itself says a lot."
The Niagara is Race 7 on Sunday's 11-race card. First post time is 1:10 p.m. Fans can watch and wager on all the action via HPIbet.com.
$100,000 Niagara Stakes
Post – Horse – Jockey – Trainer
1 – Mnemba Island (S) – Shaun Bridgmohan – Julia Carey
2 – Current – Emma-Jayne Wilson – Jamie Begg
3 – Woodbridge – David Moran – Mike Keogh
4 – Belichick – Luis Contreras – Josie Carroll
5 – March to the Arch – Patrick Husbands – Mark Casse
6 – Admiralty Pier – Steven Bahen – Barbara Minshall
7 – Sir Sahib – Daisuke Fukumoto – Michael Doyle
8 – Primo Tough – Sunny Singh – Harold Ladouceur
9 – Theregoesjojo – Rafael Hernandez – Michael De Paulo