TORONTO, January 15, 2018 – The first few weeks of winter in Toronto have left many dreaming of spring, but for apprentice jockey Isabelle Wenc, next season will bring more than just relief from the cold and snowy weather. It will bring the chance to fulfill her own dream.
Despite a pair of major setbacks early in her career, the 23-year-old Saskatchewan native is determined more than ever to succeed as a Woodbine jockey when racing resumes in April.
In 2015 as her career was beginning to pick up on the Alberta racing scene, Wenc suffered four broken vertebrae during a morning workout putting her pending plans to relocate to Woodbine at the time on hold. Once she recovered, Wenc eventually moved her tack to the Toronto track last year where she won her third start here on August 26 aboard Tornado Cat. But her first Woodbine season was cut short due to another serious injury.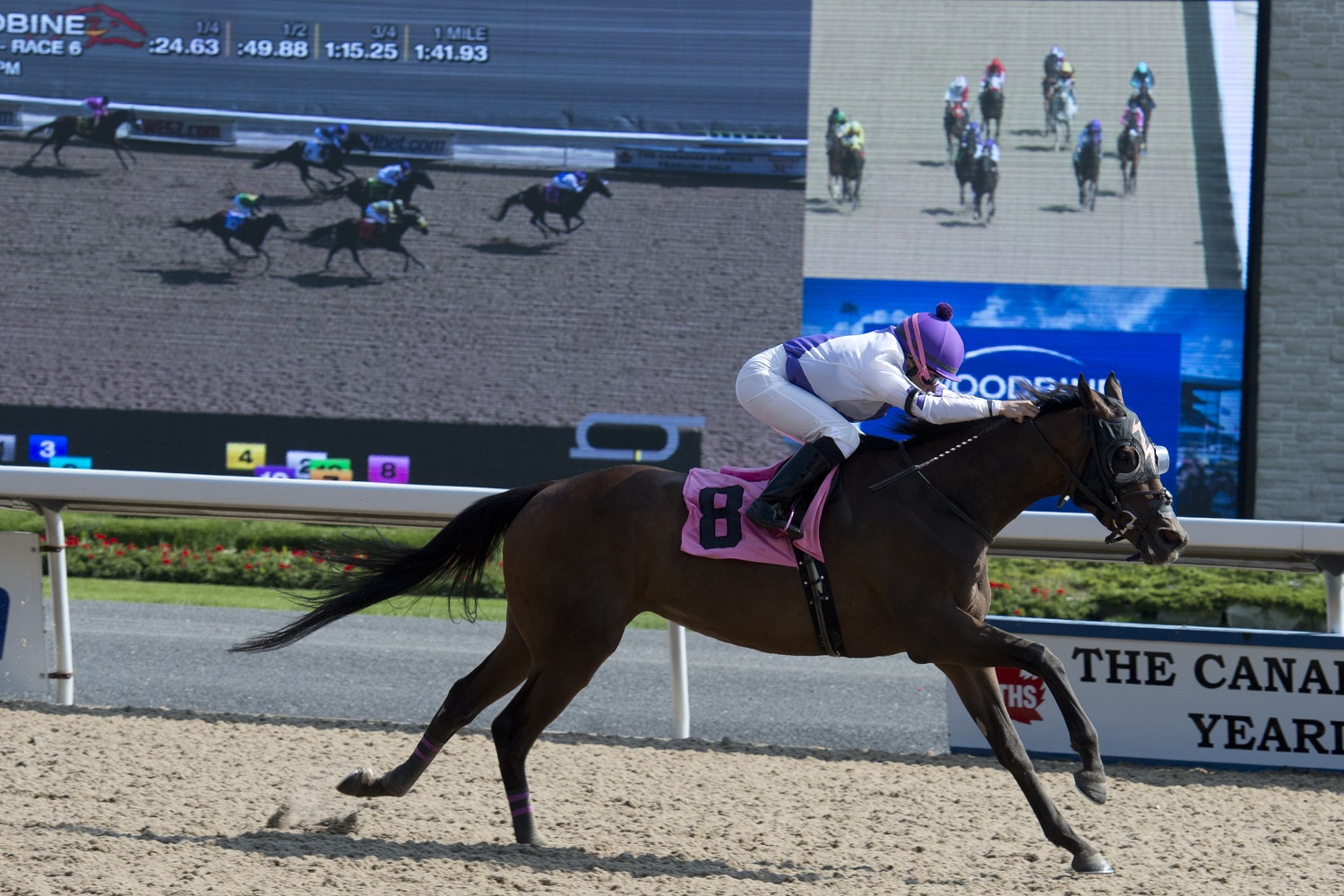 Wenc, who had picked up a few mounts at Fort Erie in the fall, broke her right clavicle and separated her shoulder when she was launched to the ground after her horse stumbled past the wire and catapulted over top of the jockey during the final program of the meet. The accident landed her in the hospital for surgery as her injuries required a plate and six pins for corrective healing, followed by months of physiotherapy.
"I'm still not cleared to get on a horse or anything just yet," said Wenc, who has won 32 races and almost $240,000 in purse earnings so far in her career. "I have my follow up [doctor's appointment] on the 10th of February, but I've been going to the gym and riding my Equicizer and continuing my physio. I would imagine that come spring training when it starts here [at Woodbine], I'll be starting as soon as they open. I'll be here early in the spring and galloping horses."
Through all of her highs and lows, the support of one young fan named Lily has given her the encouragement she needed during some difficult moments.
"Almost two years ago this relationship started with something as small as me giving her a pair of goggles after a race I didn't even win," explained Wenc. "Her eyes lit up when I handed them to her and that was better than any winning feeling I didn't get that day. A month later, I received a thank you letter and a picture and it gave me a boost when I needed it most. I have been through two serious injuries since meeting her — four broken vertebrae, a broken collarbone and separated shoulder — and we have sent letters and pictures back and forth through it all."
Earlier this month, Lily came through again for Wenc, who received another uplifting letter from her pen pal on an off day during her road to recovery.
"Realistically, I'm nobody in the racing world, but to Lily I am somebody and the fact that even for a minute if it was just one little girl, somebody looked up to me. That's worth all the blood, sweat and tears that this lifestyle comes with."
Growing up as a city girl, Wenc's love for horses was cultivated through horse back riding camps that she would attend during school breaks at Christmas time. The door into the world of horse racing opened one Sunday when she met trainer Maria Stanford while working at her mother's beauty salon.
"My mom owns a beauty salon in Saskatoon and I would work for her every Sunday, and one of her clients actually trained racehorses at Marquis Downs," said Wenc. "I think I was about maybe 14 at the time. My mom would tell her about how much I loved horses and then she offered for me to go and feed with her that evening. It was summertime, so I went with her and I ended spending every single day that summer working at the racetrack, learning all about it, just kind of seeing what it was all about."
It was during her summer at Marquis Downs that the former ballerina was repeatedly told she had the physique of a rider and discovered she could make a career out of being a jockey.
"I kind of always held on to that all through high school and during high school that's when the show Jockeys came out on Animal Planet, so when I saw that, I was like 'Oh my god, I want to do this!'"
After graduating high school, Wenc went to work at the racetrack climbing her way through the ranks as hot walker, groom and exercise rider before trainer Don Senebald took her under his wing in the summer of 2014 as she pursued her jock's license.
"He was one of the very few people that had any sort of faith in me and took me serious and was sort of the only person that gave me any kind of opportunity at becoming a rider," said Wenc of her mentor. "I could barely even find anyone that wanted to let me gallop let alone help me get a jock's license at the time. He always knew I could do it despite what anyone else said or thought and instilled that little bit of confidence in myself that I needed to get to where I needed to go."
Wenc earned her license aboard one of Senebald's horses and made her career debut with his trainee Lasting Cash, who was later their first winner together when she lost her 10-pound bug.
"He is someone I will always carry near and dear to my heart and always be thankful for no matter where my riding career takes me."
From Marquis Downs, Wenc's career took her to Northlands Park in 2015 with her sights set on a future at Woodbine, but those plans were put on hold after being sidelined in her initial accident. When she was cleared to return to action, Wenc resumed riding in Alberta for another season before making her move to Woodbine for the 2017 meet.
"I've always dreamed of coming up to Woodbine so I thought now would be the time to do it," she said. "I made the connections I needed to, got an agent, Neal Wilson, and I came out here and on my third mount I won my very first race at Woodbine. I have learned a lot from the riders here and fell in love with it.
"I still do have my bug and that's the time to come out here because it's tough to break in otherwise. So now, here I am waiting for the season to start up and recovering from another injury, but I'm more determined than I have been."
Surgery was a success and as always you'll find me smiling. One step closer to being back in the saddle 😉 #downbutnotout pic.twitter.com/MYt1lOiSfD

— Isabelle Chloe Wenc (@isabellewenc) October 20, 2017
" Success is determined by how you handle setbacks " . My newest badge of honour ?? #Itsajockslife #downbutnotout #longwaysfromtheheart pic.twitter.com/0aIJJtjJAJ

— Isabelle Chloe Wenc (@isabellewenc) October 30, 2017
— Isabelle Chloe Wenc (@isabellewenc) January 3, 2018