TORONTO, November 29, 2017 – Grey Stakes champion Archaggelos has returned to Woodbine to put his talents on display in this weekend's stakes action.
Saturday's Thoroughbred program features the $100,000 Display Stakes for two-year-olds and the $125,000 Sir Barton Stakes for older Ontario-sired horses.
With a big pedigree and standout qualities, there are no weak links in Display Stakes contender Archaggelos' chain.
"His biggest quality is he doesn't have a serious weakness," said trainer Michael Dickinson of the highly-regarded Temple City-Mien colt, who is a half-brother to 2008 Kentucky Derby and Preakness winner Big Brown. "A chain is as strong as its weakest link. He's well-bred, he's good-looking, he's a superb mover, he's very genuine and tough. He has everything you want in a racehorse."
Monticule's homebred graded stakes champion has finished no worse than second in three starts and is entering the Display Stakes off back-to-back wins this fall. After his September 24 maiden-breaking victory on the turf at Laurel Park, he turned in an impressive performance to win the Grey Stakes (Grade 3) over Woodbine's Tapeta surface just one week later. Rafael Hernandez worked out the ground-saving trip in the 1-1/16 mile event aboard Archaggelos, who bravely split horses in the stretch en route to a 2-1/4 length victory.
"He was running on a seven-day layoff," noted Dickinson. "He had only just broken his maiden seven days previous to that. It wasn't actually a seven-day layoff because one day was travelling so, theoretically, it was only a six-day layoff. So that was incredible that he had seven days between his races and the long journey. It was an incredible performance by a tough horse. We asked a lot of him and he did it well."
The victory provided Dickinson, who developed the Tapeta racing surface, with his first Woodbine stakes win since coming out of retirement in 2015.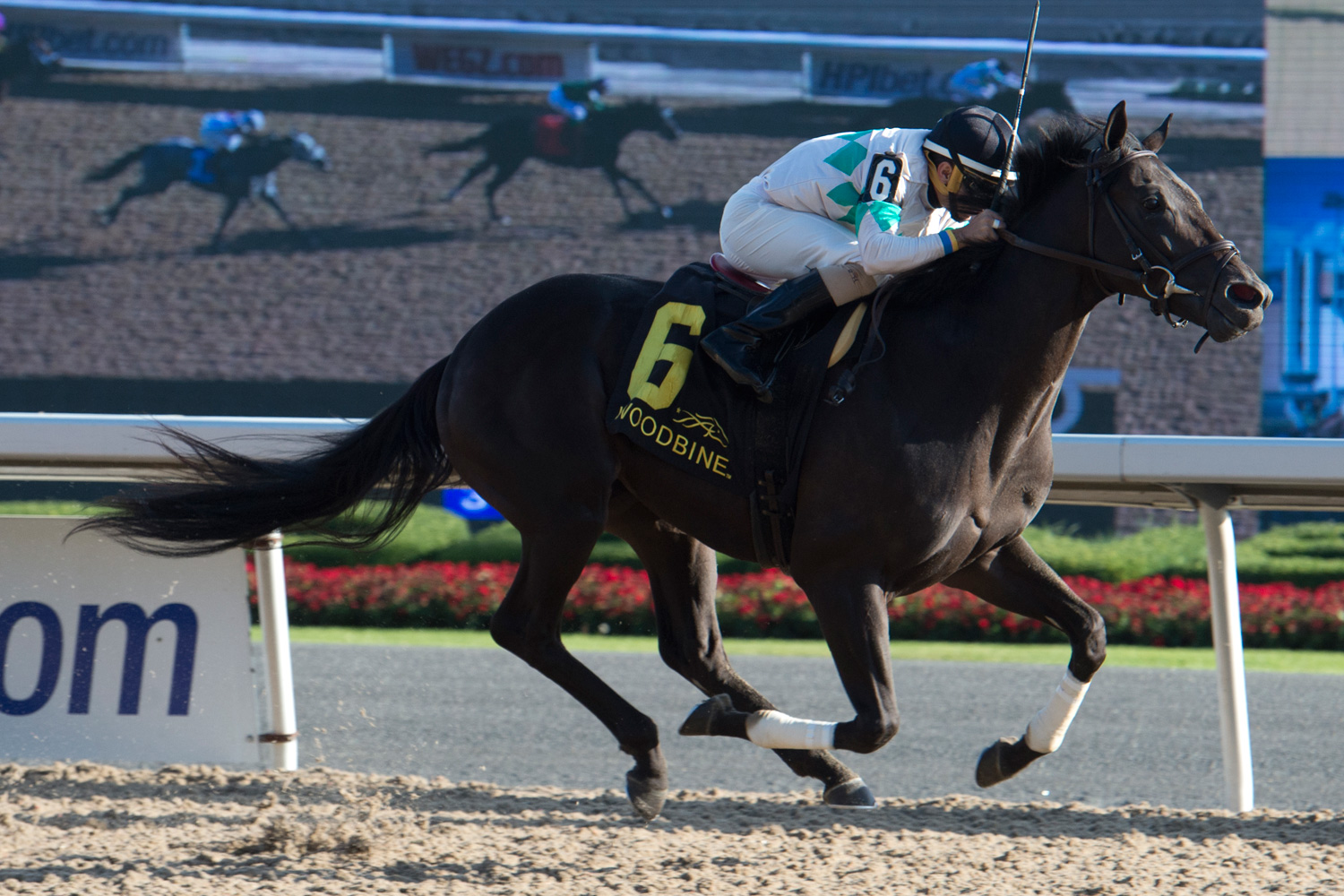 With two months between starts this time around, Archaggelos shipped back to Woodbine for the Display Stakes on Tuesday from his Maryland home base at Dickinson's 250-acre Tapeta Farm, located on the north end of the Chesapeake Bay.
"He's been doing very well," said Dickinson of the time between races. "We've kept him in training and he's worked well on the Tapeta and on the turf."
Hernandez will retain the mount on Archaggelos for the Display Stakes, which is scheduled as the sixth race on Saturday's 1 p.m. program.
The $125,000 Sir Barton Stakes is scheduled as race eight and could be a key race for the Catherine Day Phillips three-year-old trainee Mr Havercamp, who is in the running for divisional year-end honours following successive stakes scores in the Vice Regent and Bunty Lawless. The field also includes returning Sir Barton winners Kingsport (2015) and the season-debuting Freitag (2016).
Here is a look at the complete fields for Saturday's stakes:
$100,000 Display Stakes – Race 6
Post – Horse – Jockey – Trainer
1. Hoochiecoochie Sam – Eurico Rosa Da Silva – Julia Carey
2. Pipers Warrior – Jesse Campbell – Michael DePaulo
3. Follow My Lead – David Moran – Nicholas Nosowenko
4. Archaggelos – Rafael Hernandez – Michael Dickinson
5. Sent From Heaven – Jeffery Alderson – Sam Di Pasquale
6. Admiralty Pier – Luis Contreras – Barbara Minshall
7. Sable Island – Emma-Jayne Wilson – Gordon Colbourne
8. Marcus – Skye Chernetz – David Cotey
9. Thunder Ride – Patrick Husbands – Mark Casse
$125,000 Sir Barton Stakes – Race 8
Post – Horse – Jockey – Trainer
1. Kingsport – Jesse Campbell – Sid Attard
2. Strut N Stomp (S) – Sheena Ryan – Michael Mattine
3. Mr Havercamp – Eurico Rosa Da Silva – Catherine Day Phillips
4. Freitag – Luis Contreras – Michael Doyle
5. Spirit of Caledon – Alan Garcia – Pat Parente
6. Maxsmiraclejourney – David Moran – Catherine Day Phillips
7. Roxy's Vision – Emma-Jayne Wilson – Ian Black
8. Conquest Cavalry – Rafael Hernandez – Michael DePaulo
9. Ratface Macdougall – Jeffery Alderson – Angus Buntain