TORONTO, September 5, 2018 – Trainer Josie Carroll has held a hot hand in the La Lorgnette Stakes, winning four of the first 18 runnings of the 1 1/16-mile race for 3-year-old fillies.
On Saturday, Carroll will be looking to add to that total when she sends out Avie's Mineshaft to face 10 rivals in the $100,000 feature.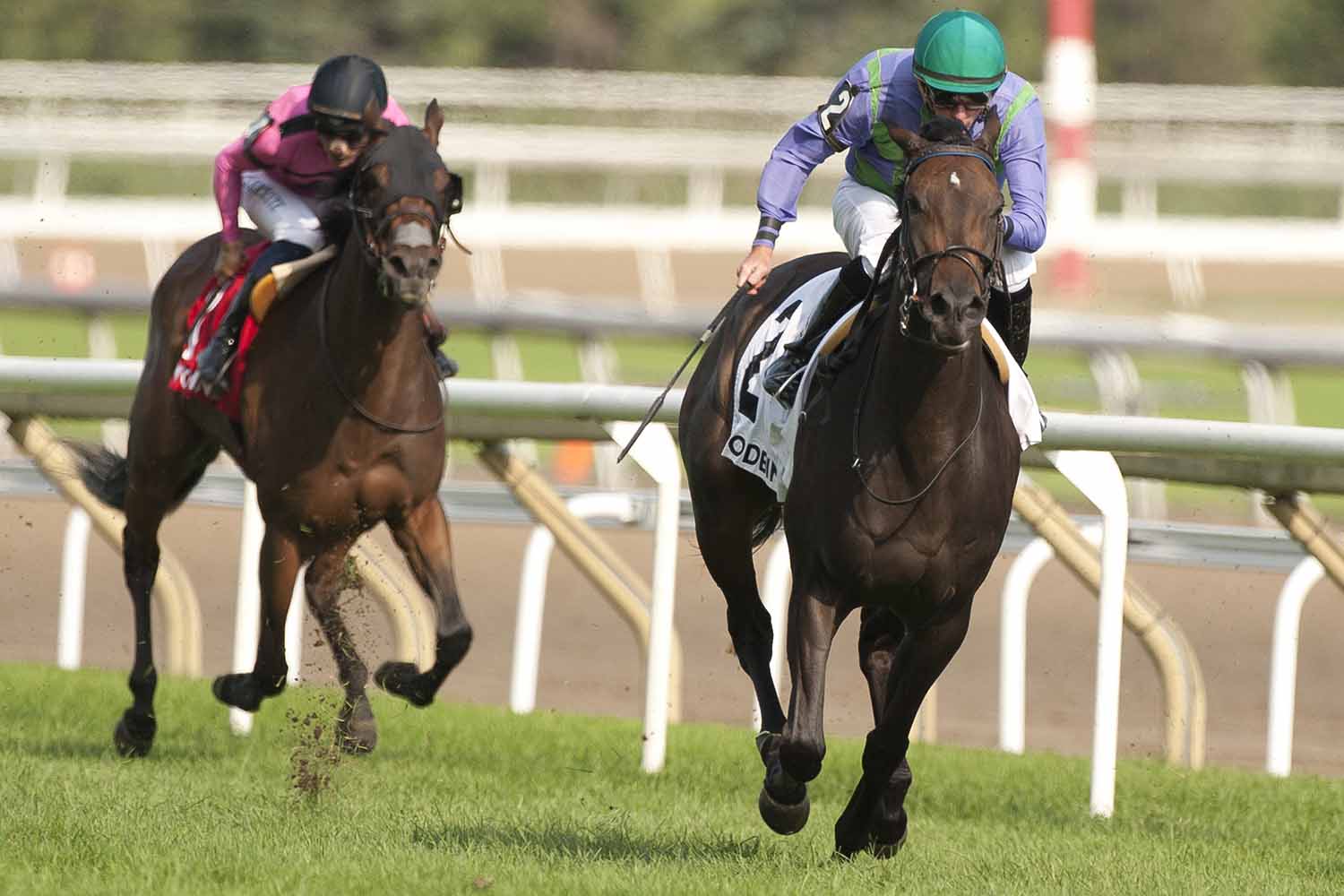 Avie's Mineshaft, owned and bred by Ivan Dalos, became a stakes winner here last time out in the Wonder Where, a 1 ¼ mile turf stakes for Canadian-bred 3-year-old fillies.
Her immediate victim there was Dixie Moon, the odds-on favorite and winner of this year's Woodbine Oaks, presented by Budweiser.
"I really liked her grass race," said Carroll, who was trying Avie's Mineshaft on that surface for the first time.
"I think this is perhaps a little shorter than we want to go with her, but she seems to be a filly who's really on the improve. I'm not too concerned about going back to the other surface. She's been very productive on that as well."
Avie's Mineshaft has placed in three stakes on the Tapeta, including close second-place finishes at Saturday's distance in the Bison City and Princess Elizabeth.
Carroll's previous La Lorgnette scores came courtesy of Willow Bunch (2003), Inglorious (2011), Leigh Court (2013), and Moonlit Promise (2016)
Trainer Mark Casse, who won last year's La Lorgnette with Let It Ride Mom, will be represented by Miss Mo Mentum, Shamrock Rose, and Hanalei Moon this time around.
Miss Mo Mentum, a Kentucky-bred owned by Gary Barber, defeated fellow 3-year-old fillies in the Grade 3 Selene Stakes at 1 1/16-miles here this May. But four weeks later, facing older rivals in the Trillium over the same distance, Miss Mo Mentum finished a well-beaten seventh as the favorite.
"She's a very, very tough horse to figure out," said Casse, noting that the Trillium was not the first time that Miss Mo Mentum had performed well below expectations. 'She'll run a bang-up race and then she'll run just a clunker. After her last race I thought about giving her the rest of the year off, but I gave her a little break and she seemed to do good enough.
"There are not a lot of opportunities to run against straight 3-year-olds and I thought maybe we'd give her this try, then we'll probably go ahead and give her some time off."
Shamrock Rose, owned by Conrad Farms, won the six-furlong Ontario Debutante in her first career start here last September and then ran third in the Grade 3 Mazarine at 1 1/16-miles.
Racing south of the border this season, Shamrock Rose placed in stakes at Aqueduct and Laurel and then was a romping 10 ¼ length winner of the restricted Malvern Rose at Presque Isle Downs when making her first start in three and a half months.
"She ran very well in the winter time but kind of tailed off on us," said Casse. "I was going to give her a little bigger break than what I did but she got down to Florida and did so well that we sent her back up for the Pennsylvania-bred race.
"She was impressive. Of the three fillies, she's probably the horse to beat in my opinion."
Hanalei Moon, a Kentucky-bred owned by Stonestreet Stables, was trying the Tapeta surface for the first time when a solid second behind stablemate Win the War in the seven-furlong Duchess Stakes here last month.
"She's a big, beautiful filly," said Casse. "Early on, she was a bit of a puzzle to us. We ran her a couple of times on dirt, and she just ran so-so. So, we thought we'd bring her up and try her on the Tapeta but the first race for her came up on the grass and she ran really well."
That prompted Casse to delay Hanalei Moon's Tapeta debut until the Duchess and she now will be trying two turns for the first time.
"Our feeling was that she always wanted to run on," said Casse.
The La Lorgnette Stakes is slated as Race 8 on Saturday's 11-race card. First post time is 1 p.m.
FIELD FOR THE LA LORGNETTE STAKES
Post/Horse/Jockey/Trainer
1/Ladies Night/Luis Contreras/Gail Cox
2/Shamrock Rose/Jerome Lermyte/Mark Casse
3/Time to Play/David Moran/Eoin Harty
4/Miss Sienna/Jesse Campbell/Graham Motion
5/A.A. Azula's Arch/Eurico da Silva/Kevin Attard
6/ Miss Mo Mentum/Patrick Husbands/Mark Casse
7/Cascanueces/Alan Garcia/Todd Pletcher
8/Cosmic Love/Steven Bahen/Roger Attfield
9/Peach of a Gal/Emma-Jayne Wilson/Graham Motion
10/Avie's Mineshaft/Gary Boulanger/Josie Carroll
11/Hanalei/Rafael Hernandez/Mark Casse