TORONTO, December 11, 2022 – Avoman, sent off at 13-1, pulled out all the stops to win Sunday's $100,000 Steady Growth Stakes, the headliner on the final card of the 2022 Woodbine Thoroughbred season.
Lac Macaza, also at 13-1, broke sharply and took the lead in the 1 1/16-mile Tapeta race for Ontario-sired three-year-olds and up, while Justin Stein, aboard Avoman, tucked the 4-year-old son of Old Forester into second spot as the field of eight passed navigated the opening turn.
Reaching the opening quarter in :25.08, Lac Macaza held a two-length advantage over Avoman, who was followed by Dun Drum and Artie's Storm. That lead ballooned to three lengths after a half reached in :49.76, as Avoman continued to track in second.
Rounding the turn for home, the two leaders began to separate themselves from the pack and started a throwdown that would last the length of the stretch, Lac Macaza digging in on the inside, and Avoman keeping pace with every stride to the outside of his rival.
At the wire, it was Avoman who prevailed by a hard-fought half-length in a time of 1:44.89. Multiple stakes winner Artie's Storm was third and even-money choice Candy Overload, supplemented to the race, finished fourth.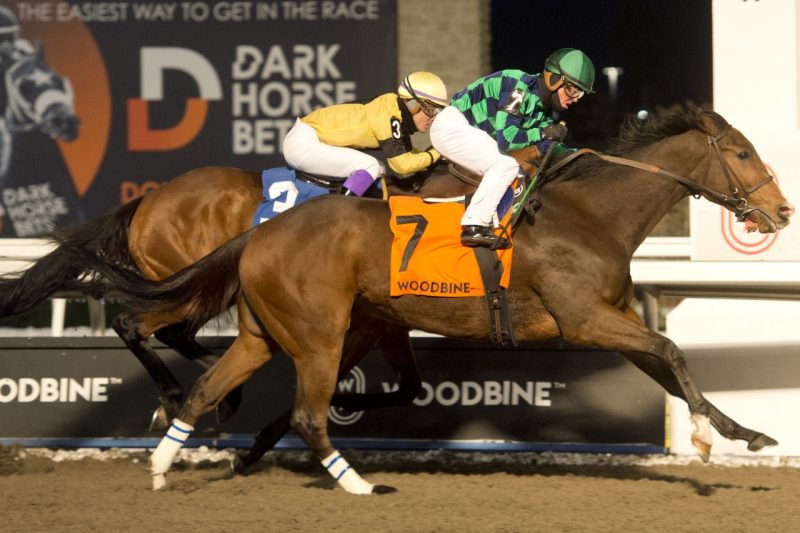 Stein, who has enjoyed another strong season in the saddle, was happy to come out on top at the end of the gruelling stretch battle.
"I got great position early with my horse," said Stein. "We were watching the horse [Lac Macaza] that Daisuke [Fukumoto] was riding. His horse was cruising along pretty easily, but he looked like he was maybe putting in a bit more energy than what I wanted to keep up with. So, my horse was comfortable and when I asked him to run, the other horse kicked on a little bit more and they really duked it out down the lane. It was fun. It was pretty awesome to be a witness to, and as a rider, when you come out on the better end of the stick, it's always nice. It is thrilling watching two horses really slug it out and really try to get the best of each other. You know they're real racehorses and it's a privilege to be on them."
Claimed for $40,000 in May, trainer John Charalambous wasn't quite certain how Avoman would fare after he missed out on his last scheduled race.
"He got sick before his last race, so we had to scratch him. And he only had one work coming into this race, but he trained really strong last week. We were fortunate, everything worked out. He had a great trip. He had a little bit of racing luck which he hasn't had for a few races."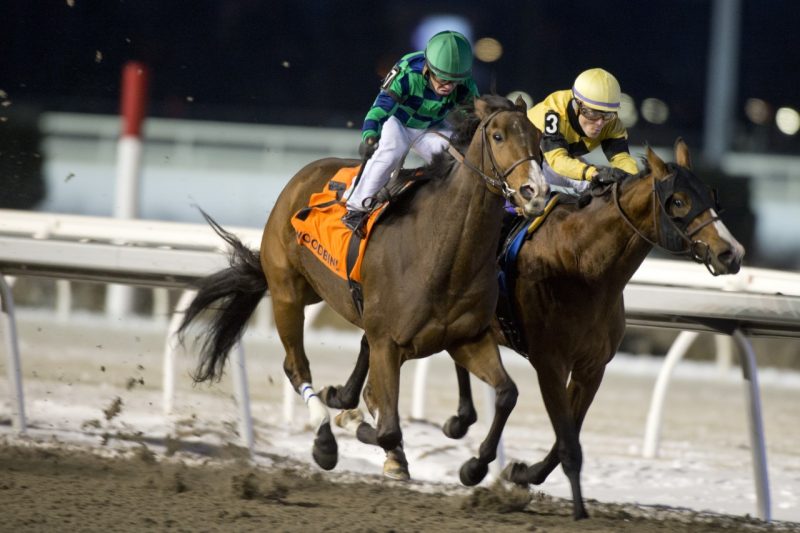 Charalambous was also pleased to see owners Paul Braverman and Timothy Pinch celebrate a stakes victory at the Toronto oval.
"They are American owners, but they put a lot of money in this game. Not just racing horses, but breeding horses, and I'm happy for them."
Bred by Joey Gee Thoroughbreds, Avoman won the Bull Page Stakes in 2020 and the Plate Trial Stakes in 2021.  
The dark bay paid $28.50, $11.50, and $5, combining with Lac Macaza ($11.40 and $5) for a $300.60 exactor. Artie's Storm ($3) completed a $1,143.30 triactor. A $1 superfecta with Candy Overload came back $1,974.60.
Chris Lomon, Woodbine Communications / @WoodbineComms