TORONTO, December 6, 2018 – A pair of $125,000 added-money features, the Grade 3 Valedictory and Ontario Lassie Stakes, share the Sunday spotlight at Woodbine.
Two standout seven-year-olds, each with 41 starts to their name, and both with seven starts on the year, will vie with seven other starters to take top honours in the 1 3/4-mile Valedictory, one of two stakes served up on the 10-race card.
Multiple graded stakes champ and fan favourite Melmich seeks his second Valedictory crown, while stablemate Pumpkin Rumble goes after his third straight score on the season, both sent out by trainer Kevin Attard.
A seven-year-old son of Wilko, millionaire Melmich took the 2015 edition of the Valedictory for Stephen Chesney and Cory Hoffman, going on to finish second in each of the past two runnings.
"Melmich is just a top-class horse," said Attard, who sits third in the Woodbine trainer standings with 47 wins in 2018. "He's won this race before. This is his fourth go at it, which is a big testament to him in itself. Now he's back here trying to win it again."
This season, the Ontario-bred gelding has one win, four seconds and a third from seven starts.
The chestnut, bred by Andy Stronach, heads into Sunday's race off a win on November 10 at the Toronto oval, a three-quarter of a length triumph at 1 1/16-miles.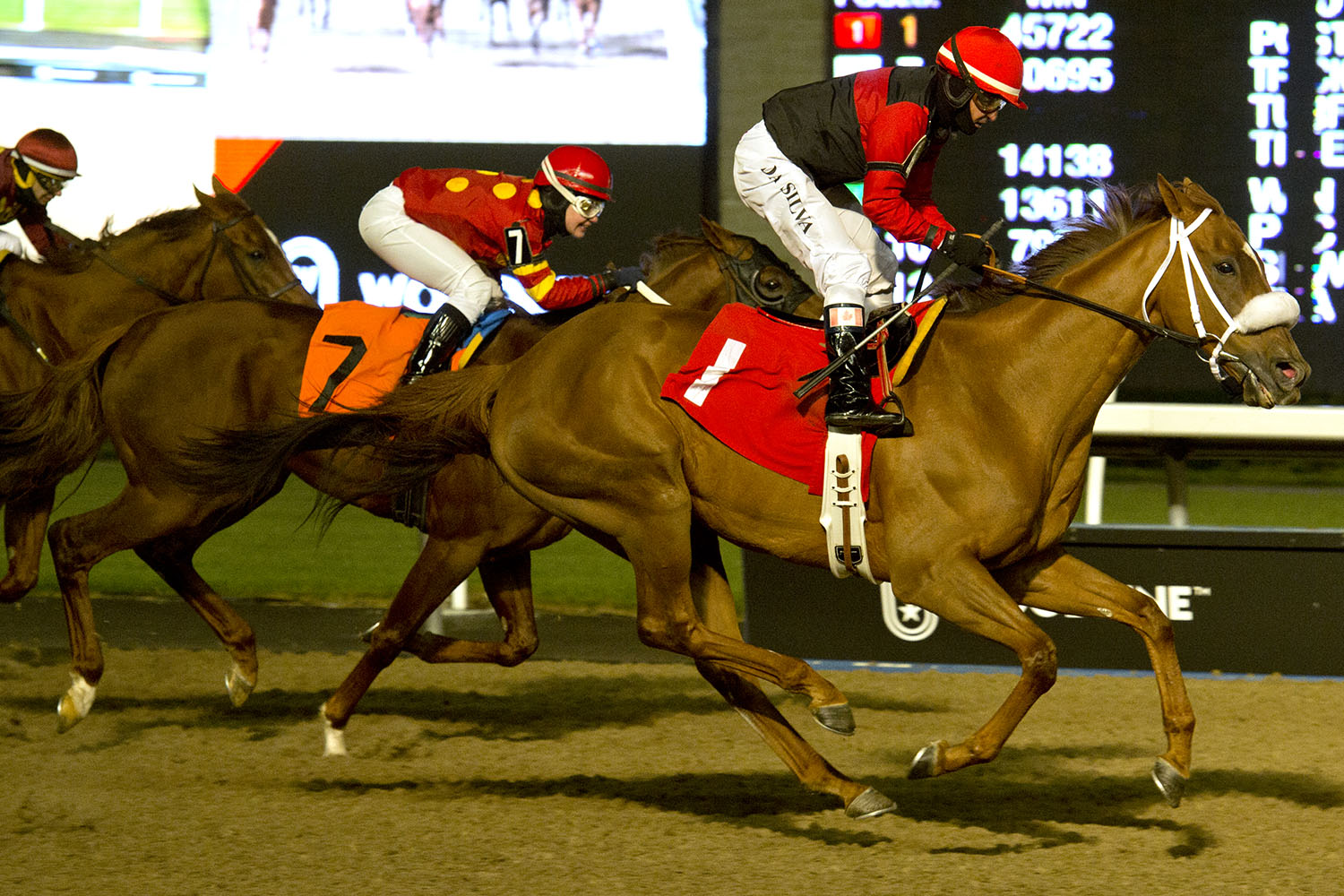 "He's doing great," offered Attard. "I think he looks fabulous. For this time of year, I don't think he's ever looked better. We're expecting a good race out of him."
In 41 career starts, Melmich, a five-time graded stakes victor, has 17 wins, 13 seconds and four thirds.
Pumpkin Rumble, who has also gone postward 41 times, rolls into the Valedictory in top form, having won two consecutive races.
Owned by Al and Bill Ulwelling, he turned heads with a top-notch performance in the prep for the Valedictory on November 16.
Sent off as the 5-2 second choice, Pumpkin Rumble, who sports eight wins, eight seconds and eight thirds, rumbled to an authoritative 6 3/4-length win at 1 5/8 miles on the Tapeta.
The Pennsylvania-bred has three wins and two seconds from seven starts this year.
"This is the way you want a horse coming into a race," praised Attard of the horse that finished fifth in last year's race. "His effort in the Valedictory prep was jaw-dropping. You're just hoping that he's got another race like that underneath his girth. He's doing well, too."
Same amount of career starts, same number of starts on the season and same age… do they share anything else in common?
"They are both laid-back around the barn, no doubt about it," noted Attard. "On the track, I would have to say that Melmich is a little bit more feisty. He's a good-feeling horse and the riders have to be a little bit more tuned-in with him. They're both old pros and I just try to stay out of their way and let them do their thing."
A. A. Azula's Arch, a three-year-old daughter of Arch, completes the Attard Valedictory trio.
Owned by A & A Farms, the Kentucky-bred filly will be looking for her second straight Grade 3 title, after taking the Maple Leaf Stakes on November 3.
Dismissed at odds of 16-1, A. A. Azula's Arch held on gamely for a neck victory in the 1 1/4-mile main track event.
Attard has high praise for the lifetime winner of three races from nine starts, who also has three seconds on her racing résumé.
"She's a wonderful filly who has great staying power and is coming off a really nice win in the Maple Leaf," he said. "We're hoping she can just take another step forward."
Also on tap Sunday is the Ontario Lassie Stakes, which drew eight starters. Artilena, Crumlin Time, Hastalavistababy, Lady Azalea, Moksgmol, Notice Me, Scat's Rose and Western Curl will face-off in the 1 1/16-mile race for Ontario-bred two-year-old fillies.
Last year, Dixie Moon ($3, to win) won the Ontario Lassie for trainer Catherine Day Phillips and owners Sean and Dorothy Fitzhenry.
First post for Sunday's 10-race card at Woodbine is 1 p.m. The Ontario Lassie, carded as Race 6, is slated for 3:37 p.m. The Valedictory, slated as Race 8, is set for 4:38 p.m.
$125,000 Valedictory Stakes (Grade 3)
Post – Horse – Jockey – Trainer
1 – English Illusion – Rafael Hernandez – Sylvain Pion
2 – Bowsprit – Kazushi Kimura – Milan Milosevic
3 – Bangkok – Gary Boulanger – Phil Gracey
4 – Vintage Matters – Emma-Jayne Wilson – Michael Dickinson
5 – A. A. Azula's Arch – Omar Moreno – Kevin Attard
6 – Seeking Albert – Alan Garcia – Michael De Paulo
7 – Melmich – Luis Contreras – Kevin Attard
8 – Ethical Funds – David Moran – George Billers
9 – Pumpkin Rumble – Eurico Rosa da Silva – Kevin Attard
$125,000 Ontario Lassie Stakes
Post – Horse – Jockey – Trainer
1 – Hastalavistababy – Gary Boulanger – Mark Casse
2 – Moksgmol – Kazushi Kimura – Carlos Grant
3 – Lady Azalea – Rafael Hernandez – Roger Attfield
4 – Western Curl – Eurico Rosa da Silva – Mark Casse
5 – Artilena – Emma-Jayne Wilson – Catherine Day Phillips
6 – Notice Me – Emma-Jayne Wilson – Catherine Day Phillips
7 – Scat's Rose – Eurico Rosa da Silva – Mark Casse
8 – Crumlin Time – David Moran – Michael Doyle