By: Chris Lomon for Woodbine.com
TORONTO, December 18, 2020 – The road to the Ontario-bred's first win came later rather than sooner, but for the chestnut's connections, it made the victory all the more memorable.
For trainer Jamie Attard, watching Red Hierarchy in the seconds before he burst from the starting gate on July 12 at Woodbine Racetrack wasn't an unfamiliar sight.
But this time the scene wasn't playing out in his mind.
"In all honesty, he came in with a presence about him when he was a two-year-old," recalled Attard. "He was a big, big, handsome colt. I looked at him and everything about him stood out. He just had this really nice look to him. You'd take him out to gallop and he was classy from the start – all about business and a beautiful stride to him. You couldn't wait to see him race."
At the end of the maiden optional claiming race, contested over 6 ½ furlongs on the Toronto oval's Tapeta, Red Hierarchy, under Justin Stein, was a six-length winner.
He stopped the teletimer in 1:16.14 and returned $13.70 for the win.
The victory, over a year in the making, was exactly how Attard had envisioned it.
"It was a big field the day he won. He passed the front-runner and then started opening up. I was speechless. It's such a good feeling that you knew what you had, but you trusted your gut, you stayed patient and you stuck to the plan. When he crossed the wire, I was happy for the horse. Everything that you had said all along, he just proved it. It was really rewarding that day."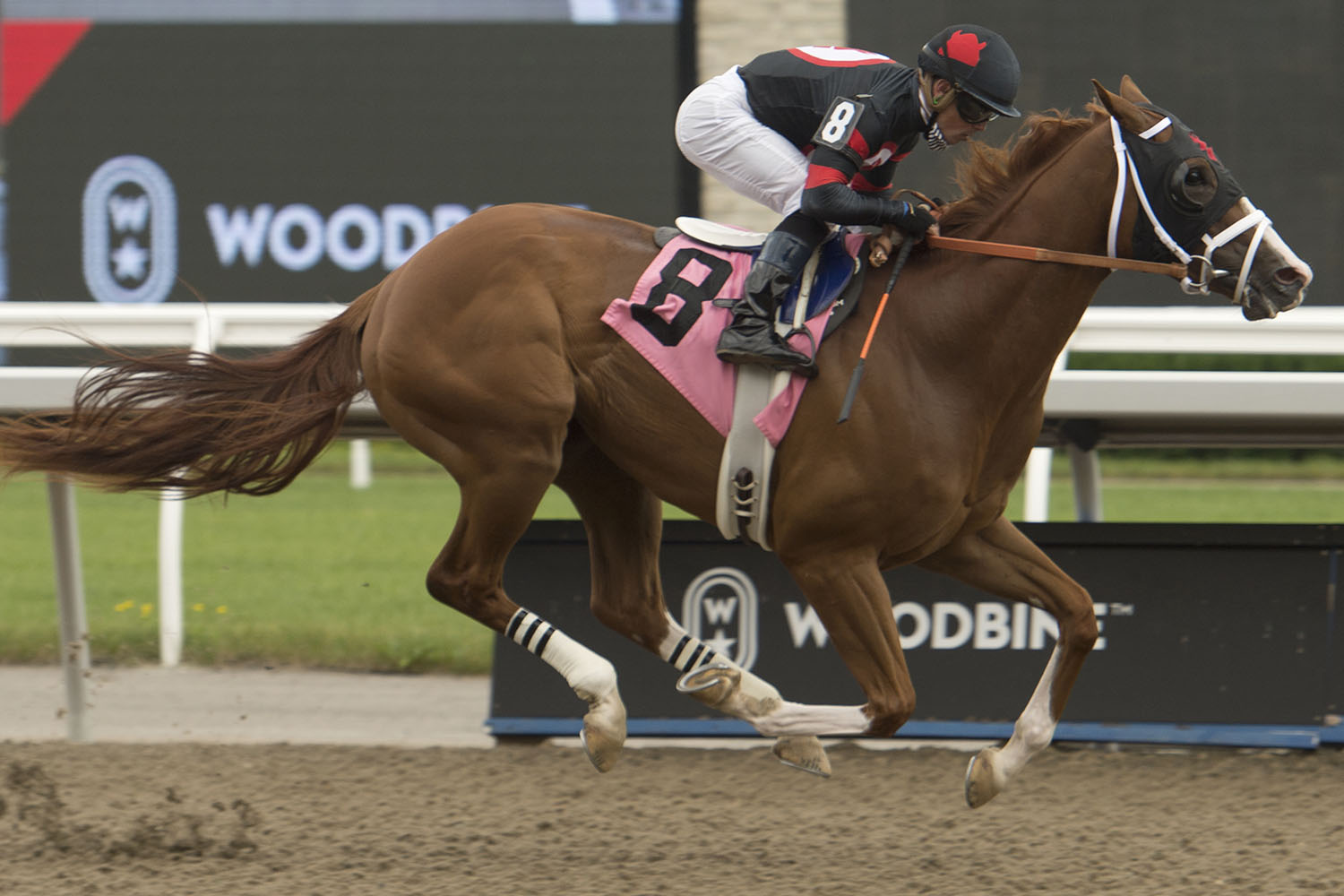 How Red Hierarchy made his way to the winner's circle on that summer afternoon is a coming-of-age tale, literally.
Bred and owned by Howard Walton's Norseman Stables, the horse that was foaled on March 25, 2017 caught the attention of Attard immediately.
Looks, with a mind to match, made Red Hierarchy a welcome addition to the trainer's barn.
"That's the thing that really puts into your head that a horse could be special," said Attard. "You have a lot of horses that come through your barn with talent, especially two-year-olds, but this horse, he had the mind to go with it. Whatever you asked him to do, he did it. He was just so kind and sweet right away. He had the mentality for it."
For all that Red Hierarchy had going for him, he also had a few issues, albeit minor ones, to be dealt with.
Rushing the horse to the races wasn't an option for Attard.
"Even though we had him gelded, he was still too big for a two-year-old. Mentally, he was there, but he had issues that all babies go through. And I thought if I push on this horse, I'm going to ruin him. It was just that realization that he's not meant to be a two-year-old. I told Howie, even though it wasn't easy for him to hear, that the horse wasn't sore, but I think the best thing for this horse is to put him away. Right away, he said, 'If that's what you think is best, let's do that for him.' It's amazing how much he trusted me."
That trust and Attard's game plan would eventually pay off handsomely.
But there were times, plenty of them, when it wasn't easy for him to be separated from Red Hierarchy.
"I'm taking care of my horses, and in the back of my mind, I'm thinking about him every day. I'm thinking about him being on the farm, growing up, turned out, and growing into himself. He had a lot of experience up until that point. He had three or four works for me as a two-year-old and then we gave him the summer, fall and winter off. He was with Gayle Woods in Ocala, Florida, and as soon as he got down there, she told Howie how special this horse was. It was nice to hear the horse was continuing his maturation and progression to being a three-year-old. He went down December last year. When she started working him – he had about four or five works before he came up to me, just easy ones – she told me he was something special."
All of that confidence had Attard brimming and eager to welcome his young prospect back into the fold.
He counted down the days until Red Hierarchy made his way back from the Sunshine State to the Woodbine backstretch.
"I couldn't wait to get him off the van and when I did see him, that big, soft two-year-old had turned into a nice-looking three-year-old. All that baby fat turned into muscle. I couldn't wait to get going with him, but I realized that if we had given him all that time, you still needed to do things the right way. So, we worked him and he did everything so easily. You start bringing him to the gate, to the paddock, and he's doing everything the right way. All told, we had 13 works for him before he ran."
The long wait was finally over on that July 12 afternoon.
"I didn't want to have the horse ready to run, I wanted to have him ready to win first time out. His last work before his race, it wasn't the time that mattered – it was the way he did it. He broke well, he settled, he finished well, and galloped out strongly. I knew the horse was ready to run."
Red Hierarchy would go on to win his first three starts before testing open company in his three subsequent races.
At season's end, he fashioned a mark of three wins and three thirds from six outings.
"It's tough for Ontario-sired horses to step up to those ranks, but he ran with them, and didn't miss by much in those races. It's not easy for any horse to run six consistent races in a row, and to have three wins and three thirds. It's not making excuses, but 2020 was his two-year-old season if you think about it, and he still showed he had talent."
Attard will have to wait about four months before he's reunited with Red Hierarchy.
Now back in Florida, the soon-to-be four-year-old will gear up for his sophomore season at the races.
At the very least, Attard can have some warm thoughts over the cold winter months.
"We're thinking there could be a nice Ontario-sired stakes race for him in 2021. He's going to have a nice winter. He's with Gayle Woods again and she called Howie the minute he got there. She was thrilled to see him. It's really exciting that we got him to the races and he made it through safe and sound. You just hope he can take that next step and be a nice four-year-old.
"He's a full-brother to another one in my barn, Red Equinox, and I have the full-sister, Peace Sign. They've all won first time out for me now. So, keep them coming. We actually have another full-sister coming next year… she'll be a two-year-old. The year after that, the one Howie is really excited about – he sent that mare [Majestic Red] to Mucho Macho Man, so we've got a colt coming. He told me that could be my Queen's Plate horse."
Attard would love to deliver Walton a Plate score.
"Howie takes a lot of pride in the horses he breeds and standing his own stallion Signature Red, who's proved to be a very solid sire, is something he really enjoys seeing. A lot of his mares, he's bred them going back two or three generations and to breed them to his own stallion that he raced and now stands at stud is a labour of love for him. It's great to see the success Signature Red has had for Howie. Maybe one of these days – because of his maturity and abilities – Red Hierarchy could be a nice, older Ontario-sired sprinter for Howie. That's the exciting thing."
So, too, is the thought of recording a special milestone with "Red."
It's something Attard has thought about often over his training life.
"I've been in a lot of nice stakes win pictures with Howie's horses when was I assistant to my dad [Hall of Fame conditioner Sid Attard], but it would be nice to get one of my own."