By: Chris Lomon for Woodbine.com
TORONTO, December 16, 2020 – Of the 13 training wins star-on-the-rise Cole Bennett recorded in 2020, it was a 1 ½-length score on November 8 at Woodbine that stands out as the most meaningful one.
The seventh race, run just over a month ago at the Toronto oval, attracted 12 starters for the $64,300 1 1/16-mile main track maiden optional claiming event.
Ms Wicked, a dark bay daughter of War Dancer, left from gate 11 in the two-turn race with Patrick Husbands in the irons.
Sent on her way at 6-1, the Ontario-bred, owned at the time by Centennial Farms Inc., and campaigned by Bennett, rallied from last at the half-mile call to break her maiden in what was her fourth career start, a 1 ½-length triumph that earned her connections $30,240.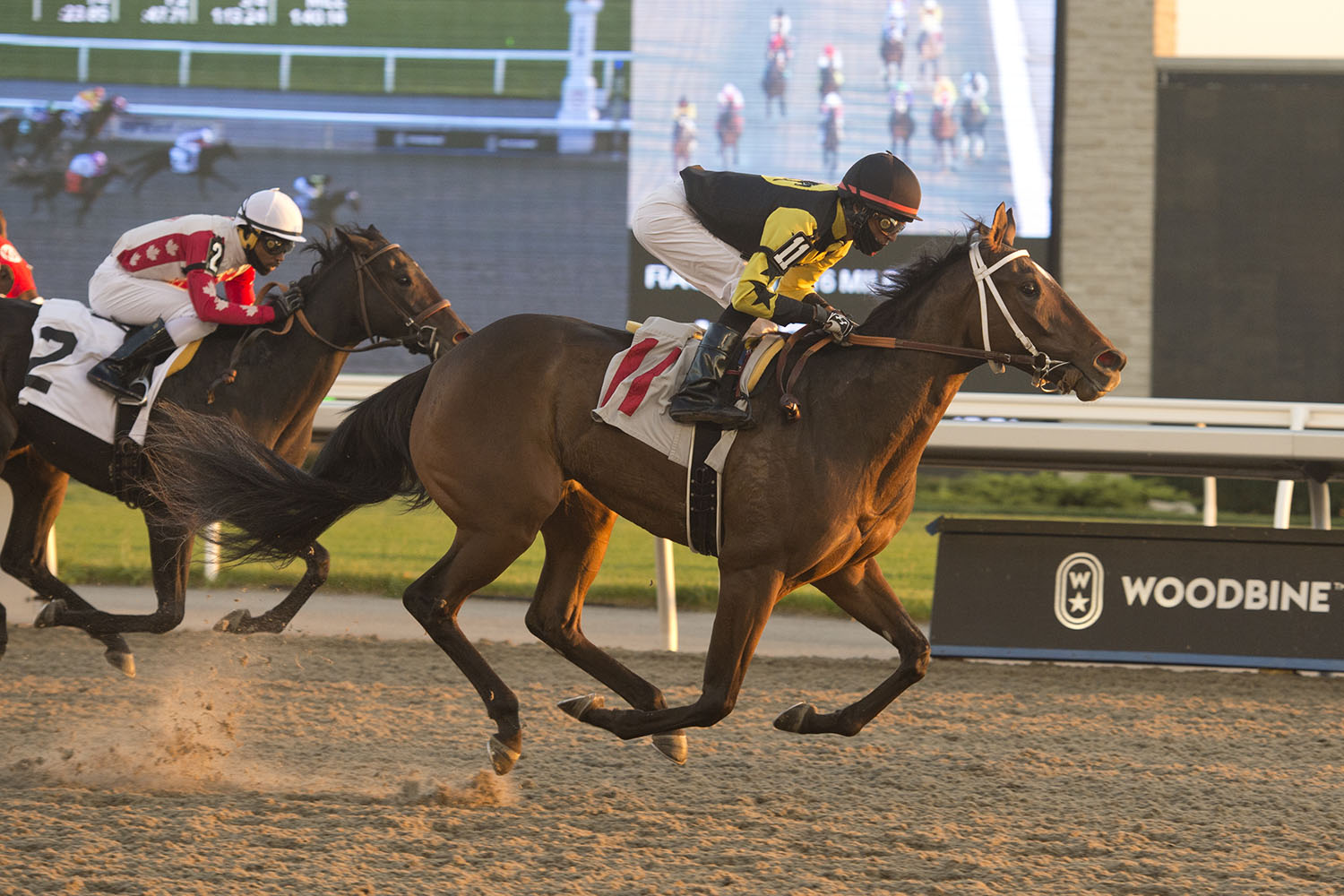 That she won the race wasn't a longshot surprise. That she was in it most certainly was.
"Six horses that we ran after we got out of the quarantine for herpes, we won four races within the first two weeks of when we were able to start up again," recalled Bennett. "One of those horses was Ms Wicked. She's a filly I bought as a yearling that I sold to Centennial. She contracted herpes and ended up at the University of Guelph… she wasn't doing well when she got there."
At one point during her stay at Guelph's world-renowned veterinary hospital, Bennett figured the two-year-old might succumb to the virus.
The one thing the filly did have in her favour was an attitude that matched her name.
"She ended up fighting her way through it, she's a really tough, little you-know-what," said Bennett with a laugh. "She lives up to her name. She is wicked to deal with. Everything is difficult with her. She can be really nasty, but all of it in a really good racehorse kind of a way."
When Ms Wicked, bred by Janeane Everatt, James Everatt & Arika Everatt-Meeuse, returned to her stall on the Woodbine backstretch, Bennett and his crew didn't set any expectations for the rookie filly.
Simply having her back in the fold was enough for the conditioner.
"In the spring, I had her at the racetrack and I thought she was my best two-year-old," offered Bennett. "Centennial bought her a week prior to when she had to go to Guelph. We weren't sure what was going to happen to her. We were just going to take care of her the best we could. We were going to do right by her."
Soon enough, however, Ms Wicked, a half-sister to Aheadbyacentury (second in the 2018 Queen's Plate) would once again beat the odds.
Bennett was initially speechless at what he was seeing.
"It was incredible. From the time she got back, to after she was recovered and cleared, it was amazing… she was back breezing three weeks after she came back from Guelph. This was a horse that went to Guelph and couldn't walk in a straight line. She could hardly stand up and needed to be supported to stand up properly. She was there for about a week and a half, and then we get back to the racetrack. I'm not thinking she's going to make it back to the races. And there we are, three weeks later, breezing her. It was just incredible. It shows you the heart and soul these horses have, that willingness to fight and never give up."
It also provided Bennett some invaluable life and work lessons.
"For me, all the horses coming back, and being able to train them was just such a good feeling. There were two weeks we weren't training and I was sitting in the barn thinking that it was the end of our year. I truly believed it. A lot of those horses, we didn't figure they were going to make it, or ever make it back to the racetrack. Then you add the pandemic into the mix and it was just crazy stress, things that keep you up all night. To see how she didn't give up, it's a good reminder for yourself."
He'll no doubt often think of Ms Wicked's journey from a hospital room to the winner's circle in the months leading up to the anticipated opening day for the 2021 Woodbine Thoroughbred meet.
Not all cherished victories, he acknowledged, come in stakes races.
"You just have to keep pushing through all the time. No matter what happens, you just have to focus on your horses and do what's best for them. Ultimately, when you go through something like this with a horse, you come out the other side better and stronger."