TORONTO, July 27, 2019 – Bold Rally and jockey Krista Carignan kicked off Woodbine's third annual Turf Endurance Series with a victory at odds of 12-1 in the 1-3/8-mile opening leg, contested over the E.P. Taylor Turf Course on Saturday afternoon.
Trained by Daryl Ezra, Bold Rally crossed to command from the outermost post 10 early and the gray gelding led the way while longshot Unlimited Resource was hot on his heels at the rail with Camp Creek and Itstartswithadrink stalking.
Camp Creek, winner of the 2-1/4-mile marathon to close out this series last year, rallied out three-wide into contention around the final turn and it was the two grays on top heading into the stretch.
Meanwhile, English Classic and Sine Metu made their moves from mid-pack fanning further out and kept on coming.
However, Bold Rally held them all off in the end, winning by two lengths in 2:16.77 over the firm course. Sine Metu, a series contender last year who was sent postward at 52-1, bested the 3-1 second choice Camp Creek by a neck for the runner-up role with English Classic finishing 2-1/4 lengths behind.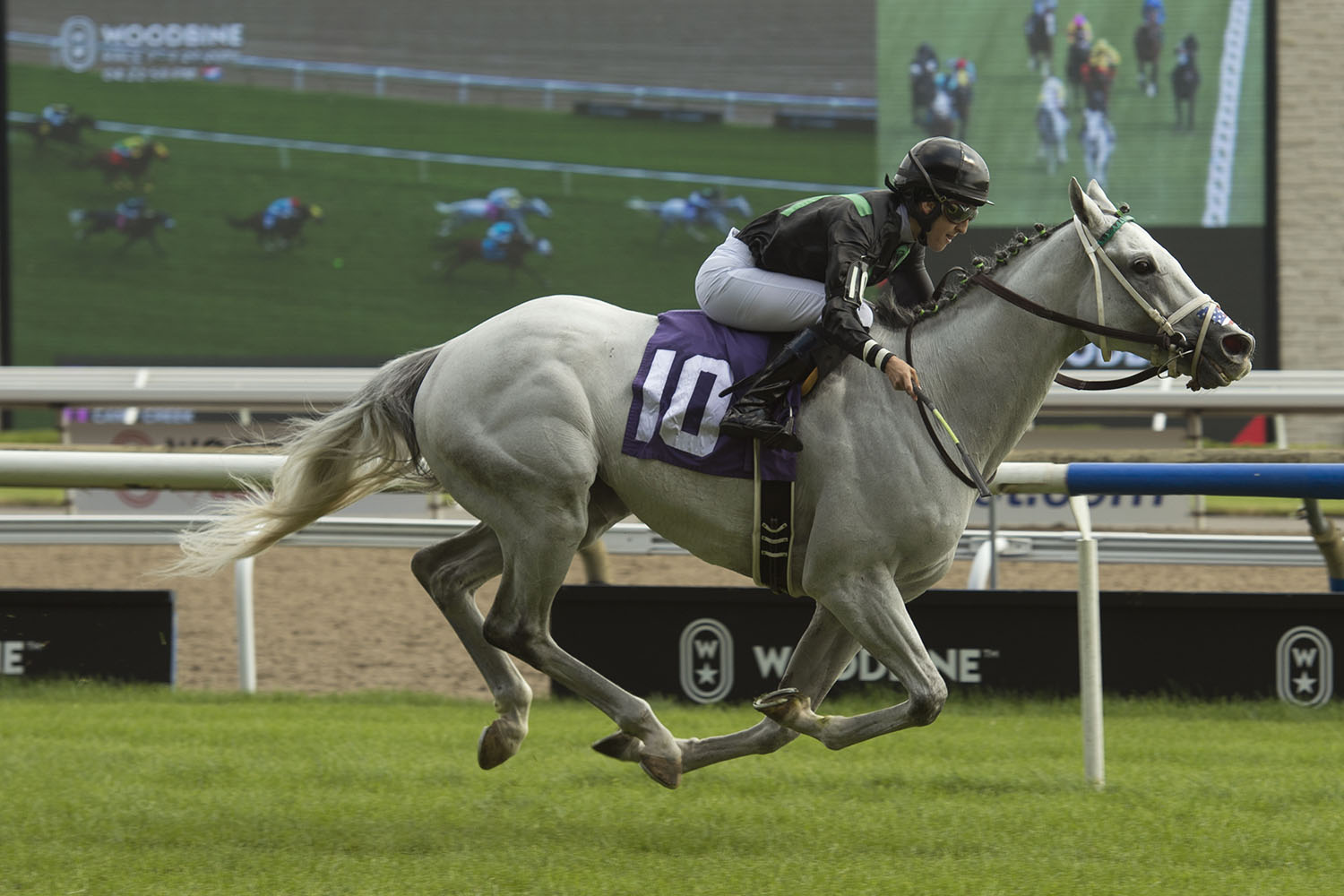 Bold Rally was a winner two starts ago on June 28 in Woodbine's first ever race on the new inner turf course for trainer Kevin Attard. The eight-year-old son of Fort Prado was claimed for $25,000 from that one-mile event by owner James Schlehr.
Racing with blinkers off today, the Ezra trainee returned $26.60 for a $2 win ticket. The popular Mark Casse-conditioned King and His Court, who raced near the rear of the field and finished seventh, was claimed for $40,000 by Deat The Feet Racing Stable and moves to the barn of Sylvain Pion, trainer of last year's series champion Artistico.
Bold Rally recorded his 10th career win to go along with 16 other top three finishes. He has banked more than $300,000 in his 52-race career.
The Turf Endurance Series is for horses three-year-olds and up that have started for a claiming price of $25,000 or less in 2018-2019 or optional $40,000 claimers.
The series offers $40,000 in bonuses to the top point-earners over four legs stretching in distance by a furlong each round.  The series continues on Saturday, Aug. 24 with the second leg to be contested over 1-1/2 miles followed by the third leg on Saturday, Sept. 21 at 1-5/8 miles and finale on Saturday, Oct. 19 at 1-3/4 miles.
Points are awarded based on order of finish: 10 points for first-place, seven points for second, five points for third, three points for fourth, two points for fifth, one point for sixth through last.
Here is a look at the leaderboard following the first leg:
Bold Rally – 10
Sine Metu – 7
Camp Creek – 5
English Classic – 3
Carissimo – 2
Itstartswithadrink – 1 (tie)
King and His Court – 1 (tie)
Lookin At Bravo – 1 (tie)
Unlimited Resource – 1 (tie)
The Other Breeze – 1 (tie)