By: Rob Longley for Woodbine.com
TORONTO, June 7, 2018 – In the admittedly biased gaze of his breeder John Gunther, Justify was always at the head of his class.
Whether it was standing hands above others in size, looking mature beyond his age as a yearling or running as precociously as many of the great three-year-olds of recent vintage, the B.C. native saw potential greatness.
On Saturday at New York's sprawling Belmont Park, the world will see just where Justify fits with the all-time legends of the sport.
He is Kentucky-bred, California-based and all-world class, but Justify will bid to become racing's 13th Triple Crown winner with a generous dose of Canadian input thanks to the pedigree prowess of Gunther and his daughter Tanya.
The proprietors of Glennwood Farm in Versailles, Kentucky, the Gunthers decided to breed their own homebred mare Stage Magic to the now deceased U.S. sire Scat Daddy. The union produced Justify, the late-blooming but imposing chestnut who has romped all the way to the doorstep of racing history.
"From his very first start you could see that he was an impressive and imposing colt," John Gunther said. "So much so that we couldn't wait to see him race."
If Gunther sounds like a proud parent, who could blame him? With Tanya Gunther's meticulous study of bloodlines and a well-bred mare (with pedigree ties to 1997 Queen's Plate champion Awesome Again), the match looked like a winner from the day Justify was born.
Unfortunately, that took some time as some few minor setbacks prompted trainer Bob Baffert to be patient with him. But when the colt finally made his debut in a maiden race at Santa Anita in February 18, the world took notice. Romping by 9 1/2 lengths, Justify immediately vaulted into serious contender status for the Kentucky Derby and when he beat well-regarded Bolt d'Oro by three lengths in the Santa Anita Derby two starts later, he was universally considered the horse to beat on the first Saturday in May.
Horse to beat? It still hasn't happened.
Impressive in the mud at Churchill Downs and resolute in the slop at Pimlico Racecourse in his Preakness win to get two-thirds to the Crown, Justify heads to the Belmont with an undefeated record in five career races.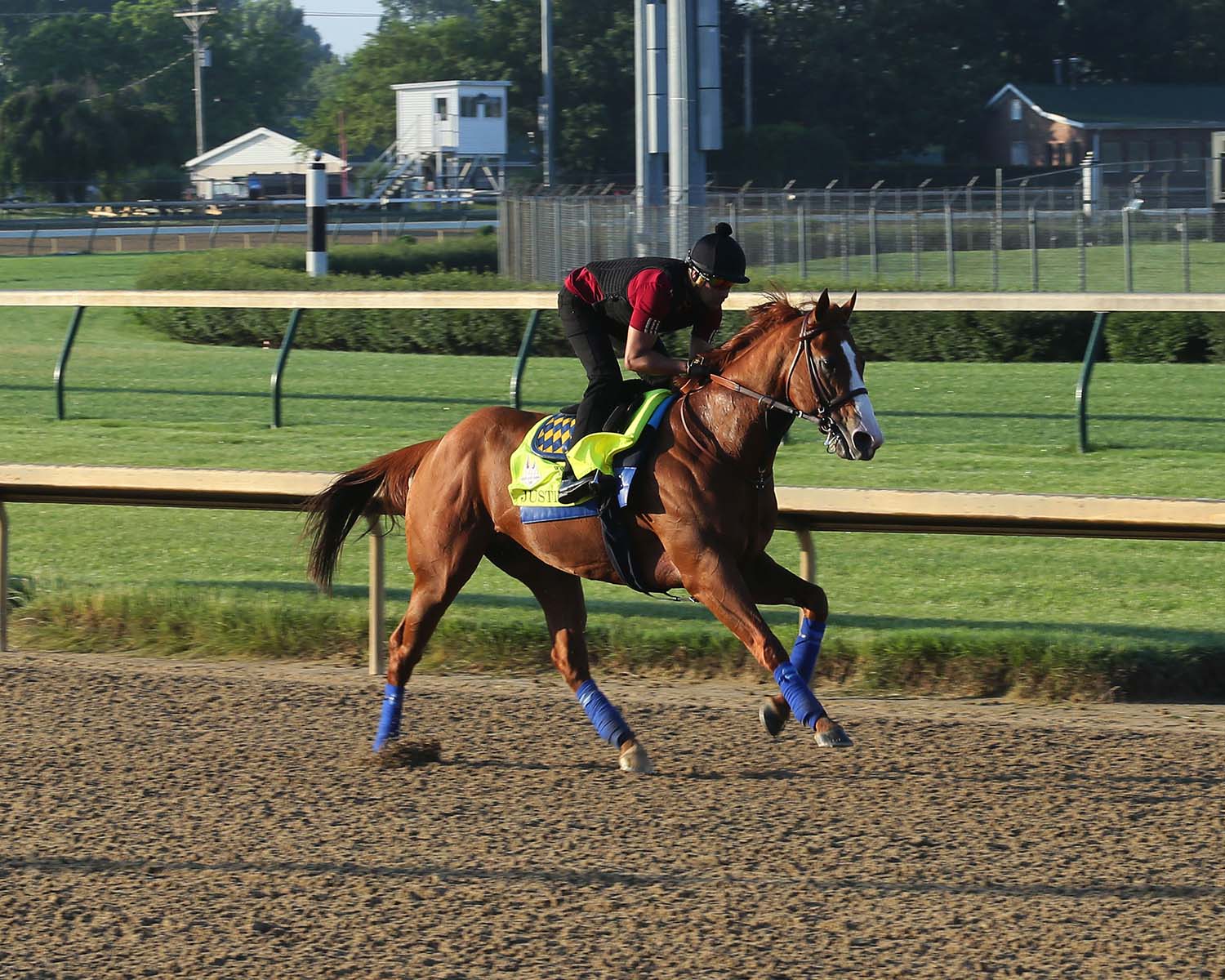 And now comes the Test of a Champion, the achingly long 1 1/2 mile Belmont, a race that has cemented the Triple Crown as one of the toughest accomplishments in all of sport. Only a dozen have done it and just one since Affirmed in 1978 – the Baffert-trained American Pharoah three years ago.
Since Affirmed's win, no fewer than 13 horses have claimed the first two legs only to fail at the Belmont. And those defeats came in all shapes, sizes and degrees of disappointment.
Some just weren't good enough. Others were denied by riders who made a move too early, or fresh horses lying in wait. As the old racetrack law says, there are more ways to lose a race than win one.
Justify will face a field of nine others in the Belmont, but none who have competed in each of the previous legs. Trainer Todd Pletcher looms with a pair — Vino Rosso (also bred by the Gunthers) and Noble Indy — while Hall of Famer Bill Mott's Hofburg can't be ignored.
As if to handicap him, Justify drew the unfavourable Post 1, which drew groans from the Baffert camp. While less of a hindrance in a longer race, jockeys to the outside can certainly make it difficult for jockey Mike Smith and Justify to dictate how the race is run. It's not a stretch to suggest that post position is the biggest obstacle in his way.
But the great ones overcome and Justify (who is listed as the 4-5 morning-line favourite) certainly showing signs of being just that.
"His mechanics, is motion, just the way he does it," Baffert told reporters in New York this week when asked to describe what makes Justify so elite. "This horse is starting to act like 'Pharoah.' What he's done since February, you have to be a superstar to do that."
Baffert, who has been in regular contact with the Gunthers, also declares that Justify "breathes different air," a comment that resonates with the his breeders. From the day he was born in Kentucky, they have watched like proud parents as Justify grew, developed and fulfilled all the dreams they held for him.
"When he was a yearling, it was always clear that he was a big, strong colt," Gunther said. "He was an individual who was just so impressive and had outstanding athletic ability."
They certainly benefited from the $500,000 US fetched at the Keeneland September yearling sale by the China Horse Club and Maverick Racing. And the Gunthers could also be rewarded from future progeny of Stage Magic, even more if he captures the Crown.
But for now, they join the racing world in anticipation of the buzz that makes the Belmont an instant classic when the Triple Crown trophy awaits at the finish line.
Fans of Canadian racing are welcomed along for the ride as well, a genuine rooting interest in the big race. If it wasn't for the Gunthers' meticulous upbringing and keen matchmaking eye, there would be no Justify.
Woodbine will be hosting a Triple Crown Viewing Party in the Champions Bar & Patio on Saturday. Join us on Saturday to enjoy an afternoon of live Thoroughbred racing, including the $500,000 Woodbine Oaks Presented By Budweiser and the $125,000 Plate Trial Stakes, and cap off the afternoon with a live broadcast of the Belmont Stakes from Belmont Park. Champions Bar & Patio will be offering beer tasting and exclusive food and drink specials along with Budweiser hat and t-shirt giveaways with the purchase of a Bucket of Bud (5 bottles) or Woodbine's signature Beef Brisket on Weck. Click here to make your reservations.
Woodbine will offer advance wagering on this year's Belmont, beginning at 3 p.m. on Friday, June 8 at all of its locations and HPIBet.com. Advance pick pools for the Belmont card will not be open until the conclusion of Friday's program.