TORONTO, February 19, 2020 – Trainer Barb Minshall has a small string of horses with her in Florida this winter, but has already found the winner's circle twice in her first five starts, including back on February 8 when Admiralty Pier captured his first career graded stakes victory in the Grade 3 Tampa Bay Stakes at Tampa Bay Downs.
Minshall said she has seven or eight horses with her for the winter at Winding Oaks Farm in Ocala, Florida, and ships between Tampa Bay Downs and Gulfstream Park. The majority of her stable is wintering at Webb Carroll Training Center in St. Matthews, South Carolina, while a few horses have remained in Ontario.
Minshall's early success this winter has been driven by Admiralty Pier, who won his second consecutive start in the Tampa Bay Stakes, and also recorded his first stakes win since he won the Display Stakes at Woodbine as a two-year-old in 2017. Admiralty Pier had a strong showing in the Tampa Bay Stakes last year, finishing fifth beaten just a length, but he ran into some issues following that race that took him some time to get over.
A tight finish to end The Tampa Bay Stakes! Winner: Admiralty Pier with @samycamacho1 aboard for trainer Barbara Minshall! Admiralty Pier is owned by Hoolie Racing and Bruce Lunsford and bred by @calumetfarm. pic.twitter.com/sRJofKXdfq

— Tampa Bay Downs (@TampaBayDownsFL) February 8, 2020
"He had a bit of a muscle problem that took a long time for him to get right where we needed him to be," Minshall said. "The problem was at Woodbine at that time of year, the races were really short or really long. It was a struggle to find him a race back and we opted to run short. He is a horse that has speed, but (sprinting) is not his thing. Finally, we got him back to where we want to be."
Minshall said Admiralty Pier has a number of options moving forward, including the Grade 1 Old Forester Turf Classic Stakes over 1 1/8-miles on turf at Churchill Downs as part of the Kentucky Derby undercard on May 2. Races back at Woodbine like the Grade 2, $175,000 Nijinsky Stakes in July and the Grade 3, $125,000 Singspiel Stakes in August, both over 1 1/4-miles on turf, will also likely be under consideration.
"I might run him once more down here and then we'll probably go to the Old Forester on Derby Day at Churchill," Minshall said. "A couple of those Woodbine races they put back to a mile and a quarter, so we'll look at those. We'll take it one race at a time, but there's lots of options for him. He'll get a mile and a quarter without any trouble. You've just got to let this horse relax and find a good cruising speed. He doesn't get tired."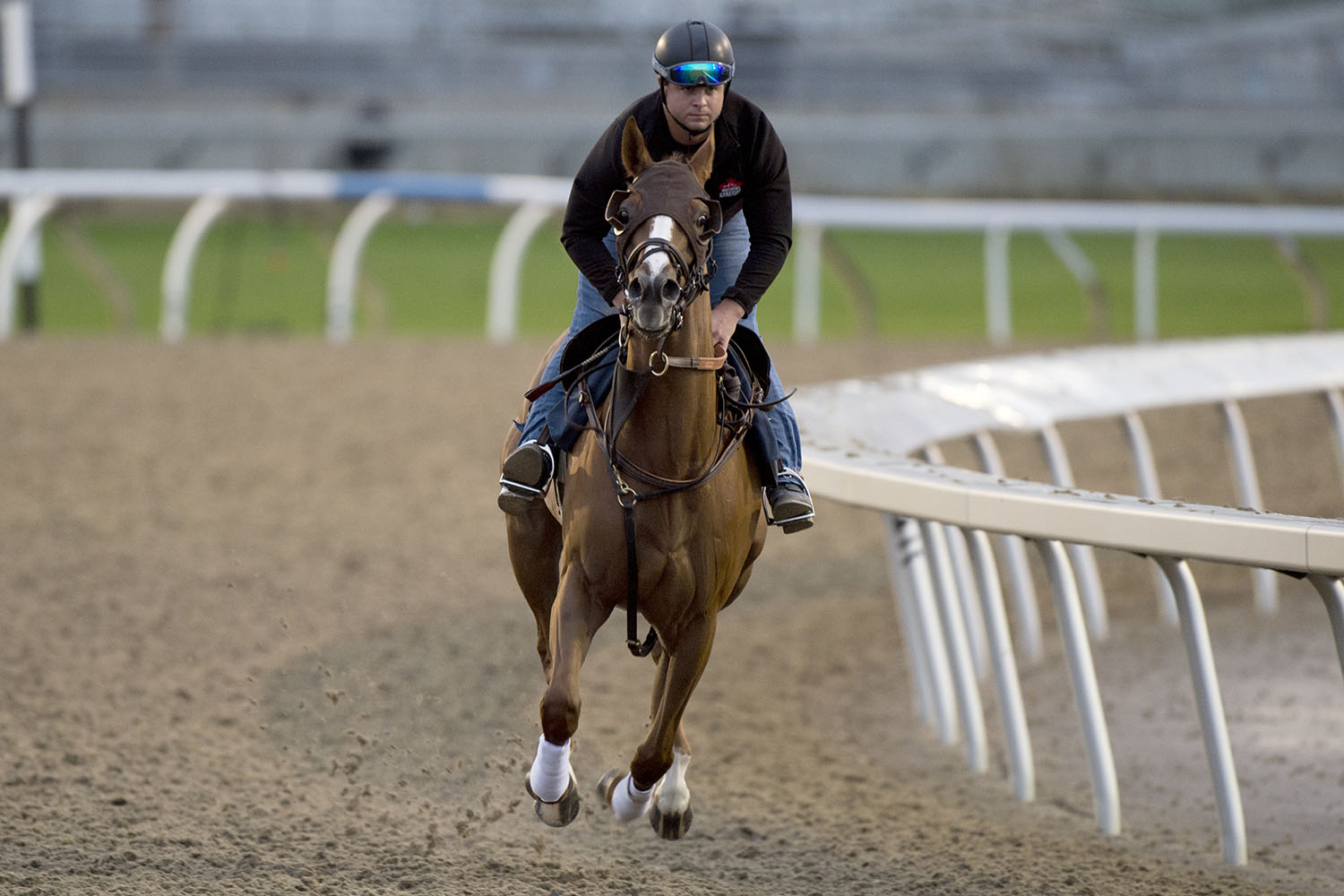 Another Minshall horse that has raced twice this winter is Armistice Day. Following his three-year-old Woodbine campaign in 2019 that saw him win the Toronto Cup Stakes and finish second in the Grade 3 Ontario Derby, Armistice Day finished fourth in the Tropical Park Derby at Gulfstream Park on December 28, and then returned to Gulfstream to finish third in an allowance race on February 1. The allowance race was moved off the turf, but instead of scratching, Minshall decided to let Armistice Day try dirt for the second time in his career.
"We were looking for an allowance race and it was sitting right there, but it came off the turf," she said. "We had to ship from Ocala, so we ran anyways. We'll look to run him again at the end of the month. We'll have to go down to Gulfstream for him to find a race, but it might be a stakes race for him down there because we might not be able to find an allowance race."
Minshall opted to add blinkers for the first time in that February 1 start, but felt that the equipment change might help Armistice Day early on in his races.
"I added a small set of blinkers to him just to focus him a little bit and get him into the race a little bit better," she said. "I think that worked. I'll keep them on. He tends to get a little gawky early in a race and you have to use him a little hard."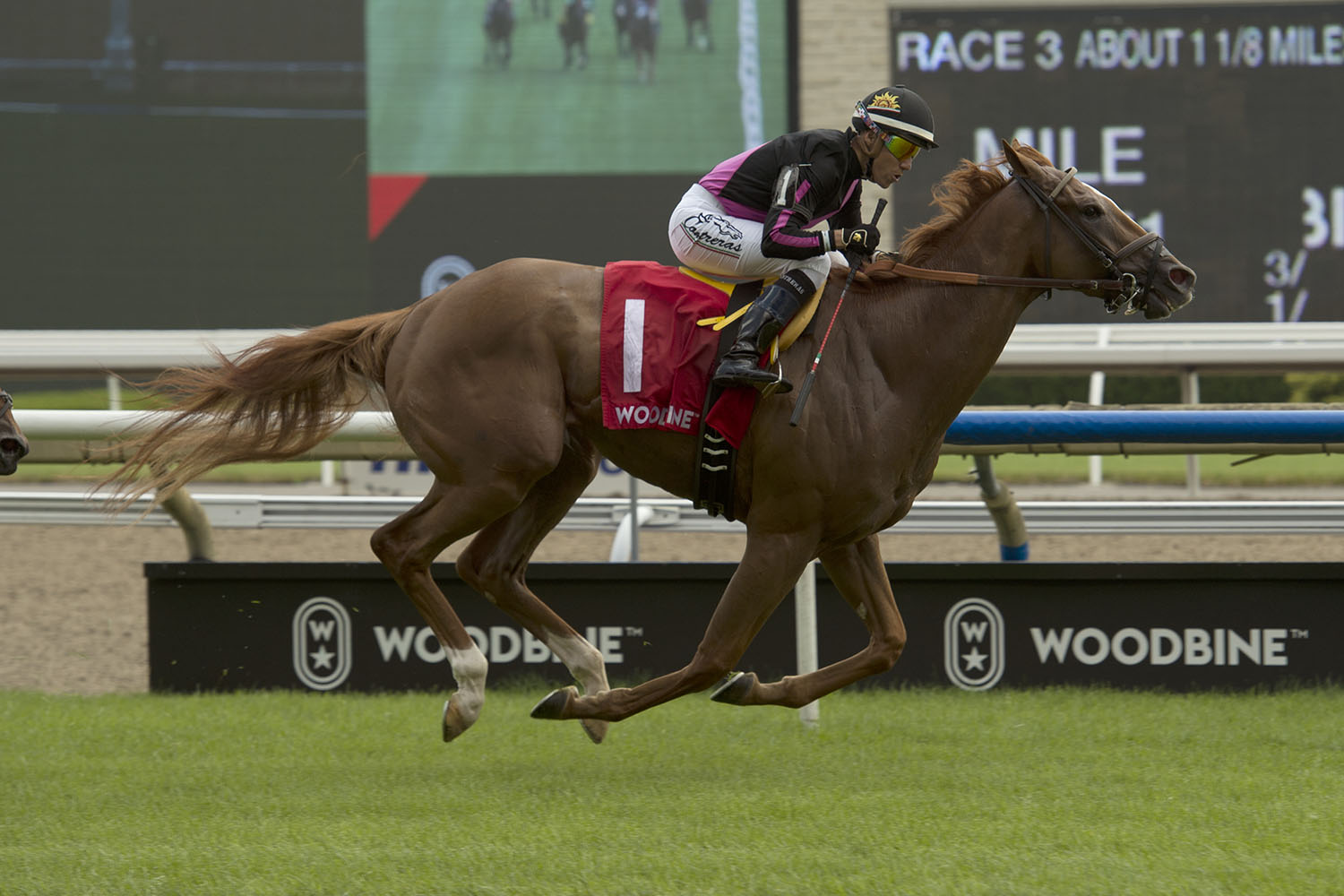 Minshall's third starter of the winter was Get Explicit, who finished ninth in the Grade 3 La Prevoyante Stakes at Gulfstream Park on January 25. Minshall said Get Explicit was compromised by the slow pace in the La Prevoyante over 1-1/2 miles on the turf.
"The pace was real slow," she said. "She's so vulnerable to the pace when you're going a mile and a half. I think it was three-quarters in 1:17 and change. It was very slow and she doesn't quite have that huge punch. She was given every opportunity to win the race, but it just didn't work out. She had no traffic trouble or anything."
Minshall anticipated Get Explicit would likely run twice more before returning to Woodbine. Minshall has targeted the Grade 2, $225,000 Hillsborough Stakes over 1 1/8-miles at Tampa Bay Downs on March 7 for Get Explicit's next start, and also has plans to run the five-year-old mare at Keeneland in April. Back at Woodbine, Minshall said Get Explicit will likely be a competitor in the Ladies of the Lawn Series, which includes the Grade 2, $175,000 Nassau Stakes over one mile on the turf on May 30 and the Grade 2, $175,000 Dance Smartly Stakes over 1-1.4 miles on the grass on June 27 in the first couple of months of the Woodbine season.
"She's pretty flexible at those distances so we'll be able to try most of them," she said.
Other horses with Minshall down in Florida include Hollywood Hideaway, Another Time, and Glorious Tribute. Glorious Tribute, a three-year-old Ontario-bred, broke his maiden around two turns in his last start of the Woodbine season on December 8. Minshall said Glorious Tribute has been breezing in Florida and added she was hopeful to get a start into the son of Congrats before returning to Canada.
"He's doing well. I really like him," she said. "He's matured a lot. He's been a slow horse to come around mentally, but he's changed a lot. He's a horse that will go all day, there's no question in my mind the distance this horse will get."
Minshall's last Queen's Plate starter came back in 1997 with ninth-place finisher Rabbit in a Hat, but she's hoping that Glorious Tribute can get her back to the $1 million Queen's Plate at Woodbine on June 27.
"I very rarely have any Ontario-breds," she said. "I usually have very few in a small barn, so it's nice to have a little bit of hope to have a Canadian-bred that has some talent. We'll see what happens."