TORONTO, February 4, 2020 – Trainer Kevin Attard had a career-year at Woodbine in 2019, finishing the meet with personal bests of 61 wins and nine stakes wins, including his first career Grade 1 victory with Starship Jubilee in the Grade 1 E. P. Taylor Stakes in October. Five of Attard's six stakes winners last year are still in training down in Florida for the winter, as Attard gears up for what he hopes will be another strong Woodbine season beginning with opening day on April 18.
Following Starship Jubilee's triumph in the E. P. Taylor, she finished second in the Grade 3 Cardinal Handicap at Churchill Downs in November and has continued racing this winter. She recorded Attard's first winner at the Gulfstream Park meet back on January 18 with a victory in the Sunshine Millions Filly & Mare Turf Stakes, her third consecutive win in that race.
Starship Jubilee went gate to wire in the #SunshineMillions Filly and Mare Turf, #HOF Javier Castellano @jjcjockey at the reins for trainer Kevin Attard. #GulfstreamPark #ChampionshipMeet pic.twitter.com/xIpRHiUDFq

— Gulfstream Park (@GulfstreamPark) January 18, 2020
A finalist in two divisions for the 2019 Sovereign Awards (Turf Female and Older Female) and a likely Canadian Horse of the Year finalist, Starship Jubilee will likely be back in action this weekend in the Grade 3, $150,000 Suwannee River Stakes over 1 1/8-miles on turf at Gulfstream Park, and Attard said all signs were pointing to the seven-year-old mare remaining in training for the entire 2020 season.
"She had a breeze on the weekend and she seems to be thriving," he said. "We'll discuss her health and whether she still wants to (keep racing) or enjoys it. I think she answered all of those questions with authority in the Sunshine Millions. She's obviously a good racehorse at this point. She still seems to enjoy what she's doing and there's no reason not to go forward with her as a racehorse."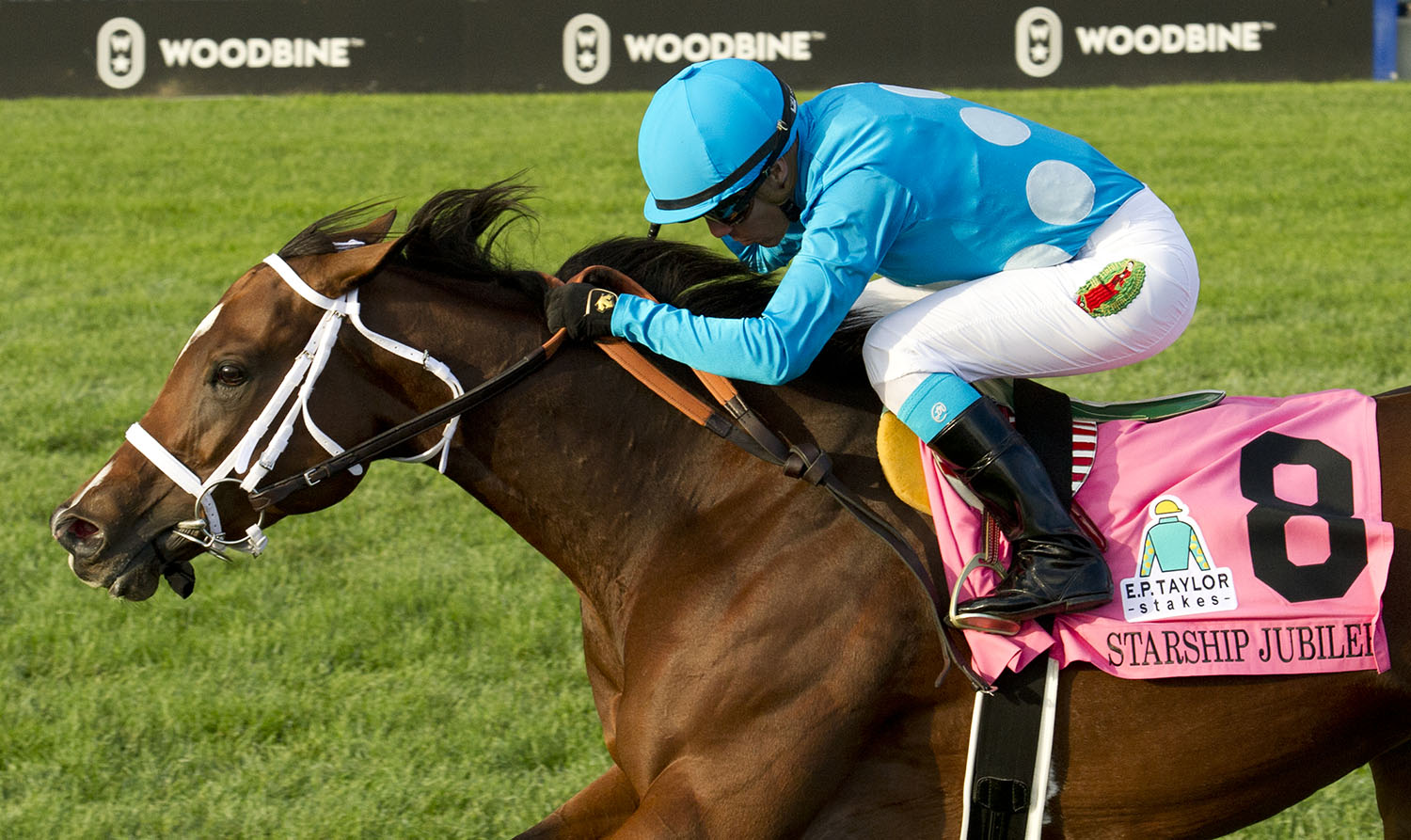 Along with Starship Jubilee, Attard could have two top turf mares at Woodbine in 2020 with the late season emergence of Amalfi Coast in 2019. After breaking her maiden on synthetic in August, Amalfi Coast reeled off three consecutive stakes wins in the fall to close out her three-year-old campaign, culminating in her first career graded stakes win against older fillies and mares in the Grade 2 Bessarabian Stakes on November 24.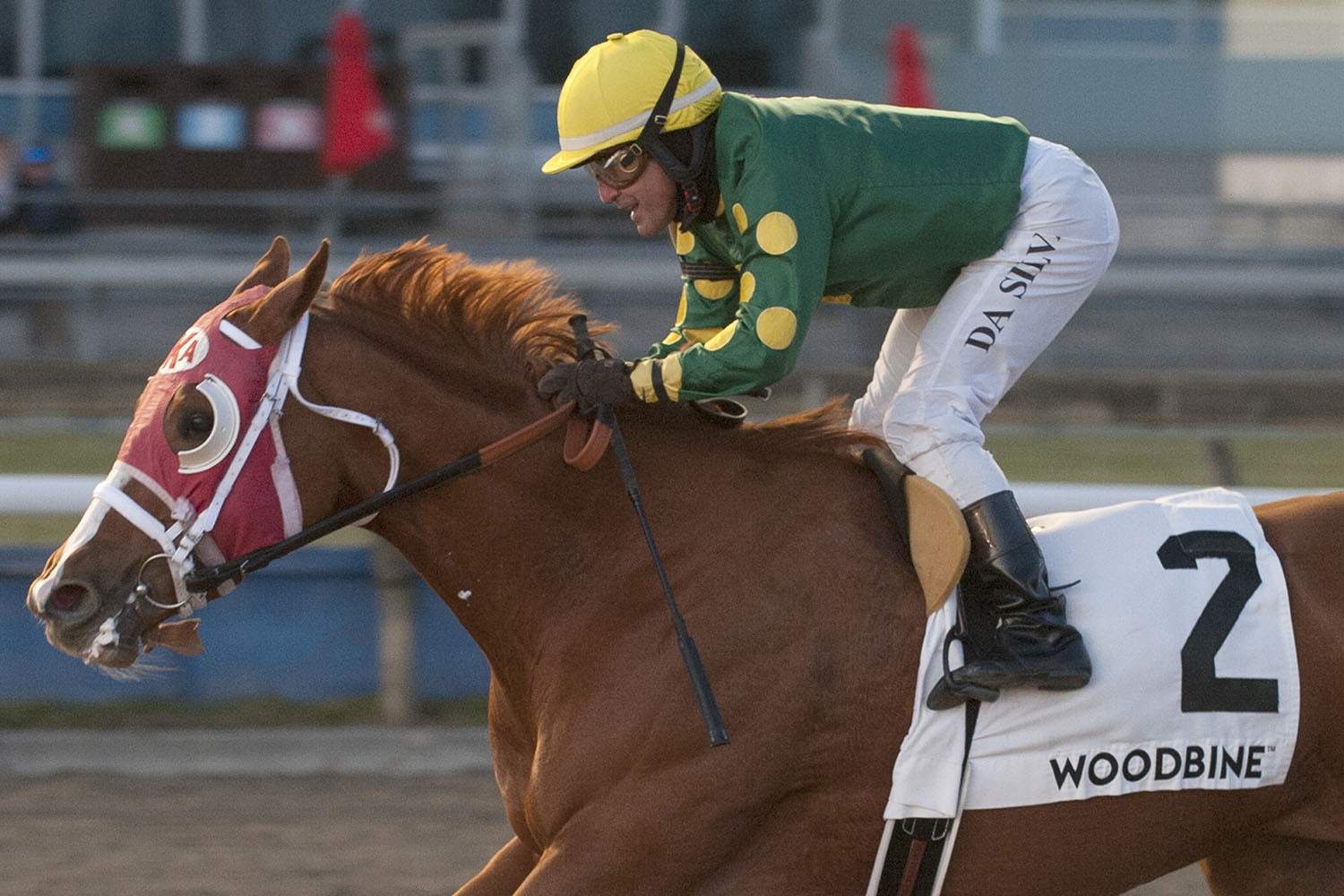 While she earned the top Beyer Speed Figure of her career in the Bessarabian on synthetic, Amalfi Coast did run well in two turf starts as well, with victories in the Ontario Damsel Stakes over a mile and the Carotene Stakes over 1 1/8-miles on the grass. If both mares remain in top form, it might be tough for Attard to keep the two mares from running against each other in some of Woodbine's top turf events.
"It's always a good predicament to be in," Attard said. "We may try to separate them when charting a course so they both can have successful campaigns on their own without having to meet except when necessary."
Following a winter break, Attard said Amalfi Coast began her training a couple of weeks ago in Ocala, Florida, and could make a start at Gulfstream Park before returning to Woodbine in April. She was named a finalist in three different Sovereign Award divisions, including Three-Year-Old Female, Turf Female, and Female Sprinter.
"She's doing well," Attard said. "I visited her not long ago actually and she looks fantastic. She's grown and she's filled out a little bit more, so those are all positive signs. I would expect her to join me at Gulfstream in the next couple of weeks. We have a race towards the end of the Gulfstream meet we might target to get her started and take it from there."
Attard has sent out five total starters at the Gulfstream meet thus far. Along with Starship Jubilee, Attard also started Pumpkin Rumble in the Grade 3 W. L. McKnight Handicap back on January 25. Pumpkin Rumble captured the Grade 3 Valedictory Stakes on closing day of the Woodbine season on December 15, but couldn't replicate that result in the McKnight, recording a sixth-place finish in the mile and a half turf tilt.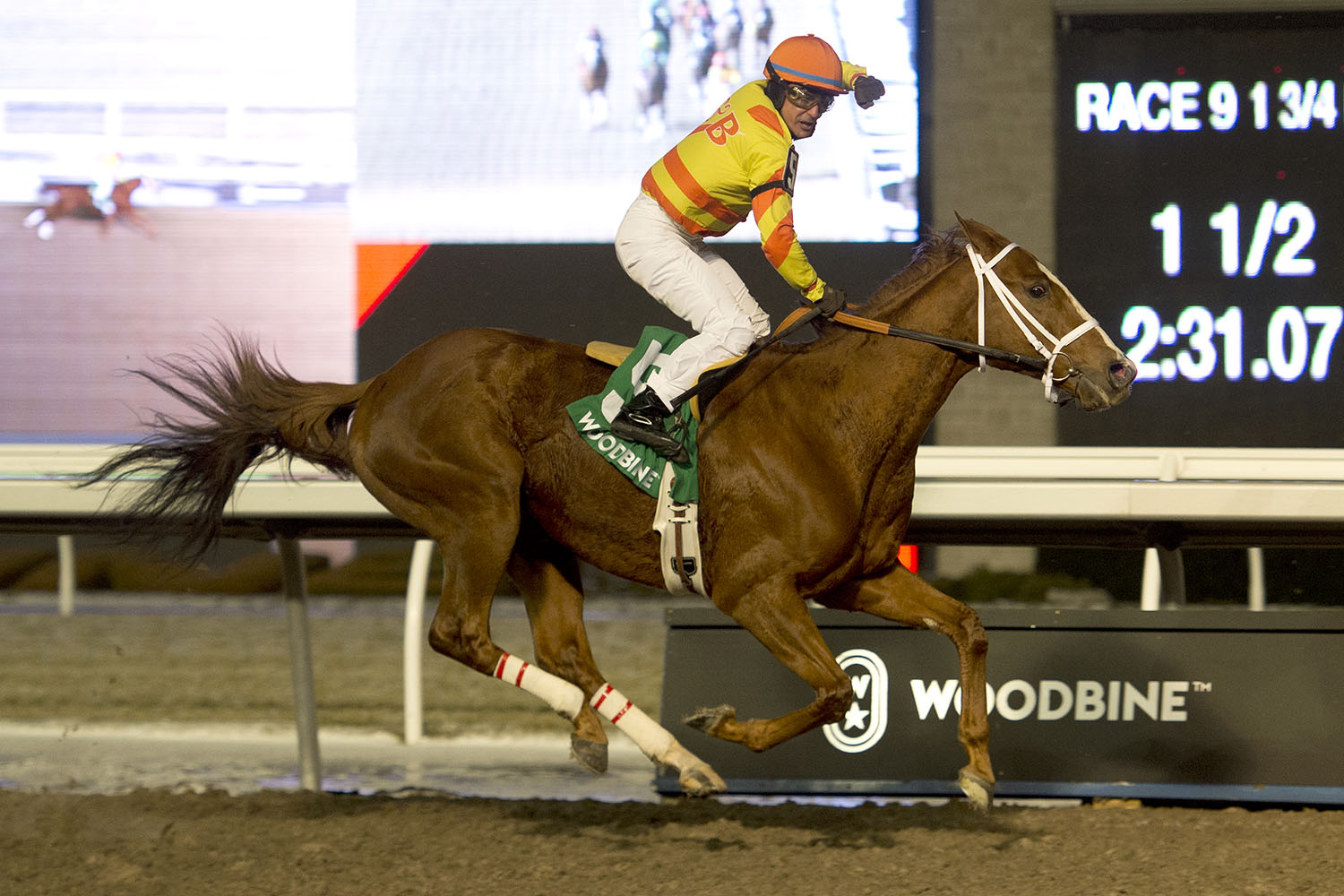 "He was closer to a faster pace than he's probably used to and that might have taken some punch away from him,"Attard said. "He's still at Gulfstream. He's nominated to a claiming starter stakes they have coming up in February. We'll look at the nominations there and if the spot doesn't look too bad, we might give him a run there. If not, we might just freshen him up and gear him up for Woodbine."
Special Forces, winner of the Grade 2 Autumn Stakes at Woodbine on November 3 and one of Attard's five graded stakes winners in 2019, is also down in Florida and gearing up for the Woodbine season. With synthetic proving to be his best surface, Attard is looking at a race like the Grade 2, $175,000 Eclipse Stakes on June 8 to begin Special Forces' season.
"He's in Ocala right now," Attard said. "He's going to be starting at the beginning of March. The focus with him is synthetic so the goal would be the Eclipse for him as a starting point. We're happy with him and we're just going to give him a good break right now and kick on from there."
While it might be tough to top what he achieved in 2019, which resulted in a nomination for the Sovereign Award for Canada's Outstanding Trainer, a Canadian Classic victory might go a long way in 2020 for Attard. With the nomination deadline for the Woodbine Oaks and Queen's Plate having just passed on February 3, Attard has a pair of horses he's hoping could be prominent players in both races.
Attard's top contenders for the $1 million Queen's Plate on June 27 include Malibu Mambo and Clayton. Malibu Mambo was a debut winner over seven furlongs on Tapeta for Attard back in August. He immediately stepped up to stakes company in his next start, finishing seventh in the Cup and Saucer Stakes on turf, before rebounding in the Coronation Futurity (second) to close out his campaign in November.
"He's definitely a nice colt," Attard said. "I've definitely been high on him. He won first time out. I was disappointed with his run in the Cup and Saucer because I thought he had a good chance to win that race, but he bounced back nicely in the Coronation."
Attard said Malibu Mambo has resumed his training in Florida and should be back on the work tab in the very near future.
"He's at Gulfstream," he said. "He'll have his first officially recorded workout next weekend hopefully. He's spent some time at Adena Springs after the Coronation and he's filled out. He looks well. I'm really happy to see the transformation from two to three with him."
Clayton, meanwhile, was an impressive debut over five furlongs on November 17. He overcame a slow start to win that race by 7 1/2-lengths and appears to have a bright future ahead.
"He's out of a Smart Strike mare by Bodemeister. The distance in the pedigree is there," Attard said. "He's had a couple of works in Ocala and he's going to be coming to Gulfstream shortly too. We're definitely looking forward to see his potential. He's a horse with a lot of talent."
Attard also has a pair of talented fillies he's excited about, including Blessed Truly and Merveilleux. Blessed Truly, a half-sister to 2019 Queen's Plate winner One Bad Boy, became a stakes winner in her second career start back in August when she won the Muskoka Stakes. After an extended layoff, Blessed Truly is back in training in Ocala in preparation for her three-year-old season.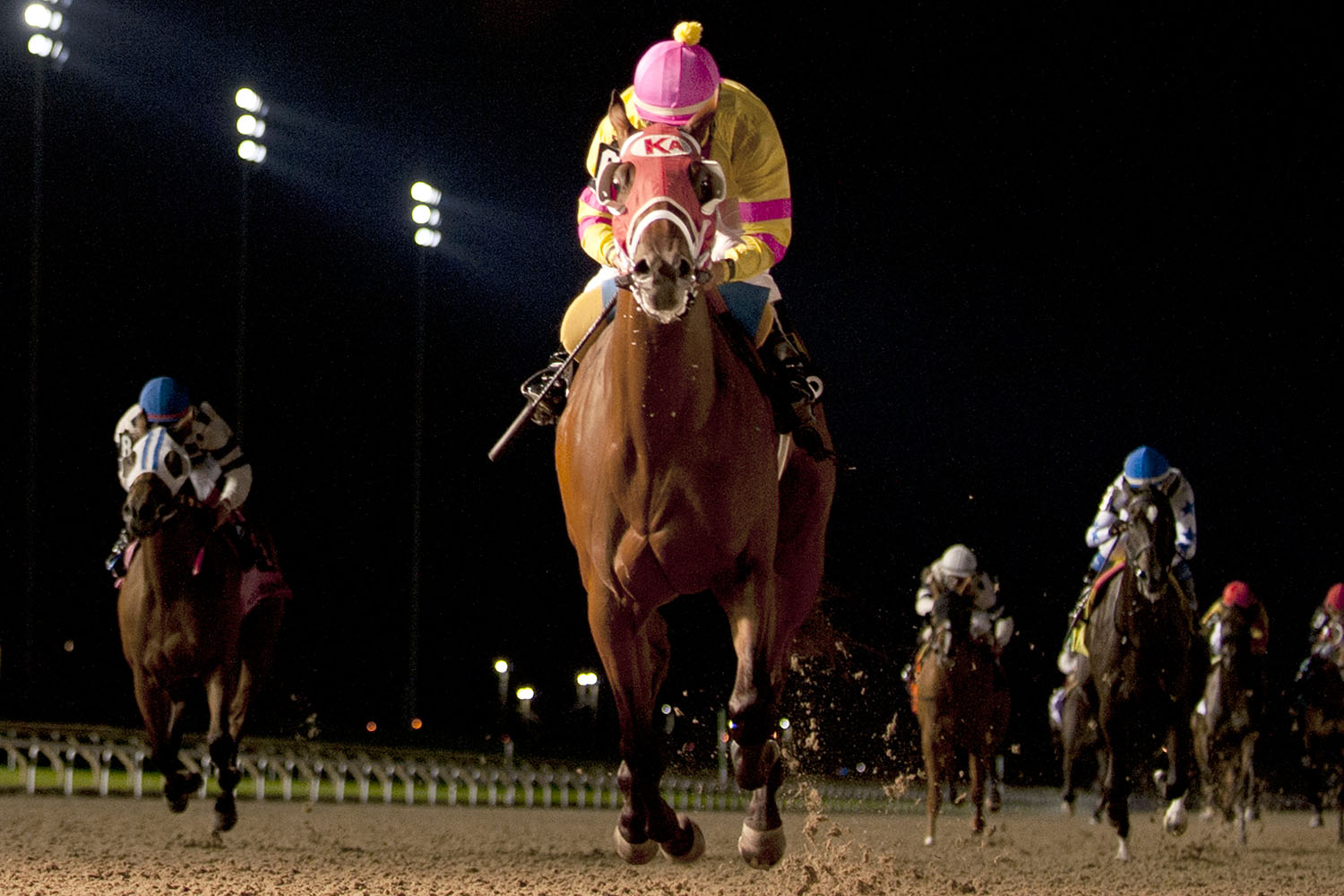 "She's been in training so we're getting her geared up," Attard said. "I think she's a filly with a lot of talent. She's Ontario-sired so there's a few more options with her. We're looking forward to stretching her out. Her half-brother won the Queen's Plate last year and her whole family seems to like to run long. We're excited about the opportunities that may be down the road for her."
Merveilleux, meanwhile, was a consistent filly last season for Attard. After being vanned off in her career debut, Merveilleux recorded a win and three runner-up finishes in her four other starts as a two-year-old last season, including a neck defeat in the Princess Elizabeth Stakes and a head defeat in the Ontario Lassie Stakes.
"She had some tough beats last year but her record around two turns on synthetic is pretty solid so we're excited about her," Attard said. "She's in Ocala in training as well. She's going to be joining me at Gulfstream shortly. There's a lot of excitement around her no doubt about it. She's a quality horse, so I'm looking forward to getting her going and having a date in June with her as well."
Like Attard, a number of other Woodbine trainers have traveled south for the winter and are racing at tracks like Gulfstream Park, Tampa Bay Downs, Fair Grounds and Oaklawn Park, to name a few. Check back in a couple of weeks when we catch up with another Woodbine Snowbird during the offseason.