TORONTO, August 1, 2019 – Pink Lloyd, a perfect three-for-three in 2019, goes for another Shepperton Stakes title when he goes postward in Sunday's $100,000 added-money feature at Woodbine.
A multiple Sovereign Award winner, including Canada's Horse of the Year honours in 2017, Pink Lloyd has 19 wins, one second and a third from 24 starts for owner Entourage Stable and Hall of Fame trainer Robert Tiller.
Regular rider Eurico Rosa Da Silva will once again be in the irons for the six-and-a-half furlong Shepperton, a race Pink Lloyd won two years ago.
"He's doing very good," said the multiple graded stakes winning jockey. "He's just such a great horse. People love him too. I can feel the energy when we come on the racetrack. He walks so relaxed to the track, but when he steps on it, he transforms himself. You can feel his confidence."
The seven-year-old son of Old Forester has been unbeatable so far this season, racking up wins in the Grade 3 Jacques Cartier Stakes (May 4), Greenwood Stakes (June 1) and most recently, a four-and-a-half length triumph in the Grade 3 Vigil Stakes (July 14).
Pink Lloyd, who holds the Woodbine record for six furlongs on the main track (1:08.05, on April 21, 2018), won the six-furlong Vigil in a time of 1:08.68.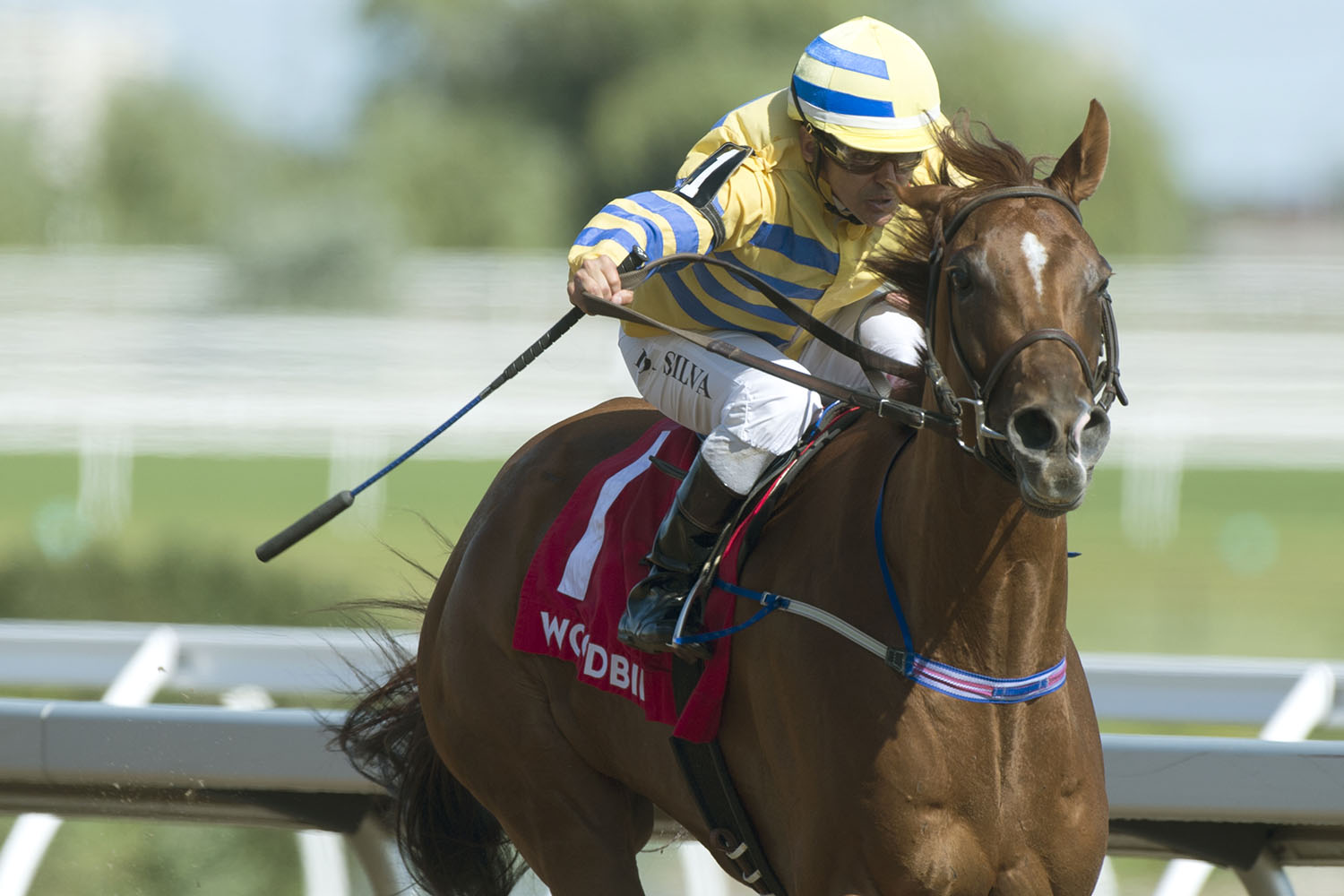 "I never say anything to him when we're on the track or getting ready to load into the gate," noted Da Silva of the horse who was named Canada's 2017 Older Horse and Champion Male Sprinter, repeating the latter accomplishment in 2018. "I let him relax. It's not the time to bother him. It's time to give him space because he knows what he's doing. It's like you would give space to a friend when they need it."
When the race is over, win or lose, there's a much different interaction between rider and the Ontario-bred chestnut gelding.
"Every time, I just say, 'I am so proud of you.' I thank him for being in my life. He's such a big part of it and I feel very lucky to have connected with him."
Da Silva, a winner of back-to-back Queen's Plates with Eye of the Leopard in 2009 and Big Red Mike one year later, likens the million-dollar earner to one of tennis' all-time greats, a hard-serving American who won seven Wimbledon singles titles.
"Pete Sampras, he was all confidence," said Da Silva of the decorated star. "And that's who Pink Lloyd reminds me of."
The lifetime winner of 2,167 races is hoping everything comes up aces for the pair on Sunday.
A similar finish to the Vigil would suit Da Silva just fine.
"When we come to the wire and you know you're going to win with him, it just builds your confidence. He just helps give you that. He brings out the best in you."
Last year, Kingsport won the Shepperton (Pink Lloyd was third), after taking the race in 2016. Paso Doble has won three editions, in 2011, 2013 and 2014.
The Shepperton is scheduled as the third race of 10 on Sunday's 1:05 p.m. program.
$100,000 SHEPPERTON STAKES
Post – Horse – Jockey – Trainer
1 – Call Me Wally – Jesse Campbell – Paul Buttigieg
2 – Spanish Express – Rafael Hernandez – Norm McKnight
3 – Pink Lloyd – Eurico Rosa Da Silva – Robert Tiller
4 – Dixie's Gamble – Luis Contreras – Josie Carroll
5 – Marten Lake – Kazushi Kimura – Martin Drexler
6 – Jacks Escarpment – Gary Boulanger – Nick Gonzalez