TORONTO, November 27, 2021 – Pink Lloyd, one of Canada's greatest and most beloved sprinters, ended his remarkable career with a gutsy score in the Grade 2, $200,550 Kennedy Road Stakes on Saturday at Woodbine.
It was a farewell tour performance that earned a standing ovation from an appreciative crowd that gathered to bid farewell to a chart-topping champion. And the nine-year-old son of Old Forester, trained by Robert Tiller for the Entourage Stable, put on quite the show.
Clayton took control of the six-furlong main track feature at the outset, as Rafael Hernandez, aboard Pink Lloyd, settled the seven-time Sovereign Award winner into fifth spot in the field of eight through an opening quarter-mile timed in :22.75.
Hernandez continued to keep close tabs on the pacesetter, as Clayton maintained his one-length advantage over Richiesinthehouse through a half in :44.72, with Pink Lloyd now sitting fourth.
As the field rounded the turn for home, the grandstand came to life as Pink Lloyd began to gain on a game Clayton, while Richiesinthehouse also had designs on top spot courtesy of a spirited run between his two rivals.
Pink Lloyd struck front in deep stretch, his trademark grit and determination on full display, to earn a hard-fought half-length victory. Richiesinthehouse finished a head in front of Clayton for second. Malibu Secret was scratched.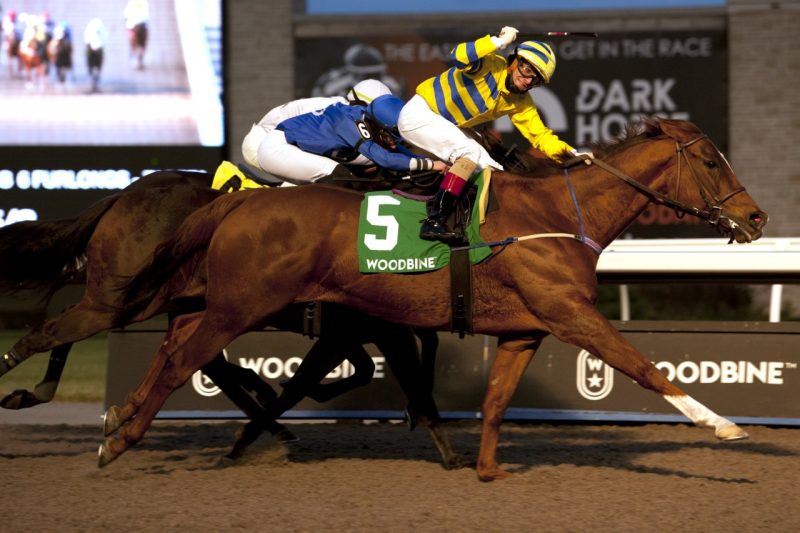 The final time was 1.08.84. He paid $9.40 for the victory.
"He's the kind of horse he can do anything," said Hernandez. "He is the kind of horse you can take him back and relax. We had a hole, and he was coming, running, always going to give you 100 percent, like the many times he's already done it."
It was a fairytale finish to a career that yielded 29 wins, 26 of them stakes, three seconds and two thirds, from 38 starts, along with 2017 Canadian Horse of the Year honours and over $2.4 million (CDN) in earnings.
Not surprisingly, there was an outpouring of emotions from the connections of the future Canadian Horse Racing Hall of Fame inductee.
"I think it's amazing," said Tiller. "You know, he's a legend. He proved today he was a legend. I didn't think he'd win today. It looked awful tough to me and the only thing I liked was all the speed in the race because I've been saying all along, and not too many people listened, but he loves to run at horses. I was just hoping Rafi would get room. I said at the head of the lane, 'You know what? Here he comes.' We're blessed to win this race and it's a tremendous way to go out. You know, he's been Woodbine's horse, he's been Canada's horse, and the next time some horse wins 26 stakes in 29 races at Woodbine, let me know about it.
"I want to say hello to my wife at home, Gail, and my son Robert," Tiller continued. "I want to thank my barn crew, [assistant trainer] Tommy Lottridge, Michelle [Gibson], that's rubbed this horse through all the ups and downs of racing. This is just a payoff here. I didn't think we'd win today, and we won. It's the greatest thrill of my life. Thank you very much to everybody. Thanks Woodbine because they put on a hell of a show here, looking after this horse in the morning, and I really need to thank them, it's all worked out. We're blessed."
Frank Di Giulio, Jr., a longtime successful owner and part of the Entourage group, was equally effusive in his praise of Pink Lloyd.
"Maybe it [managing the horse's career] looked hard on the outside, but it was really the right thing to do from our point of view because the races were here. There was no temptation to run him on the grass. There was no temptation to take him out of town because we had the opportunities here and we know he loves it here. He has some quirks, so you don't know what's going to happen when you ship, or get into a new stall, and things like that. We just thought it was the right thing to do. Maybe other people would have done it differently, but I don't think they would have had the success."
Pink Lloyd, bred by John Carey, will now be retired to LongRun Thoroughbred Retirement Society's picturesque farm, about an hour's drive north of Woodbine.
He'll no doubt be a main attraction at his new home.
"We have been blessed to have been a part of it," said track announcer Robert Geller.
A sentiment no doubt shared by many fans of Canada's rockstar Thoroughbred.
Chris Lomon, Woodbine Communications / @WoodbineComms