TORONTO, November 24, 2021 – Pink Lloyd, one of Canada's most decorated champions, will make the final start of his illustrious career in Saturday's Grade 2 $175,000 Kennedy Road Stakes at Woodbine.
Campaigned by Canadian Horse Racing Hall of Fame inductee Robert Tiller, nine-year-old Pink Lloyd is set to chase his 26th career stakes victory in the Kennedy Road, a six-furlong main track test for three-year-olds and upward, a race that he won in 2017 and 2019.
"We made a decision this week to retire him after this race," said Tiller of the seven-time Sovereign Award-winning gelding, who was named Canada's Horse of the Year in 2017. "It will be a bit of a sad situation because all good things come to an end, but it's been an absolutely fantastic ride. To me, he's the greatest sprinter we've ever had at Woodbine. It's been a wonderful ride, with some sadness, but on the other hand it will be a big relief for me, certainly, because it's not easy training a horse like this where everyone expects him to win all the time."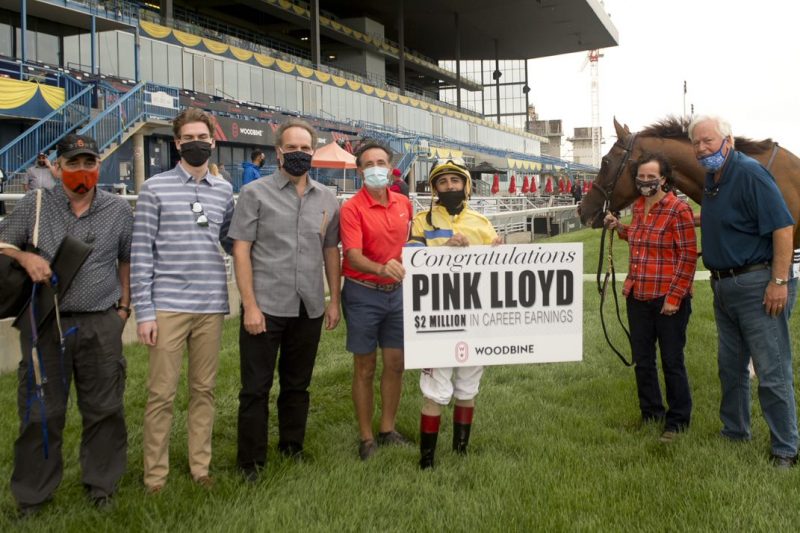 Owned by Entourage Stable and bred by John Carey, the son of Old Forester launched his career in 2016 with straight three straight victories.
It was only the beginning for Pink Lloyd, a $30,000 purchase at the 2013 Canadian Premier Yearling Sale.
His trophy haul includes four consecutive (2017-2020) champion male sprinter trophies and a pair of champion older male titles in 2017 and 2019.
Pink Lloyd, who went 8-for-8 in 2017, won four consecutive editions of the Vigil Stakes and Jacques Cartier Stakes, along with three triumphs in both the Shepperton and Kenora.
The chestnut arrives at his final start off a win in the Ontario Jockey Club Stakes on November 7 at Woodbine. He brings a record of 28-3-2 from 37 starts, accompanied by over $2.3 million (CDN) in purse earnings, into the Kennedy Road.
"We're so proud of him," said Tiller. "On one hand, it will be over, and I'll be very sad to see him get on the van and go, but I don't think anyone should shed too many tears because what he's done has been fantastic. We want to give him what he deserves."
The fan favourite has built up an impressive following over his years on the racetrack.
That popularity will live on when he starts his post-racing life with LongRun, one of the continent's most respected horse retirement and adoption organizations.
He'll join over 50 retired thoroughbred horses at LongRun's farm in Erin, Ontario, a little less than an hour's drive north of Woodbine.
"It's just an awesome privilege for LongRun to be chosen to give Pink Lloyd his happy retirement home," said Pappas, a founding member and longtime chairperson of LongRun.
Michelle Gibson, Pink Lloyd's groom, will be a frequent visitor to the picturesque property.
"I have mixed emotions," said Gibson, recipient of the Jockey Club of Canada's 2020 Outstanding Groom Award. "I'm elated that he is retiring but at the same time, I'm going to miss that face greeting me every morning. He deserves a happy life now. I would love to be there the first time he gets turned out in a huge paddock, just being a horse. Even though he will be gone from my stalls, he will never be gone from life. He is my heart horse."
Regular rider Rafael Hernandez, a lifetime winner of over 2,800 races, continues to marvel at the veteran campaigner's ability to show up every time the gate opens.
He's hoping to end Pink Lloyd's racing career on a high note.
"When you ride him, you don't feel yourself going fast because he spends so much time in the air," Hernandez recently told Woodbine. "He has a big, big stride. He's unbelievable… he's push button. When you're in a race car and you push the nose and say, 'Bye-bye,' that's him. When you turn for home and push the button, it's, 'Bye-bye, come and get me.' Every time I talk about him in an interview after the race, I tell them I am just a passenger. You need the horse to win the race. You can't say that you won the race. You need a good driver. With this horse, I am happy to be the driver."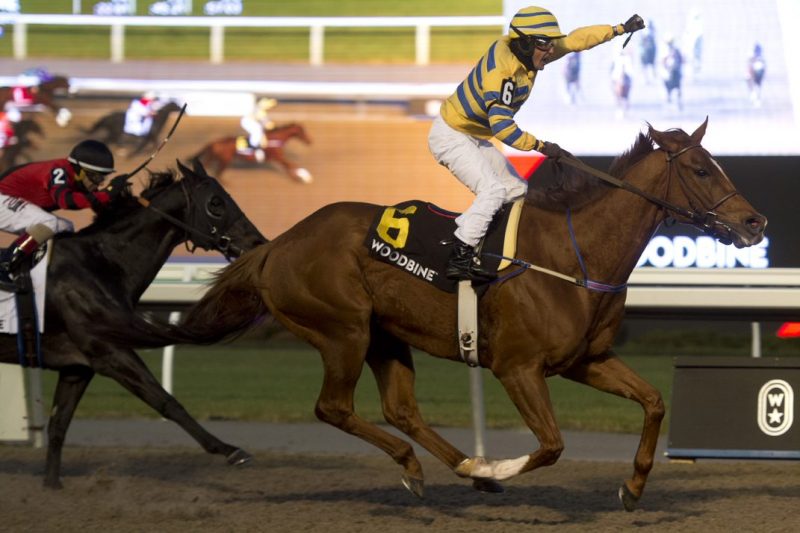 His connections are grateful to have been along for the thrill ride.
"He'll be a tourist attraction at LongRun now," offered Tiller. "Vicki and her crew, they're going to love him, and he's going to be great for people to come out and see. I plan on being out there myself and having a few chats with him."
They'll no doubt have plenty to talk about.
First post for Saturday's 11-race card is 12:55 p.m. The Kennedy Road goes as race eight. Fans can watch and wager on all the action with HPIbet.com and the Dark Horse Bets app.
To learn more about LongRun Thoroughbred Retirement click here
$175,000 KENNEDY ROAD STAKES
Post – Horse – Jockey – Trainer
1 – Lenny K – Justin Stein – Kevin Attard
2 – Red River Rebel – Luis Contreras – Kevin Attard
3 – Tap It to Win – Kazushi Kimura – Mark Casse
4 – Clayton – Antonio Gallardo – Kevin Attard
5 – Pink Lloyd – Rafael Hernandez – Robert Tiller
6 – Richiesinthehouse – Emma-Jayne Wilson – Francine Villeneuve
7 – Smokin' Jay – Shaun Bridgmohan – Kelsey Danner
8 – Souper Stonehenge – Patrick Husbands – Mark Casse
9 – Malibu Secret – Ademar Santos – Ross Armata, Jr.
Chris Lomon, Woodbine Communications / @WoodbineComms