TORONTO, October 3, 2021 – It was coronation day for British Royalty, who closed out the OLG Canadian Triple Crown with an impressive triumph in the 130th running of the $401,600 Breeders' Stakes, Sunday at Woodbine.
A bay son of English Channel, British Royalty, who had been claimed away from trainer and co-owner Barb Minshall this summer, made his Triple Crown series debut a successful one, sprinting away from his rivals with ease to win the race for Canadian-foaled three-year-olds.
Facing a field that included Queen's Plate winner Safe Conduct, Plate runner-up Riptide Rock, Prince of Wales Stakes champ Haddassah, and a host of other talented turf types, British Royalty had his work cut out for him.
On an overcast day at the Toronto oval, he came shining through with a top-shelf score.
It was Safe Conduct who seized control of the 1 ½-mile grass marathon, as Haddassah, in second, and Keep Grinding, in third, kept close tabs on the leader, while Patrick Husbands had British Royalty comfortably settled in seventh spot through an opening quarter in :25.00.
The Plate winner continued to call the shots through a half-mile reached in :51.53 as Collective Force, now second, shadowed the pacesetter's every move. Husbands guided British Royalty into sixth spot, as the gelding and Riptide Rock started to gain momentum on the frontrunners.
Safe Conduct soon found himself under siege from both sides, as Collective Force battled on gamely, and British Royalty found another gear, blasting to the lead and holding a one-length advantage on a surging Riptide Rock at Robert Geller's stretch call reached in 2:09.05.
At the wire, British Royalty was a convincing and deserving four-length victor.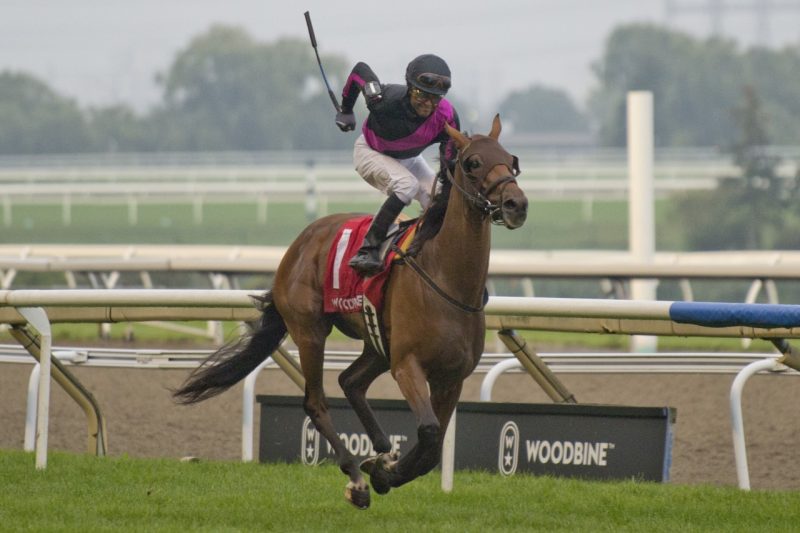 Riptide Rock and Collective Force, second and third respectively, were well ahead of their nearest rivals. Harlan Estate was fourth in the race contested over yielding ground. The final time was 2:34.00.
Sent off at 24-1, British Royalty returned $51.20 for the win, marking his second victory in nine career starts.
For Minshall, who lost the horse to a claim on July 11 and then claimed him back on July 24, the win was one of the most rewarding of her career.
"I was looking to win a race, and I took a chance, and I was very upset with myself for taking such a chance," recalled the champion conditioner, who co-owns the horse with Bruce Lunsford. "And lo and behold, the horse is back in the next time, he runs two weeks later, and I couldn't get in there fast enough to get him back. I knew I made a huge mistake. So, I'm really happy."
Husbands, who won the 2003 Canadian Triple Crown with Wando, and recorded his fifth Breeders' Stakes title, was understandably thrilled to partner with the Richard Lister-bred sophomore for the first time.
"My agent (Leroy Trotman) came to my house, and he said to me, 'I got a ride for you, but will you look at the forum?' I said, 'Leroy, that's what I pay you for. I want to get your opinion.' He said that Barb (Minshall) said you can come and work the horse and if you don't like it, she won't be mad at you. I came and breezed the horse, about 20 minutes later my agent asked me how the horse went. I said please don't tell Barbie, but this horse is light. I've ridden him the last two breezes, and he went twice on softer turf, and he ran (today) the way I expected he would run."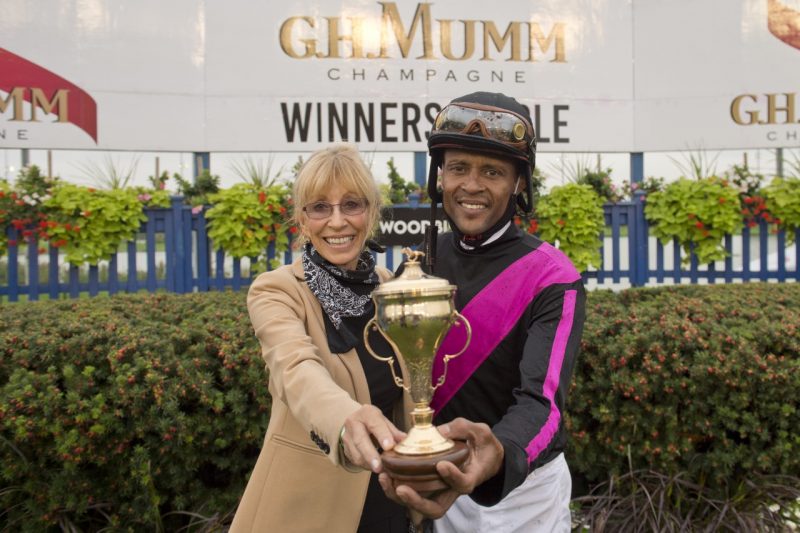 Emma-Jayne Wilson, aboard Safe Conduct, had high praise for the eighth-place finisher.
"I mean, he's fantastic. I followed him since last year. Obviously, the trainer asked about me about riding him when he was a two-year-old. I've been keeping close tabs on him ever since. So, I mean kudos and congratulations for winning the (Queen's) Plate. I was hoping I could get them another jewel of the crown, but it wasn't our day to day."
The Breeders' win marked an outstanding weekend for Lunsford, whose homebred Art Collector took yesterday's Grade 1 Woodward at Belmont.
Woodbine Communications