Story and photos by: Hayley Morrison for Woodbine.com
TORONTO, June 21, 2019 – "Horses have always been a huge part of my life. I've always loved them. They bring us freedom. I think horses should be honoured, respected and appreciated because they do so much for us and without them we would have nothing. They are the most important things and we need to give back to them and make sure that they are on the pedestal. They are everything for us."
A perfect quote for every horse lover out there, but for Sheena Ryan, a well-known jockey and budding yoga instructor, it's an essential part of her daily mantra.
Ryan has been a professional jockey in Canada for the last seven years. She's ridden over 2,000 races, overcome several injuries (including a broken pelvis), won several stakes and most importantly spent nearly every day with her four-legged friends.
Upon some deeper reflection at the end of the 2018 racing season, the jock realized that maybe it was time to add something else to the mix.
"Well, last year I was feeling like I needed something else. I was craving knowledge and I wasn't sure where I needed this. I did a yoga workshop and then it just came to me, 'Oh, I want to be a yoga teacher and then I have to go to India for that because I love travelling.' That's where yoga started and I wanted the authentic original yoga, not Westernized yoga. I wanted the real thing and to get the whole experience. So, that is why I chose to go to the Ashram and live a yogic lifestyle for a whole month."
Ryan has done yoga since 2012 and credits the ancient practice with helping her heal from various injuries sustained while riding.
"As soon as you sustain an injury, you constantly have to work at it. You're never going to be a 100 per cent again, but you have to take care of your body for it to properly function for you. And if you neglect your body and ask so much of it – it can only do so much. Basically, I'm pain free. I've sustained bad injuries but practicing (yoga) I'm good everyday. I don't need ibuprofen or anything."
Armed with some knowledge on the practice beforehand, Ryan travelled to India (near Trimbak) at the end of January and completed a yoga teacher training at YogaPoint, a recognized school with several locations across the globe.
Returning to Toronto earlier this year and getting back into the grind of race riding, Ryan decided it was also time to share her practice with others. Recently, she started a yoga class on Wednesday mornings on Woodbine's backstretch.
The jock is also looking to take her practice one step further, off the mat so to speak and into the sand ring alongside some horses. Integrating animals into one's yoga regime is definitely a more contemporary element than ancient one. Be forewarned, once you start googling animal yoga, there's a rabbit hole of goat yoga posts floating around Instagram or pop up puppy yoga classes on YouTube.
In contrast to the current fad of integrating furry friends into the yoga realm, Ryan wholeheartedly believes that bringing horses into the practice will genuinely benefit both horse and rider.
"With my experience, I just started playing around on some of the racehorses when I got off of them in the stall. I was just kind of thinking, 'Hey, maybe this could benefit people, make riding more fun, get to know your horse better, make you a better rider, bring better balance, calmness of mind and all that stuff."'
With all that in mind, Ryan ventured over to a friend's barn nestled within the hills of Northumberland County in Roseneath, Ont. to develop a horse yoga clinic.
If you could describe heaven on earth for horses, Carrick Hill Equestrian Centre, owned by Ursula Selby and Peter Carr, would most likely tick off the majority of boxes. Those of which would include a cozy and comfortable barn and lush green pastures decorated with a collection of thoroughbreds quietly enjoying the afternoon sunshine.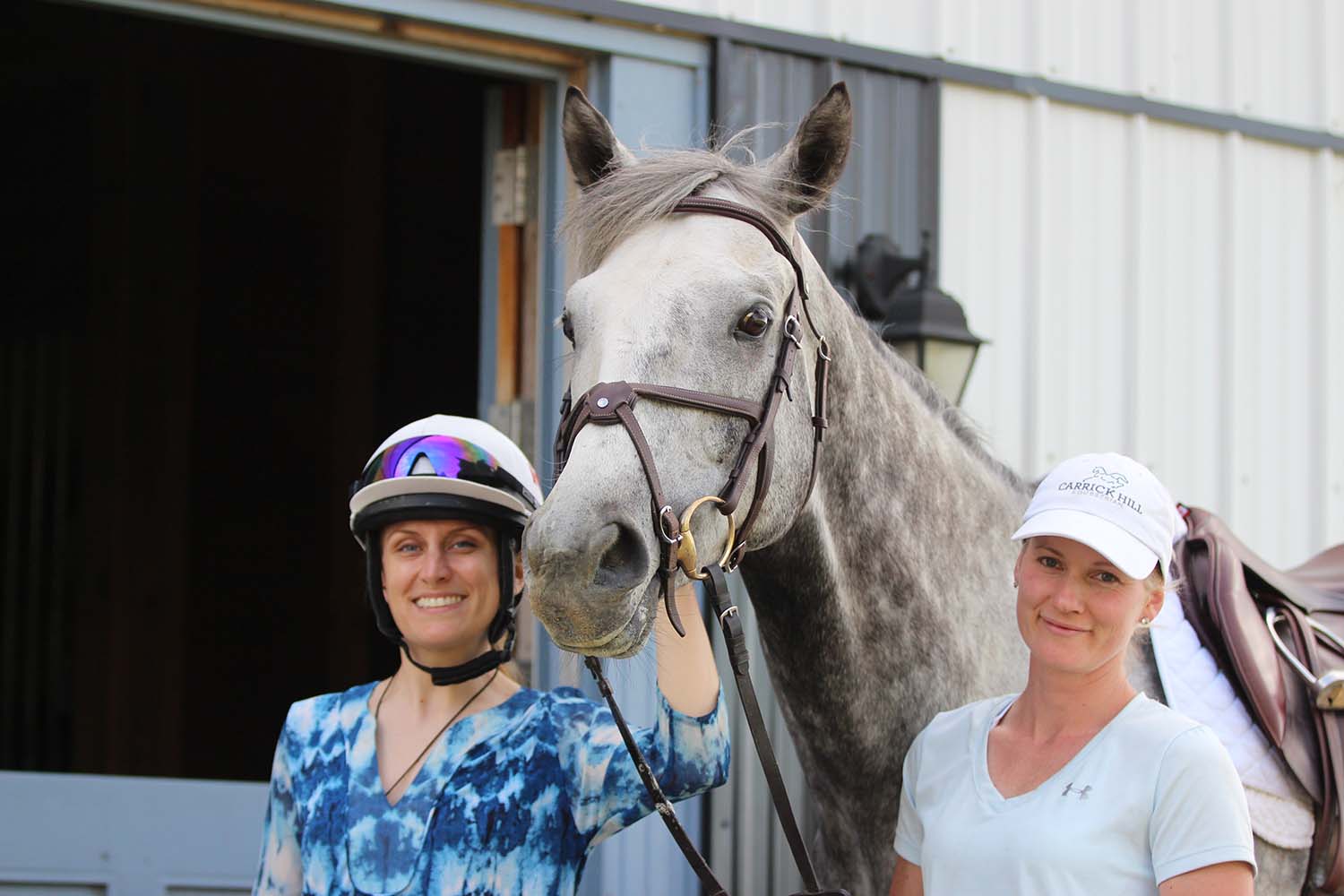 An experienced horsewoman to say the least, Selby worked eight years at Woodbine, including several years as an assistant trainer to Reade Baker and then Josie Carroll. Her farm is home to several well-known stakes horses including Turkish and Asserting Bear. She offers lay ups for current racehorses and preps horses heading into the track.
Selby also re-trains thoroughbreds for new careers once they have retired from racing.
Springhouse, a handsome six-year-old dapple-grey gelding and retired racehorse is one such horse. The grey gelding, affectionately referred to as 'House' or 'DaHouse,' doesn't know it just yet, but yoga is his second calling.
Or at least to Selby and Ryan, who think he may just be the perfect yoga partner.
"What you see is what you get. He is laidback. He is just a very happy go lucky guy and he is gorgeous," said Selby, who partnered with House late last year.
The stakes-placed son of Limehouse, bred by the late Gustav Schickedanz and trained by Woodbine trainer Mike Keogh, ran for three seasons with a total 15 career starts at the Ontario-based oval. House ran in several stakes including a runner-up finish in the 2016 edition of the Charlie Barley Stakes.
Selby came into his life last fall when Keogh decided it was time for House to hang up his racing plates.
Very easy on the eyes and a personality to boot, Selby was more than happy to add House to her current family of four-legged friends on the farm.
"He has been fantastic. He has a great brain. He comes from a great barn, Mike Keogh. All of his horses are always so happy and well taken care of. He is the third one we've got from Mike's barn and they've all been fantastic."
While Selby grooms and tacks up House, Ryan explains the premise of the horse yoga clinic that she intends to offer this summer.
"The class is designed so in the first 15 minutes everybody just focuses on brushing and tacking their horses. No one communicates or makes eye contact with anybody. The only person they are going to listen to is me and their horse – just focusing on their horse. That is (in order) to get people to disengage and just focus on themselves and their animal. That would be the first 15 minutes. After everybody is done with that I would ask (the riders) to come into the arena and form a circle around me. Then we will stretch the horse first. So first do some stretching for the horse and when that's complete we will do some yoga poses on the ground with the horse."
Horse lovers and seasoned horsewomen, both Ryan and Selby recognize the importance of connecting rider and horse on the ground before taking the next steps in the saddle together.
Leading House into the arena, Ryan begins by stretching out the gelding's front legs. Selby then assists with some gentle neck stretches on each side before Ryan leads him in small circles to stretch out his hindquarters. Ryan then commences her yoga practice, flowing slowing through various poses while House waits patiently by her side. Curious, but more than content throughout the 15 minutes on the ground, House stoically watches Ryan as she transitions from a warrior stance into an extended side angle pose.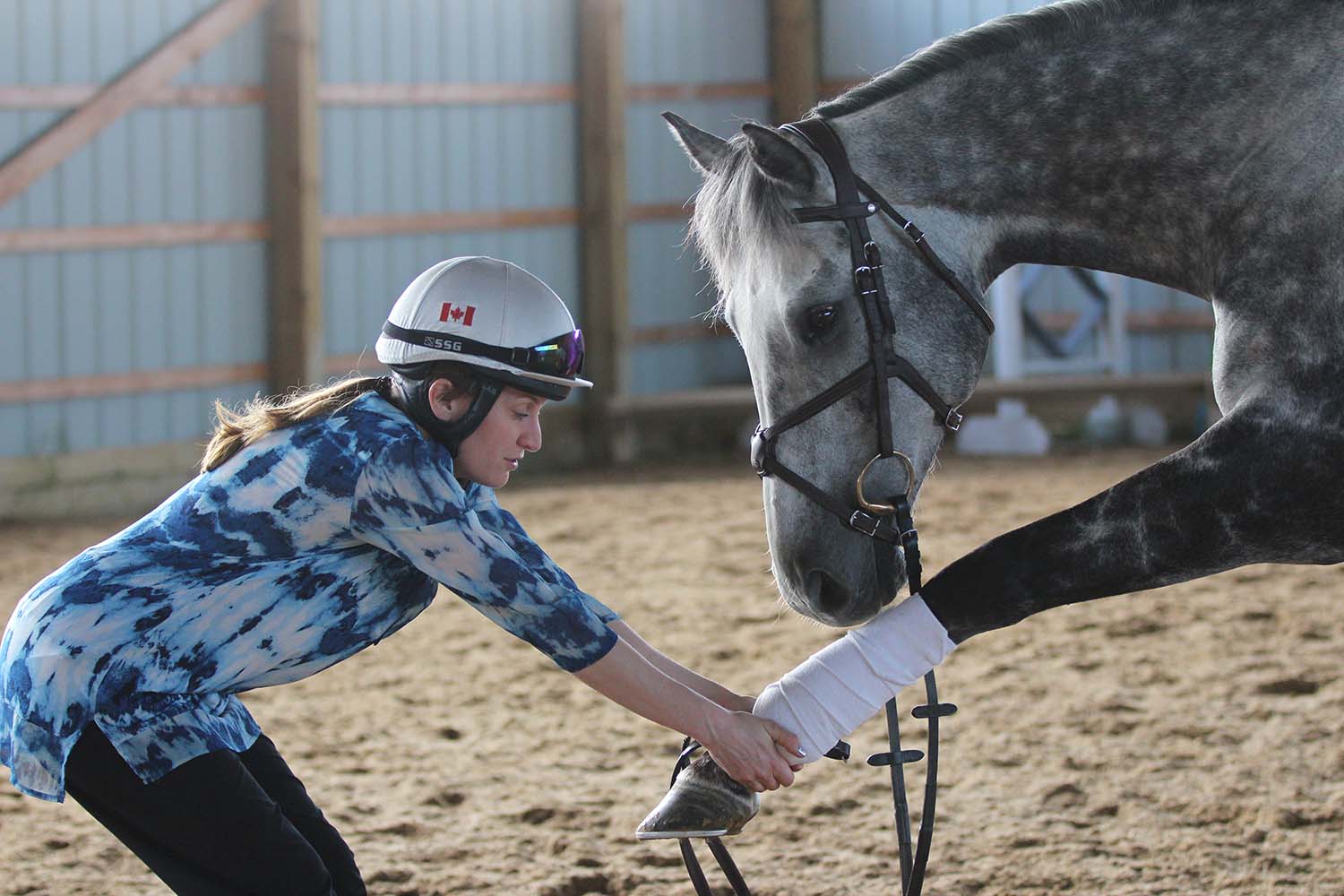 Once the groundwork is laid, Ryan mounts and explains the next part of the clinic.
"(They will) get on their horses and then walking around the arena, we will go through the gates – walk, trot, canter. Again, I want them to be aware of where everybody is and to just to focus on their horse and their movement and just really try and be with their horse and be in the same movement with them. So, go both directions and then everybody come back to the centre (of the arena) with me and we'll do poses on the horse. We can do some stretching on the horse and then a little meditation at the end."
House might be new to the practice, but without a doubt you can tell he's enjoyed the limelight. Moreover, he's enjoyed the positive vibes his partner emulates as she quietly walks him through each step too.
Selby and Carr look on from the side of the arena more than pleased with House's performance. Selby enjoys watching her project horses move onto new careers and also loves seeing people making the connection with their mounts. Working with Ryan towards the horse yoga clinic, she believes integrating yoga into the mix will be a great asset to both the rider and horse.
"It's great because a lot of people just need to take the time, slow down and appreciate their time with their horse. It helps them figure out their rhythm and the beats of the gates, which is very important. And it's good for the horses to do something other than just go around in circles."
While Ryan continues to work hard at her day job, guiding thoroughbreds to their next big win, she is also very grateful to work with them in a different capacity.
"I love thoroughbreds because I think they are very versatile. They are very athletic, they are smart and I think you can teach them to do anything. They are just a very versatile horse. You can go to the western aspect if you want with them. I've seen thoroughbred lines in barrel racers and stuff. And then you can go to the eventing, or the show jumping or the hunter –jumper (aspect), or just pleasure riding or trail riding even."
Ryan stands quietly by House's stall reflecting on her practice as Selby untacks the racehorse turned yoga pony.
It's safe to say that whether Ryan is a warrior in the saddle or just striking a warrior pose beside a beautiful stead, it's inevitable that horses will always be at the jock's heart centre.