TORONTO, September 18, 2019 – Cool Society, a two-year-old daughter of Society's Chairman, steps up to the stakes spotlight in Saturday's $100,000 Victorian Queen, at Woodbine. The $100,000 Sweet Briar Too, for fillies and mares, three-year-olds and upward, is also on tap.
Owned by Zilli Racing Stables, and trained by Michael De Paulo, Cool Society heads into the six-furlong main track event Ontario-sired two-year-old fillies off a winning effort, a victory that saw the filly elevated to first after she was bumped at the top of the stretch.
Crossing the line second, a neck behind the winner, the Cool Society showed plenty of fight down the lane after rallying from fifth, 3 ½-lengths back of the leader, at the stretch call.
De Paulo, just one win shy of 850 for his career, was pleased by the gumption displayed by Cool Society.
"She ran pretty bravely," said the veteran conditioner. "I guess there was a little bumping going on in the turn. I went down to Jesse (jockey, Campbell), and they had already put up the inquiry. I thought she was going to win that race if she didn't get bothered. Jesse was really happy with her. He thought she ran a good race."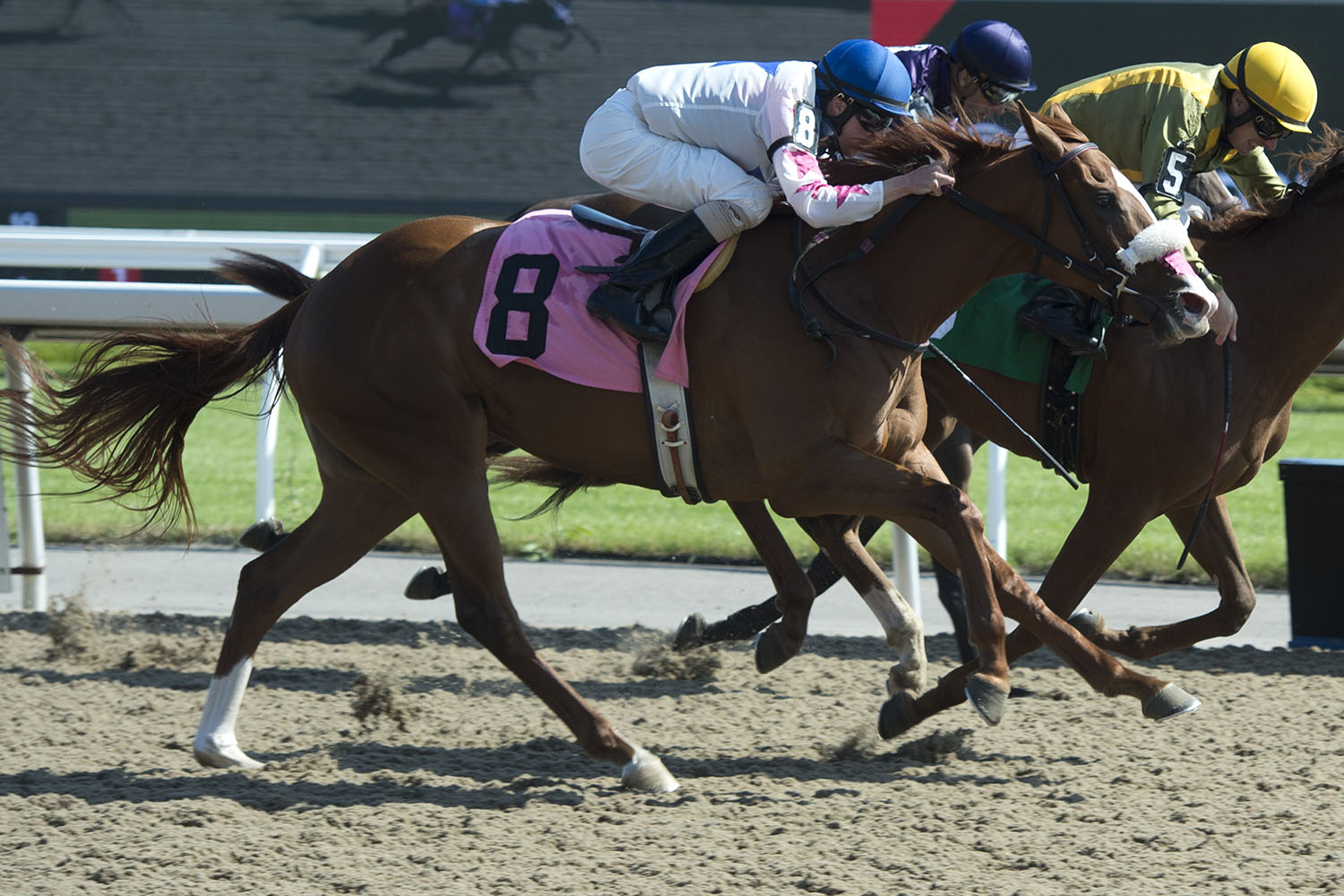 Although Cool Society didn't give De Paulo any strong signs in the morning that she'd fare well in her career bow, the conditioner did hope her spirited ways would help on the racetrack.
"She hadn't done anything super on the work tab, but we liked the way she was training. I'm not going to say we were sure she'd win, but we did think she would run well. She's definitely got some spunk to her… she's got spirit, and she's a trier. She had a little touch of shins, so we had to give her a little time for that."
The chestnut, bred by James and Janeane Everatt, and Arika Everatt-Meeuse and Tim Meeuse, didn't appear to have enjoyed the down time.
Cool Society also didn't appreciate one particular piece of equipment in the De Paulo barn.
"She kicked a fan, and gave herself 10 stitches in the back leg. She wasn't too happy with the fan one day, and that was the end result. But she's good with me."
De Paulo, who has won three editions of the race, with Nicole's Legacy (1999), Kitty's Got Class (2011), and Caren (2015), is hoping his first-year filly can bottle that energy for Saturday's race.
"I think she's got a good little running style. Hopefully she'll have some speed to run at, and she can go and grab them."
Last year, Silent Mistake, under Gary Boulanger, won the Victorian Queen in a time of 1:11.39.
The Victorian Queen is scheduled as race seven of 11 races on Saturday's 1:05 p.m. program. The Sweet Briar Too goes as race nine. In between the stakes action, the $50,000 third leg of the Woodbine Turf Endurance Series will go postward with point-leaders Bold Rally and Camp Creek to meet again in the 1-5/8-mile marathon.
Fans can also watch and wager on all the live action via HPIbet.com.
$100,000 VICTORIAN QUEEN STAKES
Post – Horse – Jockey – Trainer
1 – Tuscan Damsel – David Moran – Michael Doyle
2 – Owlette – Patrick Husbands – Wesley Ward
3 – Cool Society – Jesse Campbell – Michael De Paulo
4 – Bambarra Bay – Rafael Hernandez – Michael Mattine
5 – West Paw – Jerome Lermyte – Mark Casse
6 – She's a Dream – Luis Contreras – Josie Carroll
7 – Wake Up Maggie – Justin Stein – Harold Ladouceur
8 – Victorian Moon – Justin Stein – Harold Ladouceur
9 – Sterling Speed – Kazushi Kimura – Ashlee Brnjas
$100,000 SWEET BRIAR TOO STAKES
Post – Horse – Jockey – Trainer
1 – Special Relativity – David Cohen – Norm McKnight
2 – Heavenly Hill – Luis Contreras – Josie Carroll
3 – My Gal Betty – Daisuke Fukumoto – Roger Attfield
4 – Now Play Nice – Kazushi Kimura – Ashlee Brnjas
5 – Katie Baby – Eurico Rosa da Silva – Catherine Day Phillips
6 – Killag Katie – Rafael Hernandez – Catherine Day Phillips
7 – Sister Peacock – Jesse Campbell – Stuart Simon
8 – Cyprus Husbands – Simon Husbands – Lenore Dubois
9 – Jean Elizabeth – Patrick Husbands – Larry Rivelli
$50,000 WOODBINE TURF ENDURANCE SERIES – LEG 3
Post – Horse – Jockey – Trainer
1 – English Illusion – Rafael Hernandez – Sylvain Pion
2 – Itstartswithadrink – Alan Garcia – Clint Abraham
3 – Dixie Highway – Arienne Cox – Wayne Rice
4 – Zephan – Simon Husbands – Lenore Dubois
5 – Awesome Halo – Leo Salles – Abraham Katryan
6 – Bold Rally – Patrick Husbands – Daryl Ezra
7 – Camp Creek – Luis Contreras – Kevin Attard
8 – Prideofdistinction – Justin Stein – Ron Sadler
9 – Auntie Katherine – Juan Crawford – Jennifer Davis
10 – Dahog – Kazushi Kimura – Wayne Rice
11 – Sine Metu – Gary Boulanger – Debra Rombis