TORONTO, November 27, 2019 – Two-time stakes winner Cooler Mike, a four-year-old son of Giant Gizmo, takes on six rivals in Saturday's $100,000 Sir Barton Stakes, at Woodbine.
The 1 1/16-mile Tapeta race for Ontario-sired horses, three-year-olds and upward, will be Cooler Mike's 10th race of the season and 20th overall.
Bred and owned by father and son duo Mike and Nick Nosowenko, the gelding has been a model of consistency in 2019, compiling a 2-2-3 record from nine starts.
Both victories on the campaign were in added-money events, the first coming in the OLG Halton Stakes on August 28, followed by a victory in the Bunty Lawless Stakes on October 20.
Cooler Mike heads into the Sir Barton off a gutsy third-place effort to Special Forces in the Grade 2 Autumn Stakes on November 3.
"He's coming into this great," said Nick, who also trains the chestnut. "Luis (jockey, Contreras) worked him last Saturday, in :59.4, and when he came back, he said he had a ton of horse. He said he's good and he's sharp. He's just a good-feeling horse."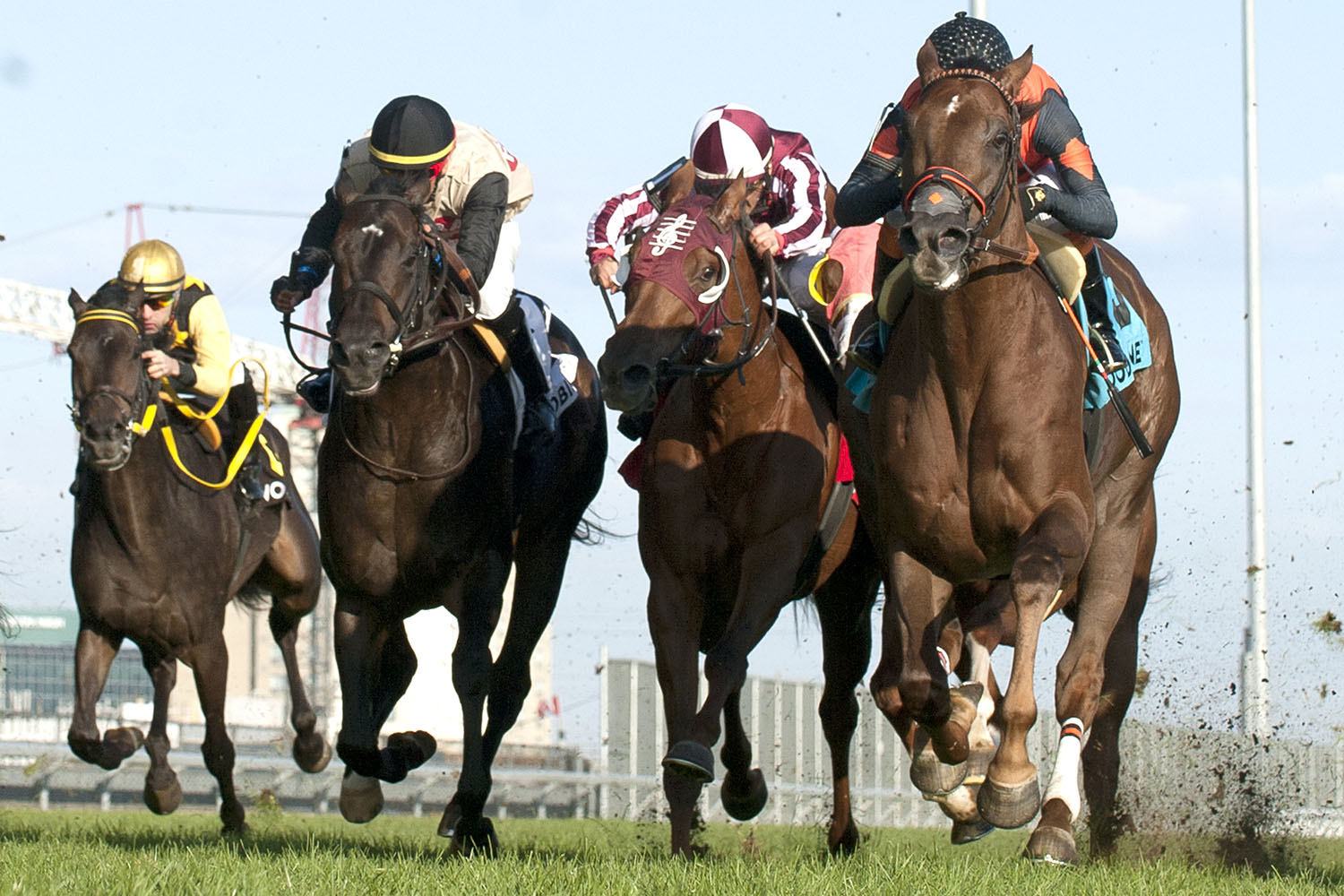 The Ontario-bred, who sports a 5-4-5 mark from 19 starts, didn't finish lower than fourth in his first 10 starts. He won his debut on August 7, 2017, was second in the Simcoe Stakes next time out, and earned his second trip to the winner's circle one race later.
In his sophomore season, Cooler Mike contested two of the three Canadian Triple Crown Series races. He was third in both the Queen's Plate (June 30, 2018), at Woodbine, and the Prince of Wales (July 24, 2018), at Fort Erie.
"He was the last one that we had out of the mare (Executive Affair)," recalled Nick, who took out his trainer's license in 2004 and saddled his first career winner at Churchill Downs. "He went through the sale here and he actually got purchased but the buyer wouldn't sign the ticket, so we ended up taking the horse back."
It's been a thrill ride ever since.
At what moment did the Nosowenkos realize they had a good one in their barn?
"When we had to buy him back from the sale," said Nick with a laugh. "We put a reserve on him, and we knew if we didn't get the money, we were taking him home. He was one of those babies that was bigger and stronger than everybody else. And he looks like Giant Gizmo."
Cooler Mike has squared off against several talented types over his three years on the racetrack.
Win or lose, his connections know just what to expect each time he loads in the gate.
"Even though he got beat last time in the Grade 2 (Autumn), he was digging in and going after them. He's run so many good ones. He lost by a neck in the Steady Growth Stakes (June 15 of this year), but he laid it all out there. Sprinting, going long, on turf – I'm dying to run him on the dirt. I've worked him on it and trained him on it. He really, really enjoys it. Some day, we'll get a fast dirt track and get to try him."
The Sir Barton may not be Cooler Mike's final engagement of the year.
"We'll see how he does in this race," offered Nick. "If he does what I think he's going to do, we may look south at another race. If not, if he looks like he's over the top, then we'll stop him for the year and send him down to Kentucky. I turn him out on the grass for 60 days and then ship him down to Florida to start up again."
Cooler Mike is showing signs he's up for the challenge this Saturday.
His connections know the look well.
"He just stands there and blows bubbles all day," said Nick. "When he's coming into a race and you know he's happy – he's actually doing right now – he just blows bubbles all morning. He's a happy camper… he's just standing there looking at everybody. He's in the No. 1 stall and everybody comes by and gives him mints. He knows he's a good horse."
Trainer Sid Attard – who sends out Royal Laser this year – has won three (2015, 2017 and 2018) of the past four editions, all with Kingsport. Mark Casse trainee Arch Hall won three consecutive runnings of the Sir Barton, from 2004-06. Banqueroute won the first running of the stake in 1975.
The Sir Barton is carded as race eight on Saturday's 11-race program. First post is 1:05 p.m. Fans can also watch and wager on all the action through HPIBet.com.
$100,000 Sir Barton Stakes
Post – Horse – Jockey – Trainer
1 – Split My Pants – Patrick Husbands – Catherine Day Phillips
2 – Magical Man – Steven Bahen – Gail Hughes
3 – Eskiminzin – Jeffrey Alderson – Carlos Grant
4 – Royal Laser – Rafael Hernandez – Sid Attard
5 – Thor's Rocket – Justin Stein – Paul Buttigieg
6 – Cooler Mike – Luis Contreras – Nick Nosowenko
7 – Dun Drum – Emma-Jayne Wilson – Ian Black