​By Ed DeRosa for QueensPlate.com​
TORONTO, June 29, 2018 – Canada's showpiece race, the $1-million Queen's Plate will play a pivotal role not only for the horsemen who devote their lives to winning North America's oldest classic race but also the gamblers trying to make money on the 13-race card that features four multi-race wagers with guaranteed pools.
The Queen's Plate is race 10 and is the last leg of the $100,000 guaranteed late Pick 5 and first leg of the $300,000 late Pick 4. There is also a $100,000 Pick 5 that begins in race 2 and a $200,000 Pick 4 that begins in race 4.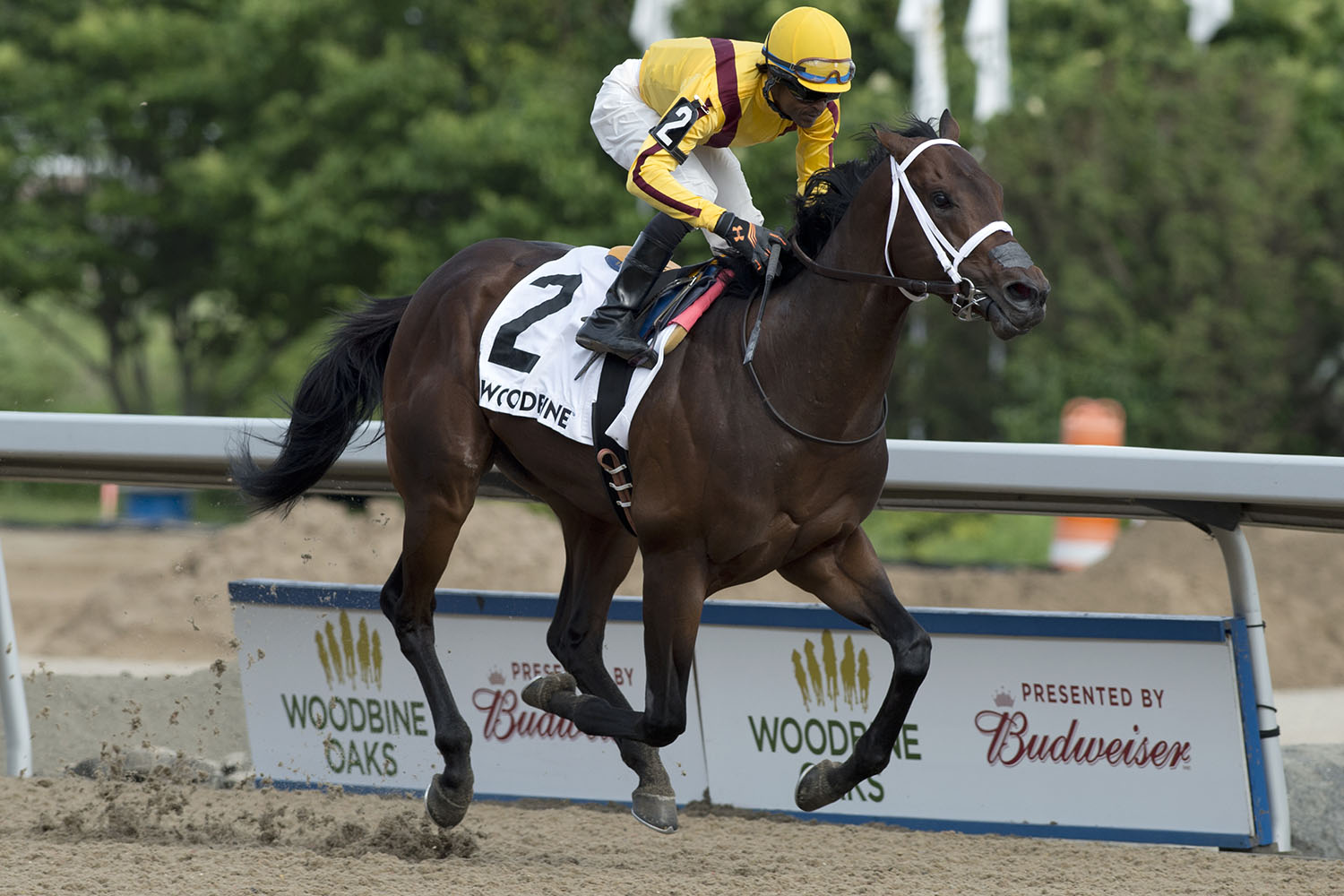 My approaches to the two sequences involving the Queen's Plate will be vastly different, as I am more narrow on my strongest opinions in races 11-13—the last three legs of the Pick 4—than I am on races 6-9 (first four legs of the Pick 5).
I will try to get live to #11 Wonder Gadot to conclude the Pick 5 and be more liberal with non favorites to kick off the late Pick 4.
$100,000 guaranteed late Pick 5, races 6-10
Race 10, the Queen's Plate
Wonder Gadot was runner up in both the Kentucky and Woodbine Oaks, and there is some concern regarding her ability to actually win races. What's not of concern is her ability to run her race, and as the only entrant in the field with a triple digit Brisnet.com Speed Rating, she's a must use in that her best literally couldn't lose.
I view her as the most likely winner and a horse worth leaning on "to get live to" in a Pick 5 that will have money spread to her stablemate Telekinesis, who maybe is just better than these, but I'm not willing to go all in on a suppressed price to find out.
Race 9, Highlander Stakes
A Win & You're In for the Breeders' Cup Turf Sprint, the Grade 1 Highlander Stakes is one of the more evenly matched races on the card. I like #8 Belvoir Bay best shipping northeast with three consecutive wins at Santa Anita Park, and his ability to relax down the hill augers well for a good outside stalking trip in this spot. #4 Holding Gold and #5 Lady Alexandra figure to both be running late at decent prices. I prefer either of them to the other chalks with Belvoir Bay–#2 Imprimis and #6 Long On Value.
Race 8, Dance Smartly Stakes
#7 Inflexibility is the strongest lean here with Castellano staying aboard after trouble early in last and a decent run when wide. From a price standpoint, the Mark Casse pair of #1 Dream Dancing and #9 Bletchley both look capable on numbers but the former is highweight against better.
Race 7, 2yo MSW
#6 Truly Honoured got a big number and will be a big price in here and is a must use given the connections won't suppress price. Speaking of good connections, Roger Attfield trains the $250,000 buy It's Vengeance, who looks best of the debut runners, but #1 I'll Take the Gold wouldn't shock for a win early pedigree.
Race 6, King Edward Stakes
The Pick 5 kicks off with the King Edward Stakes, a one-mile turf race featuring local favorite Tower of Texas. Fortunately for us, "local favorite" also means overbet, and Tower of Texas is an underlay to pitch starting the sequence. #6 Conquest Panthera and #7 Caribou Club are the heaviest leans to kick things off. The former needs to avoid trouble, but 8-to-1 is the right price given his number power. Caribou Club's last can win this.
Here's a suggested ticket: 6, 7 with 1, 2, 3, 4, 5, 6 with 1, 5, 6, 7, 9 with 2, 4, 5, 6, 8 with 11 ($60)
$200,000 guaranteed late Pick 4, races 10-13
Race 10, the Queen's Plate
See above
Race 11, Optional claiming on turf
In a full field, #6 Fritzie's Boy figures to get the pace he needs to run and a slight stretch out second off the layoff augers improvement and makes him the most likely winner in an otherwise tough group that's hard to separate.
Race 12, first-level allowance
#10 Big Mistake is one of the most fun names on the card because it reminds of Julia Roberts iconic scene in Pretty Woman when Vivian Ward tells a Rodeo Drive retailer she made a "big mistake" but not taking her seriously. I'm taking Big Mistake very seriously as the mostly likely winner of this race. She's shown ability to press or lead and is just consistently faster than these.
Race 13, maiden claimer
#1 Hey Howie and #5 Bay of Rum both figure as most likely winners, though their 0-for-20 combined records give cause for pause. I'd rather take the longer price of the two for that reason, and Bay of Rum tries turf. Both are must uses though, as I wouldn't want to lose to the fastest horse (Hey Howie) if I start the sequence with an upset.
Here's how I'll be playing the late Pick 4:
2, 4, 8, 9, 11, 14, 15, 16 with 2, 6, 9, 10, 12, 13 with 10 with 1, 3, 5, 8, 9, 10 ($57.60)
2, 4, 8, 9, 11, 14, 15, 16 with 6 with 2, 6, 7, 8, 10, 11 with 1, 3, 5, 8, 9, 10 ($57.60)
11 with 2, 6, 9, 10, 12, 13 with 2, 6, 7, 8, 10, 11 with 1, 3, 5, 8, 9, 10 ($43.20)
Here is the full ABC grid for the 13-race card. Again, the Pick 5s begin in races 2 & 6 and the Pick 4s begin in races 4 and 10. All four feature guaranteed pools of at least $100,000.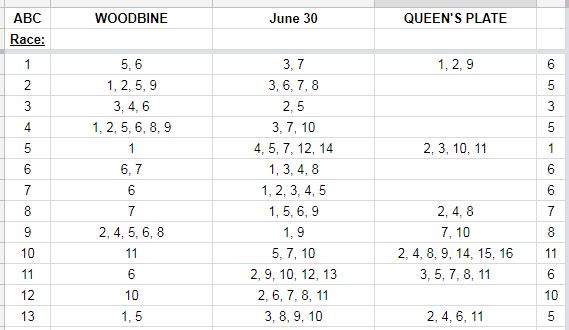 *
Ed DeRosa is the Director of Marketing for BRISnet. Follow Ed on Twitter @EJXD2