By Chris Lomon for Woodbine Communications
Diabolic delivers devilishly good effort in My Dear Stakes
TORONTO, July 31, 2021 – Diabolic was full of run late in taking the $125,000 My Dear Stakes, Saturday at Woodbine.
The trio of Bid Once, Royal Engagement and first-time starter Curlin Candy duked it out in the early stages of the 5 ½-furlong Tapeta race for 2-year-old fillies, but it was Diabolic, making her stakes debut, who delivered the knockout punch for trainer Mark Casse.
Despite acting up before the start, the daughter of Dark Angel, with Antonio Gallardo in the irons, hit her stride as soon as the gates opened and then watched the front-end proceedings from along the rail.
It was Bid Once who held a narrow advantage through an opening quarter-mile of :22.64, with Royal Engagement and Curlin Candy right alongside. Gallardo maintained a patient hand, sitting mid-pack, through a half-mile timed in :45.79, waiting for the right moment to make his move.
As the field turned from home, Diabolic was pivoted to the outside and instantly began to track down the leaders with each stride.
At the wire, the gray filly won by 2 ¼-lengths, with Curlin Candy in second and Royal Engagement third. Lois Len, the 9-5 choice, was fourth.
The final time was 1:04.15.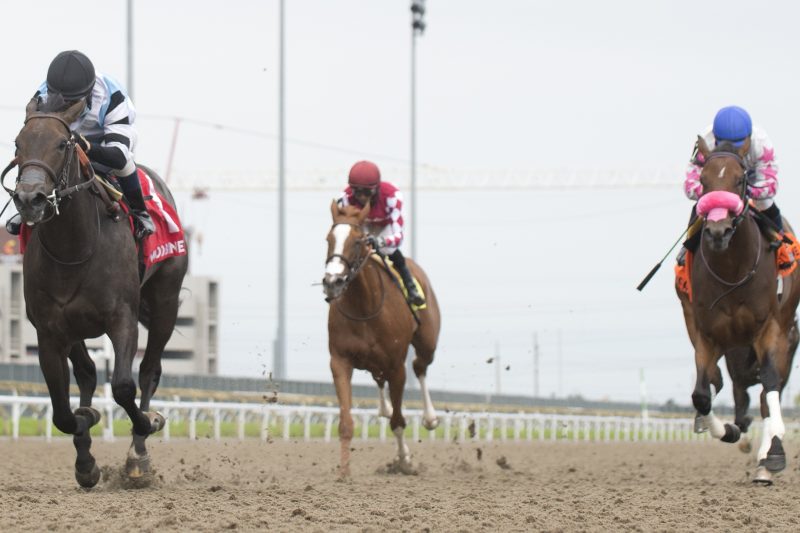 Diabolic, owned by D.J. Stable and Nexus Racing Club, arrived at the My Dear off a gutsy neck nod in her career bow at Gulfstream on May 20, rallying to win a 5-furlong turf sprint.
"She was sitting down in the gate and I was a little nervous on how she'd be breaking," said Gallardo, who celebrated his first Woodbine stakes win. "I don't see myself being on the lead or too close. I watched the replay when she won with Jaramillo [jockey, Emisael] in Gulfstream and I can see she is very smart. I wanted to be saving ground and following the speed. Really, she did everything perfect. When I pulled her in the clear, I asked and she gave me 100 percent. She's a nice filly."
Bred by Yeomanstown Stud in Ireland, Diabolic paid $9.20 for the win.
***
One Timer goes top shelf in Victoria Stakes
One Timer, under E.T. Baird, made it two impressive wins in a row, this time in the $125,000 Victoria Stakes on Saturday afternoon at Woodbine.
After dismantling his rivals to the tune of 12 ½-lengths in his 5-furlong debut at Arlington Park on June 26, One Timer delivered another outstanding performance, overpowering his rivals in the 5 ½-furlong Tapeta event for 2-year-olds.
Sent off as the 3-5 choice, One Timer, trained by Larry Rivelli for owners Richard Ravin and Patricia's Hope LLC, engaged Feelthebeat on the front end as soon as the gates opened. The pair were well in front of their five rivals as they took the field through an opening quarter-mile in :22.11.
The two continued their front-end tussle, but Baird and the son of Trappe Shot found another gear as they straightened for home and then easily widened their advantage down the lane.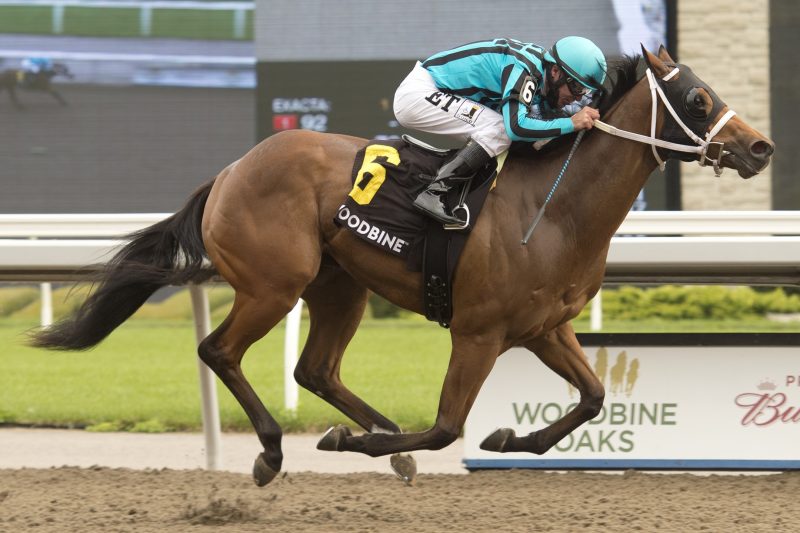 One Timer, five ahead at the stretch call, crossed the wire 3 ¾-lenghts ahead of Twenty Four Mamba. Concealed Carry was third and Summer Sunset rallied to secure fourth.
The final time was 1:03.33.
"He's still not really comfortable being in there [starting gate]," offered Baird. "I think that's going to come with time. He's anxious… he wants to go. He just doesn't have patience for standing still for very long."
Although it was another decisive score on Saturday, the veteran rider wasn't feeling confident in the minutes leading up to the Victoria.
"To be honest, I wasn't feeling really good in the post parade because he was getting awfully shook up. But you have to take into consideration that he shipped up here, he's at a different racetrack and he's never seen it. That being said, I think he did a great job. He's a really, really nice horse. He's got a high cruising speed."
One Timer, bred in Kentucky by St. Simon Place LLC, returned $3.20 to win. Mowins was scratched.
***
Lady War Machine leads the way in Alywow
Lady War Machine, a chestnut daughter of Street Boss, trained by Josie Carroll, called the shots in taking the $100,000 Alywow Stakes, Saturday afternoon at Woodbine.
Breaking sharply with Patrick Husbands aboard in the event for 3-year-old fillies, the Kentucky-bred was settled comfortably into second spot as outsider Hard Street led the field of six through an opening quarter-mile in :23.22.
A patient Husbands continued to keep Lady War Machine close to the pacesetter through a half-mile timed in :46.08. As the field turned for home, the duo swept to the lead along the inside and then dashed away from their rivals down the lane.
At the wire, Lady War Machine, contesting her first added-money feature, was three lengths ahead of a closing Honey Pants, sent off as the slight choice, who was making her Woodbine debut for conditioner Christophe Clement. La Libertee was third, while Dirty Dangle finished fourth.
Final time for 6 ½-furlongs over a firm E.P. Taylor Turf Course was 1:15.40.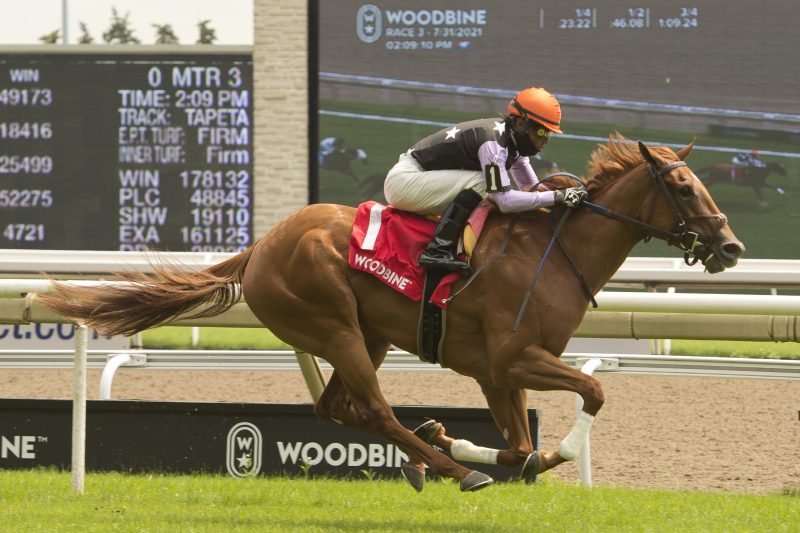 "On the turf, everything plays out differently," said Husbands. "I don't want to be on the lead and I don't want to get trapped down on the inside. She had her ears pricked and she wasn't scared down on the inside, so I was just playing it by ear."
Husbands on-the-fly approach paid off with an impressive performance.
"The straight here is so long you've always got closers. It doesn't matter how you look at it… you've always got closers. With the turf, I try not to pick it up too early and go to early and get caught. I was just biding my time."
Owned by Mark Dodson, Lady War Machine arrived at the Alywow off a sparkling 7 ½-length maiden-breaking score on July 3 at Woodbine, in a 6-furlong main track maiden special weight event.
She finished third in her debut last November, a 6 ½-furlong Tapeta test at the Toronto oval.
Bred by SF Bloodstock, LLC, and Matthew Sandblom, Lady War Machine paid $6.10 for the win.
The $500,000 Woodbine Oaks presented by Budweiser highlights a stakes-laden Sunday card at Woodbine. First post is 1:10 p.m.