TORONTO, September 19, 2020 – Dirty Dangle, under a heads-up ride from Sheena Ryan, closed resolutely to score by 1 ¼ lengths in Saturday's $135,810 Woodbine Cares Stakes at Woodbine Racetrack
The second running of the Woodbine Cares, a five-furlong inner turf race for two-year-old fillies, attracted a field of seven with Dirty Dangle going postward as the third choice at 4.65-1.
"I had so much horse going around the turn and I'm like as soon as we get a clearing… I had lots of horse, she ran really well and I'm really impressed with her," said Ryan, who was guiding Dirty Dangle to her second win in as many tries for trainer Ralph Biamonte. "They did a great job, Ralph and his crew… they did a great job and they got this filly ready really well."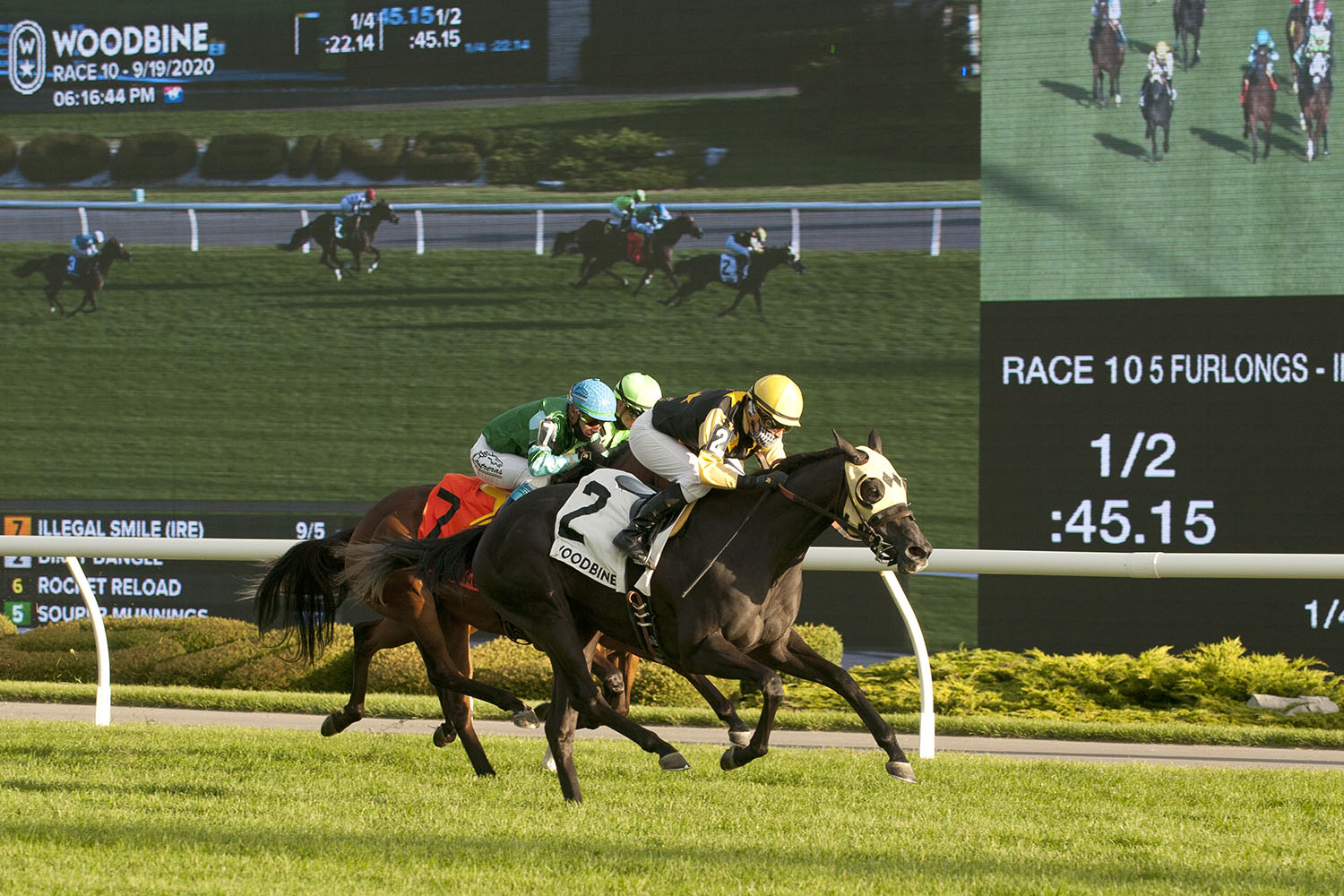 Dirty Dangle broke alertly and was part of a scramble for the early lead but was eased back on the inside while Chatelet and Souper Munnings duked it out through a :22.14 quarter and a :45.15 half.
Souper Munnings held a head advantage at the latter call but Rocket Reload and Illegal Smile were on the move with Dirty Dangle also gearing up for the stretch run.
Rocket Reload held a length advantage with a furlong to go but Illegal Smile, the 9-5 choice for Kentucky-based trainer Wesley Ward, was on the move.
Illegal Smile, who had found herself stuck outside the early speed after breaking from the outside post, rallied smartly while remaining wide around the turn and into the stretch and appeared to have overcome her difficult trip until Dirty Dangle came calling. The Irish-bred did manage to finish second, a head to the good of Rocket Reload in third.
Souper Munnings was another three lengths back in fourth with Forest Drift, Chatelet and Silent Mamba completing the order of finish.
The final time on the firm course was :56.82.
Dirty Dangle was remaining perfect after debuting with a head score over five furlongs of Tapeta. Super Munnings was the runner-up there and came back to break her maiden prior to the Woodbine Cares.
"We always thought she was pretty good," said Biamonte, who conditions the Kentucky-bred Dirty Dangle for Carmen DeMizio and his wife, Mary Biamonte.  "And 'Sheens' did an excellent job both times. Today she looked like she got into a little bit of trouble, she kept her composure, moved to the outside, and away she came."
Dirty Dangle returned $11.30, $4.70 and $3.60 with Illegal Smile ($3.60, $2.80) completing the exacta of $46.40.
The 2-7-6 trifecta with 4.80-1 fourth choice Rocket Reload ($3.40) came back at $181 and the 2-7-6-5 superfecta bottomed by 3.75-1 second choice Souper Munnings returned $221.05 for $1.